Olympic Gold Medalist Hilary Knight Finds New Ways to Enjoy the Sports She Loves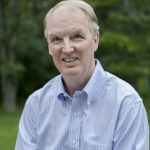 By David A. F. Sweet
Growing up in Lake Forest in the 1990s, nothing pleased Hilary Knight more than to be dropped off to play hockey for the whole day at the Winter Club.
"They'd have to pull us off the rink, whether it was snowing or raining," said Knight. "How fortunate we were — to have that freedom was great."
Even today it's not easy to get Knight off the rink. She recently returned from the Winter Olympics in Beijing, where the Team USA women's hockey team nabbed a silver medal, Knight's third. The oldest member of the squad at 32, the forward has played more games during her four Olympics (including her gold-medal-winning one in 2018) than any other Team USA women's player.
And even if she's not skating at a rink, she's broadcasting from one. Knight started working as an ESPN analyst for NHL games last year.
"It's been a great learning curve to see how a show is put together," she said. "There is a lot of behind-the-scenes work. It's been a lot of fun to try to explain the game. My goal is to get better every time."
Knight is greatly interested in seeing a women's pro hockey league flourish, similar to the WNBA. Though attempts over the years have not spurred much excitement –such as the Premier Hockey Federation, which only consists of six teams — she believes a sustainable one will emerge eventually.
"The sport is starved for a true professional league," said the Sun Valley, Idaho resident. "Eventually a young girl signing up for hockey will see a career path. It won't just be making a national team."
At the Winter Club and with the Falcons in Highland Park, Knight often had to play on boys' teams as a youngster. When she learned how to check, it was through Murphy's Bad Boys program. But when she attended Choate Rosemary Hall, she joined a girls' team – and uncovered a much different game.
"On the women's side, it's more angles and maneuvering your body," said the 5-foot-11 star. "It's a different skill set than the boys."
After playing seven days a week there, including with a separate Connecticut team, Knight headed to the University of Wisconsin. Despite success at Choate, she knew immediately she faced a different level of competition.
"It was eye-opening," she said. "I was joining a team of established players. You have kids who are faster and more skilled. What a way to learn."
While there, the Badgers earned two national championships. Not only were her 47 goals as a junior the most in the nation; Knight set the all-time mark for career goals by both women and men at Wisconsin with 143.
Will she go for a fifth Olympics in 2026?
"It's a tough, long road," she said. "Number one is loving the game and showing up. But number two is having an impact in the locker room and on the ice. If those boxes are filled, I see doing that in 2026."
But don't expect her to be wearing her hard-earned gold medal much until then. Said Knight, "The medals get heavier and bigger for every Olympics. That one from 2018 will put you in a chokehold."
The Sporting Life columnist David A. F. Sweet is the author of Three Seconds in Munich. You can reach him at dafsweet@aol.com.