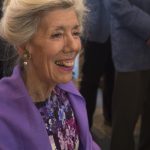 BY JUDY CARMACK BROSS
Steppenwolf Theatre Company Ensemble members including John Malkovich, Laurie Metcalf, and Gary Sinise joined celebrity guests Claire Danes, Armie Hammer, Shonda Rhimes, and Chris Rock for interviews by teens as the live online event Pants Optional: A Steppenwolf Soiree replaced its 2020 Gala this spring.
Celebrating the power of theatre and raising vital funds to keep it alive during social-distancing, Pants Optional raised $640,000 for Steppenwolf Education. Steppenwolf Soirée co-chairs included Ensemble member Joan Allen, trustee Susan Berghoef, Ensemble members Gary Cole and Sandra Marquez, and trustee Anne Phillips and Don Phillips.
Mayor Lori Lightfoot, First Lady and Steppenwolf Trustee Amy Eshelman, and First Daughter Vivian welcomed online viewers, and Ensemble member Audrey Francis emceed. Broadway's Phillipa Soo and Steven Pasquale made surprise appearances to serenade the audience. Grammy Award-winning DJ Tracy Young kept the party going by spinning music live from Miami for Steppenwolf's expanding global community of artists, fans, and donors.
"It could be like an evening in Old Hollywood, capturing stars who possibly couldn't have committed to come to Chicago for a full weekend in the Spring," shared Courtney Anderson, Steppenwolf's Events Management Director who led the virtual gala team. "The event was free and online, so we could open virtual doors to a much larger audience. We had viewers not only from across the U.S. but from Japan, Canada Germany, India, and New Zealand. The video is still up for viewing on our Steppenwolf YouTube site and to date, we have had over 6,000 viewers. Donations continue to mount via text and online."
Key to the evening's success was the opportunity for students to talk with Ensemble members and other actors. Gary Sinise was very moved when a teenager who was just his age when he started at Steppenwolf asked him about his craft. And Chris Rock shared that the only time he ever did live theater was with Anna Shapiro on Broadway.
"We are 92 percent toward meeting our goal of $700,000," says Anderson. "Our trustees who had tackled table sales when we thought we would have our traditional gala were able to talk with purchasers who most graciously allowed these to be donations to stand. Others have kept their pledges and made their gifts despite the change in format. Due to our virtual outreach, we have donations from the largest base ever, including teachers and teenagers who have participated in our programs."
Steppenwolf models teenage theater workshops and other in-depth educational projects for artistic organizations across the country. Proceeds from the virtual gala will go in part to the remount of I Am Not Your Perfect 
Mexican Daughter, this season's Steppenwolf for Young Adults hit world premiere based on the award-winning novel by Erika L. Sánchez, adapted by Chicago playwright Isaac Gómez and directed by ensemble member Sandra Marquez. The extended and sold-out run was cut short by COVID-19. Steppenwolf felt committed to raise money to bring back to life this Chicago story for thousands of high school students who had hoped to see it, including youth detained and incarcerated at three juvenile justice facilities the show was supposed to be performed.
Here's to Steppenwolf, the first virtual Click/Click we've covered, and their determination that the show must go on. To view the video and contribute, click here.