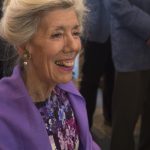 BY JUDY CARMACK BROSS
Releasing a potential bestseller just before the pandemic seemed the worst possible timing. TV interviews and book tours cancelled due to quarantine at first left Chicago author and former executive Shelley Paxton "freaking out." Then she saw her gift.
"It was a divine release date for Soulbbatical. It was exactly what was meant to be," Paxton explains. "My book helps readers discover, as I have, a way of being that is aligned with their authentic self, which I call the soul, and to being deeply rooted in a commitment to living and leading courageously. There had been so much noise in our world. It was time to tune it out and be guided from the inside out by that little voice in our head."
Paxton's values—freedom, courage, authenticity, and connection—drive her book. After 26 years as a marketing and advertising executive stewarding some of the world's most iconic brands, including Harley-Davidson, Visa, McDonald's, and AOL, Paxton walked away from the corporate world in 2016 realizing that she needed to "nurture her soul and discover her purpose." She dubbed herself Chief Soul Officer and called the journey her "Soulbbatical."
Paxton said it did more than change her life—it became her motivation. In 2018 she opened her own company and has become a professional coach, working with individuals, entrepreneurs, and executives of Fortune 100 companies, and authored her first book. At one time Paxton was one of only six women in the executive ranks of a Fortune 500 company.
"When I resigned from Harley, I left behind that amazing world of epic events, global travel, project launches, and even a blessing of motorcycle rides at St. Peter's Square in Vatican City by Pope Francis. There were so many Instagram moments, but I was living proof that even the coolest job can burn you out," she says.
She moved back to Chicago from the Harley executive offices in Milwaukee and started to write. Weaving her own path and career—including a brief stint with doing Improv at Second City—with life lessons, Paxton includes questions for readers to help discover their purpose.
We asked Paxton what are the most difficult questions. "The first gets to authenticity: What would you change in your life right now if you decided to be 100 percent true to yourself? The next question really made me squirm: What are you pretending not to know or hear about yourself?" she shares. "As a corporate executive, I had ignored my body and soul for such a long time. Not only was I physically ill, I found that I was trying to numb things away."
Her advice includes doing one difficult thing a day without fail, particularly those things you have on an "I'll do it one day" list. Paxton recommends that readers make two lists: "soul fuels" and "soul sucks." She says, "These lists of things that benefit or hurt you can help you catch yourself and pivot before the foundation crumbles and you have to make changes anyway."
Paxton shares the S.O.U.L process to use with this series of soul-searching questions:
Show up: stop hiding and playing it safe.
Own it: repeat the truth until you believe it's possible and then accept responsibility for making it happen.
Unleash it: put clear intentions into the universe.
Live it: prioritize it and get creative.
Paxton recommends meditation as a way of soul searching, saying, "This is a time when we can spend 15 minutes a day in a meditation. There is so much tragedy in the world with lost lives and lost jobs. So many of us are down emotionally for so many reasons. In the stillness of meditation, we find that quiet connection with ourselves through deep listening. One of my favorite quotes is 'When the universe sends you a tidal wave, you learn how to surf.' "
Paxton says that she wrote Soubbatical as a love letter to herself and as a way that she could put her arm around others: "When I left Harley, I lost my mentors, colleagues, and business associates. They just stopped calling. I felt I didn't have anyone around whom I saw as a role model I could trust. My book is reaching a great diversity of people who are now connecting with me. When I was first asked what was my definition of success with my book, I definitely wanted it at the top of several bestseller lists. Now I have found that what matters most are the comments I am receiving from readers and those who attend my virtual seminars. I am starting a movement. I want part of my legacy to be liberating a billion souls."
Paxton describes herself as the black sheep of her family, a rebel from an early age. "I can remember as a little girl going into my father's office and spinning the beautiful globe that he had by his desk," she recalls. "I would squeeze my eyes shut and put my finger down and then make up my life in whatever place it landed on the globe, wondering what it would be like. I loved imagining those islands in the Pacific. I think it was a way to find me."
Paxton recently gave a virtual talk, with that same rebellious spirit, A Rebel Leader's Manifesto, addressing the soul of business. Her future writings will include this focus: "I am interested in creating cultures where businesses are not just about return on investment but work on sending wholehearted ripples into the world where human beings come first."
For more, visit soulbbatical.com.