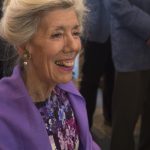 BY JUDY CARMACK BROSS
What if you could set your home to music? What would be the predominant pulse? For Chicago composer Seth Boustead, finding the music that matches a building's architecture and its energy is not only a passion but also an upcoming video series, Songs About Buildings and Moods. Scheduled for release later in the year, it musicalizes masterful monuments from the Driehaus Museum, Chicago's only Gilded Age palace, to the midcentury modern TWA Hotel at JFK.
"Architecture and music have long been related. There's structure, form, acoustical properties—so many similarities that architecture is sometimes called frozen music," Boustead says. "Equally important is the mood a building inspires. How does a piece of music make you feel? How does a building make you feel?"
It's no wonder Boustead says he goes from deadline to deadline.  Composer of eight-to-nine works yearly, radio host, arts manager and writer, concert producer, in-demand speaker, and visionary, he states his goal is revolutionizing how and where classical music is performed and how the general public perceives it.
Founder and Executive Director of Access Contemporary Music, an organization that exists to present classical music as a living art form by performing new works in innovative ways for new audiences, his organization provides community-based music education focused on creativity and commissioned projects from composers around the world.
Boustead tapped some of these composers for the building video project and wrote several himself, including the Driehaus ode. Performed as a holiday present for a group of guests at the museum, the composition begun with a cello solo on its elaborate staircase: "This Gilded Age building is so elaborate, so filled with stories and with great acoustics. Everywhere you look there are beautiful objects. I was really struggling how to depict it," Driehaus Executive Director Anna Musci explains.
The building had been erected, in part, as a refuge: "The owners had been so fearful, after the Great Fire, that it was built as a house that wouldn't burn down. The Lake, so beautiful to us now, was filthy then, and the smell of the stockyards was in the air. The owners were protecting themselves. At night it is all lit up in splendor but the daytime palette was often somber," she shares.
Boustead says that the videos are meant to stand alone and each be enjoyable individually: "We have shot five sites and completed four of them. So far we're mainly commissioning composers with whom we've worked in the past, but we'll open that up to a submission process in the future. We hope to complete the funding process and produce more segments, hopefully by fall."
Ultimately, each video will combine narrative about the space with conversation from the composer about how the space inspired them. Then all background sounds fade away, leaving the piece performed against the backdrop of the space, all exquisitely shot.
"Our production team does a great job lingering on details and following the narrative arc of the piece with the photography," he says. "We stay away from any scientific or technical aspects of music and architecture and focus on emotionality instead. Each space is an immersion into a totally different world."
Having grown up close to St. Louis, Boustead marveled at architect Eero Saarinen's epochal Arch. When Saarinen's TWA flight center was transformed into a hotel at JFK in 2019, Boustead was there at its opening, having been one of four asked to compose music for the occasion. The mid-century modern hotel today has a skating arena, a rooftop swimming pool, an aviation museum, and a cocktail lounge nicknamed Connie for the Lockheed Constellation that sits just outside.
In the TWA video, Boustead talks with Michigan-born composer Stephanie Ann Boyd aboard the Connie. As a young violinist she had performed at Saarinen's School of Music at the University of Michigan and was thrilled when invited to compose a piece for the opening of the TWA Hotel.
"I have always marveled at his architecture," she says. "The TWA flight center opened in 1962, at the time of Camelot and the birth of the jet age. Believe it or not, jetting was thought glamorous.  Emilio Pucci designed the flight attendants' dresses and chateaubriand was served on board. To accomplish my piece, I took a photo of the terminal and sketched out my composition on top of it. I hope I captured the feel of a plane taking off."
Closer to home, Boustead was inspired by the First Church of Deliverance in Bronzeville, designed by Walter T. Bailey, Chicago's first licensed Black architect. "The church was built in a Streamline Moderne style, which is not exactly the norm for a house of worship. The church is more than its architectural legacy, though. It is a vital institution in Bronzeville with a rich history and a mission that has had a positive impact on the lives of tens of thousands of people since it opened in 1929," Boustead shares.
Other buildings set to music are the Morris-Junel Mansion at 160th Street, built in 1765 and the oldest house in Manhattan, and the Emil Bach house, built by Frank Lloyd Wright in Rogers Park.
Does Boustead have a building that he yearns to musicalize? "The several abandoned grain silos just off South Damen Avenue are at the top of my list," he says. "They are all pretty great, even though they are rusted out. It would pay tribute to Carl Sandburg's reference in his poem to Chicago as the 'stacker of wheat.' "
Under the terrible burden of destiny laughing as a young man laughs,
            Laughing!
Laughing the stormy, husky, brawling laughter of Youth, half-naked, sweating, proud to be Hog
     Butcher, Tool Maker, Stacker of Wheat, Player with Railroads and Freight Handler to the
     Nation. 
One can imagine that Boustead will capture the music of the silos just as Sandburg captured it in poetry.
To learn more about Seth Boustead, visit sethboustead.com.
Excerpt from Carl Sandburg's "Chicago" from the Poetry Foundation's March 1914 issue of Poetry.