By Judy Carmack Bross
Classical ballerina and labor lawyer are probably two careers you don't imagine in the same resume, but Sara Stewart Schumann proves there's no end to a person's abilities when you pursue your talents. Now Chicago Dancers United, currently building a new partnership with Howard Brown Health, will be benefiting from her many facets of leadership as she becomes its new President in January.
Sara Schumann
"I was a ballet dancer for many years and, while at the Lyric Opera as ballet master and choreographer, I got involved in contract negotiations. The lead negotiator said that I should really think about going to law school. Not everyone enjoys reading contracts, but I did, and now am Associate Fund Counsel for the Laborers' Pension and Welfare Funds."
Schumann takes over Chicago Dancers United at a time when the organization, with the mission to foster the health and wellness of Chicago's professional dance community by providing financial support through The Dancers' Fund for preventative health care as well as for critical medical needs, has been able, through its highly popular fundraising events, to double the grants in 2022. The Howard Brown partnership will bring extraordinary benefit to Chicago dance community members providing an organized approach to health care for those who need primary healthcare physicians, dentist and mental health professionals at its clinics at little to no cost.
Chicago Dancers United team from this year's (2022) AIDS Walk/Run, L to R:
Andrew Caruso, Kay Andersen, Michael Anderson, Sandi Cooksey, Robert Neubert, Sara Schumann, Julia Hinojosa, Steve Schumann.
Trained in both the Balanchine and classical ballet methods in New York, she came to Chicago at a time before the Joffrey Ballet had arrived. Not finding a company to join, she left for the Ohio Ballet, which performed in Akron and Cleveland and toured its repertory programs nationally. "Ohio Ballet performed some Balanchine works, some classical, but mostly contemporary or modern," she said. "I really retooled how I moved and loved every minute of it."
Acting on her desire to return to Chicago, Schumann became a soloist and ballet master with the Lyric Opera of Chicago and is fondly remembered as the American Beauty Rose soloist in Ruth Page's Arie Crown Nutcracker. Currently she continues as Associate Director and Board Member of the Ruth Page Center for the Arts and serves also as Artistic Advisor for the Madison Ballet.
We asked Schumann how she connected with Chicago Dancers United:
"I got involved because The Dancers' Fund is so necessary for the Chicago dance community, and I became aware through attending Dance for Life and knowing many of the board members serving at the time. I was honored to be invited to join the board in late 2018 because of the important work being done. The organization, originally created to address the needs of HIV/AIDS patients, is very careful to take wise baby steps to expand on our programs. AIDS is very serious still, but more controllable. A couple of years ago we formed a partnership with the American Cancer Society and now with Howard Brown. Dancers, as with all people through the pandemic, have many more mental health needs, which are part of what the partnership with Howard Brown addresses. Physical therapy, so crucial for dancers, is also a need of the community. With this pipeline provided by Howard Brown, we will have more grant moneys available.
"We have just two staff members in our office, we definitely couldn't exist without our board. We are very hands on. All of us want our dance community to be well. There are so many preventative things to be done, like taking someone's blood pressure. After the pandemic we are seeing more needs for our community. With the Howard Brown partnership we can double our services."
Giordano Dance Chicago: Photo by Todd Rosenberg
Knowing her deep involvement with the many facets of Chicago's dance community, we asked Schumann how best to take advantage of the Chicago dance being offered.
"On any given weekend there is a multitude of dance events in Chicago and its surrounding area. We have an extremely diverse community of world class dance here. Check out the websites of Chicago Dancers United, Joffrey and other companies in town.  Whether it's Hubbard Street, Gus Giordano, Deeply Rooted with its soulfulness and spirituality, the Trinity Irish Dancers which is doing national tours, Ensemble Español—you are going to have a lively night. There are lots of smaller performances at the Ruth Page Center for the Arts. Get on the mailing lists for the Harris Theater for Music and Dance and the Auditorium Theatre. There is really so much to choose from: Be brave and explore at will."
We asked Schumann how, as an audience member, you best get lost in the amazing world of dance. Is there advice for a mental attitude or thought to hold onto when you go to a dance performance?
"I love to turn off my phone and sit back to take in all the live experience: The music, the set, the lighting design, the crowds, as well as the performers and the piece of choreography being performed. There is nothing like seeing dance live and especially dance to live music. The partnership between live music and dance doesn't need a storyline. It is a privilege to have so many companies to watch in this city, I feel very lucky to live in Chicago."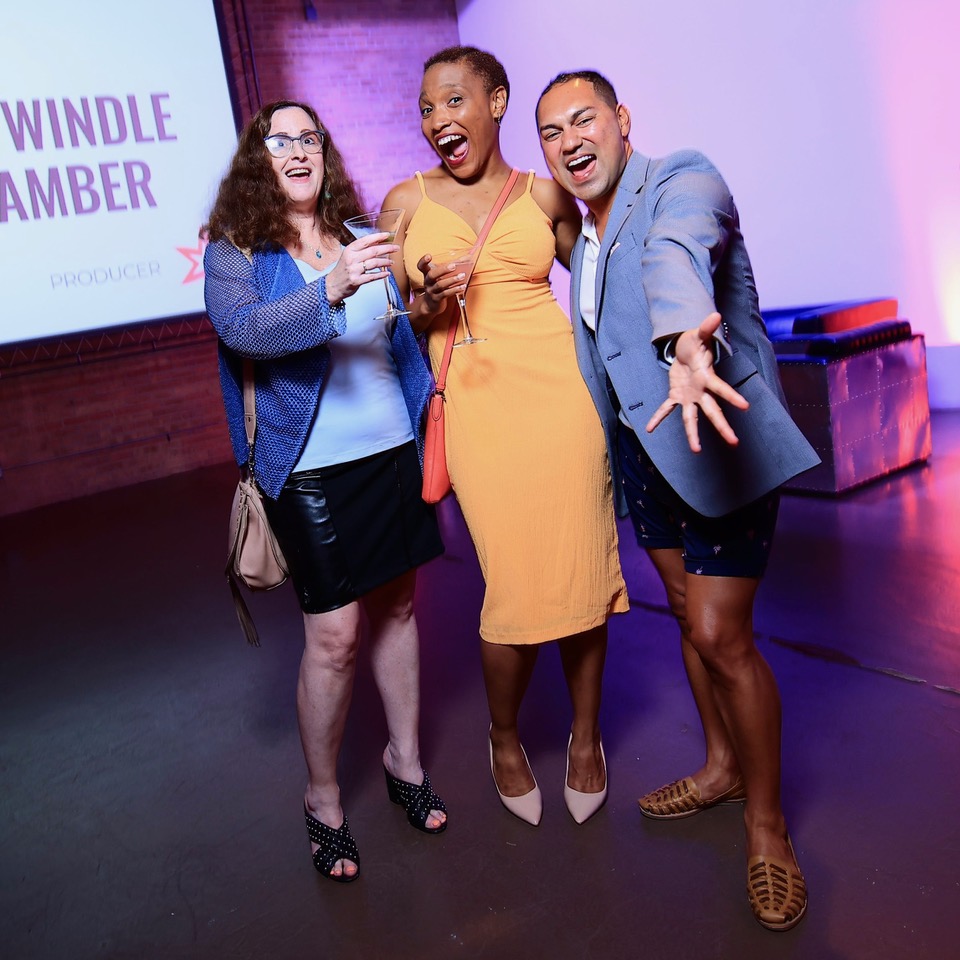 Stepping down as President after several years, Michael Anderson, current Chicago Dancers United President, and former Joffrey ballet dancer, told us:
Michael Anderson
"It is an exciting time for Chicago Dancers United. After uncertain times during the pandemic, we are grateful that the organization is stronger than ever, which has allowed us to help more Chicago dance professionals than ever before. Our new partnership with Howard Brown Health will allow us to connect dance professionals to primary health care, dental care, and mental health services, while we continue making grants for critical health needs and health and wellness. We envision a healthy and thriving Chicago dance community and appreciate the ongoing support from so many who believe in what we are doing.
"We are very proud to have doubled grants from The Dancers' Fund this year, in part by having a Fund that can accommodate the increase in applicants. Dance for Life and Dance Divas both had positive outcomes, exceeding our financial goals; fundraising is always key to building the Fund, and we hope to continue raising more money each year so we can meet our community's need for more support. Our funding sources are individual donors, foundation and government grants, and the money we raise through Dance for Life and Dance Divas."
Dance Divas. L–R: Jeremy Plummer, Eddy Ocampo, Tony Savino, Harrison McEldowney
The Dancers' Fund provides short-term financial assistance to Chicago dance professionals diagnosed with a critical health need. In 2020, Chicago Dancers United broadened their grant making to include support for general health and wellness needs. The Critical Health Need Grant helps cover medical expenses related to the diagnosis of a critical health issue. Those expenses include, but are not limited to, doctor and hospital visits, surgery, medical testing, therapy, and medication. Funding of up to $5,000 is available annually. The General Health and Wellness Grant helps cover non-critical health expenses related to general health and wellness, such as insurance premiums, medical bills, dental bills, and mental health sessions. Funding of up to $1,000 is available annually.
Chicago Dancers United is supported in part by Chicago's Department of Cultural Affairs and Special Events and the MacArthur Funds for Culture, Equity, and the Arts at the Richard H. Driehaus Foundation.
For more information visit:  chicagodancersunited.org