By Samantha Schwalm
Charcuterie boards are not only trending with their own instagram pages and chefs emerging focused specifically on their creation, they are also the best option for imaginative and easy entertaining around. Whether you are planning cocktails for 40 or unwinding at home with a glass of wine for two, build boards that are tributes to your imagination.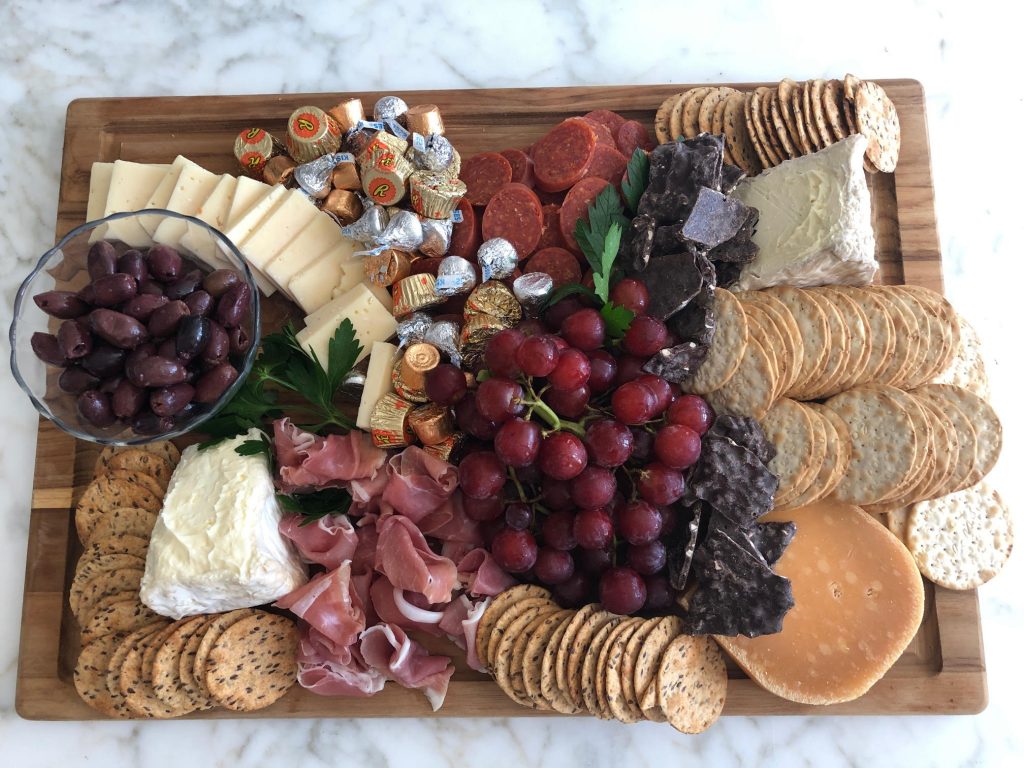 Boards can be simple but they should be bountiful, with plentiful amounts of your selections appearing as if they are almost falling off the plate. Guests love the idea of choosing a little something and coming back to the boards.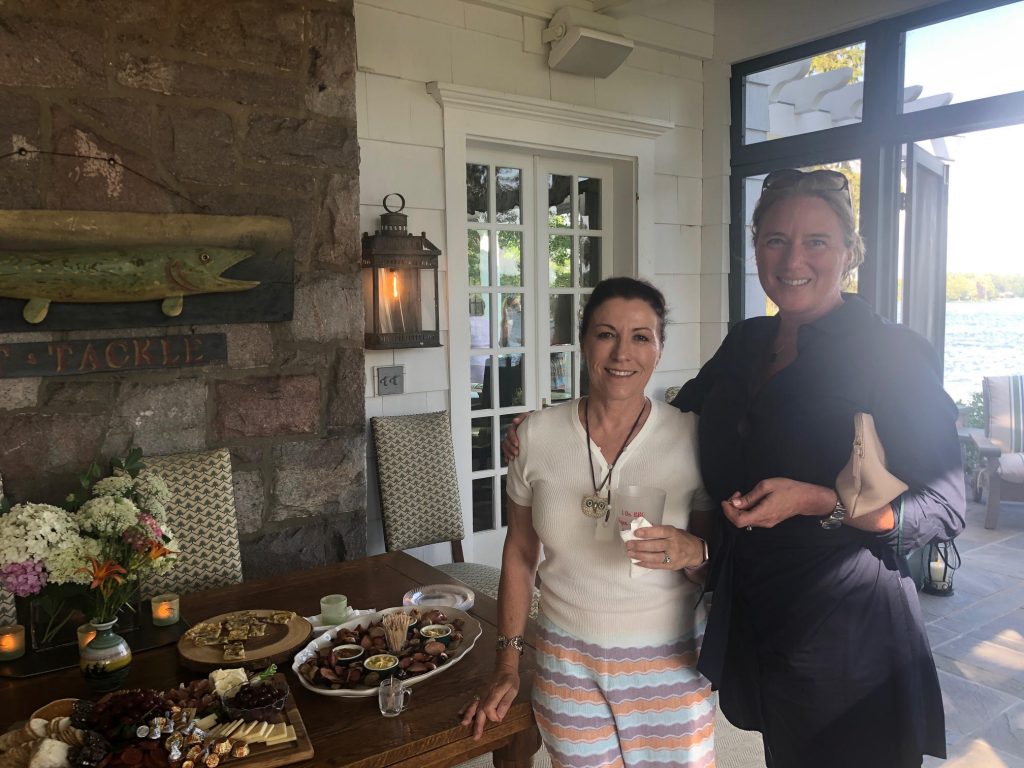 Catrine Charron, left, and Bradley Roffers enjoying Samantha's charcuterie board in the 1000 islands.
Think charcuterie and beautiful smoked meats such as Genoa salami and prosciutto and a variety of cheeses of various textures come to mind—along with olives, crackers, jams and spreads. But let your imagination flow. I often serve brunch boards with lox, bagels, granola with yogurt and spreads. You are likely to find little pieces of chocolate and other options for the sweet that should accompany the savory on my boards. Spreads for the boards are particularly fun to create. I find that guests like my caramel onion spread:
Caramelized onion dip:
Ingredients:
4 TBS unsalted butter
1 yellow onion diced
1 TBS sugar
1 cup sour cream8 oz cream cheese (room temperature)
1 tsp garlic salt
1 TBS onion powder
1/4 tsp white pepper
1/2 tsp salt
1.) Melt butter in a saute pan on medium/low, and add onions and sugar.
2.) Saute until onions are a caramel brown. Remove from heat.
3.) Mix onions with all the other ingredients in a food processor.4.) Place in a bowl and serve with potato chips and veggies.
For guests it is all self serve and often they feel that, with enough nibbles, they don't have to worry about getting dinner afterwards. Charcuterie boards seem to appeal equally to men and women. As more and more people are seeking gluten-free options, boards can make that easy. I like to sometimes add different heights to my boards. For example, I use cake stands or wide champagne glasses for little things like olives or nuts. Here are some of my recipes for charcuterie boards.
Quick Fig Jam:
Ingredients:
6 ounces dried figs (about 22), stems removed
1 cup granulated sugar
1 cup water
Juice from 1 lemon (about 3 tablespoons)
1/2 teaspoon vanilla extract

1.) Place all of the ingredients, except for the vanilla, in a medium saucepan and bring to a boil over medium-high heat.
2.) Reduce the heat and simmer until the liquid has thickened slightly and has turned a rosy, golden shade, 6 to 8 minutes.
3.) Turn off the heat. Stir in vanilla and cool the mixture for 10 minutes.
4.) Transfer to a food processor and process until smooth.
Jam will last up to a week in the refrigerator and may also be frozen.