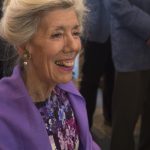 BY JUDY CARMACK BROSS
"Even when you are up against a wall, there is always a way around it. Cancer doesn't stop even though there is a pandemic. Our fundraising for the Rush Cancer Center can't stop either," shares Wendy Herb, co-chair of the Rush Woman's Board fall virtual event.
Herb and equally determined co-chairs Elizabeth Bigelow and Gwen Geller knew that supporters, friends, and corporate donors wanted to continue to show their support for the important board initiative, the Transformation Fund for the Rush Cancer Center. COVID-19 had cancelled the highly popular Woman's Board Spring Luncheon. When the co-chars saw that they would have to switch gears for the fall event as well, they got creative in order to honor their commitment. What was a fall cocktail party at Theater on the Lake has become a virtual event with a novel approach to wine tasting and great live jazz music from the Patrick Donley Quartet on October 2. They are anticipating supporters from around the country to attend, an unexpected bonus of virtual events.
"The need is more urgent than ever because people battling cancer are even more susceptible to COVID-19, the Woman's Board is working to support the Rush Cancer Center's initiatives to create new protocols to keep these patients safe," Bigelow says. "It is a powerful way to help cancer patients who are first diagnosed to minimize the length of time they wait for treatment."
Geller told us that by holding Woman's Board meetings, led by President Cindy Nicolaides, on Zoom since March, many more board members have been able to get involved in next month's wine tasting. "It will literally be a hands-on event for the board," she explains. "Supporters purchase tickets at one of three levels: $350 for three bottles of wine, $1,000 for six bottles of wine, and $2,500 for twelve bottles of wine. A week before the event, members of the Rush Woman's Board will hand-deliver the bottles of wine, as well as a goodie bag, to each ticket holder's home. Advance delivery means wine bottles can 'quarantine' for several days before they are opened, just as an extra safety precaution if desired."
Ticket holders will receive a link to the live stream before the event that will be broadcast through a private YouTube channel. Todd Hess and Veronica Hastings of H2Vino, an importer and distributor of fine wines from around the world, will guide guests through three wines: a Grand Cru Champagne, a top-ranked California Chardonnay, and a historic Napa Valley Cabernet Sauvignon.
Bigelow says, "A unique thing about this virtual event is that you really have no idea about guest count. For example, one could purchase a $350 ticket and invite 4 friends from her COVID-19 bubble to her house for the tasting. Each guest could have one glass from each bottle. Or one could purchase at the $2,500 ticket level and keep all 12 bottles for herself. Very different from the traditional gala model, but it has the possibility of being more inclusive and accessible. It also means that guests can modify the event based on their desires. They could host a small, socially-distanced group in their backyard or they could treat the wine tasting as a private lesson from two skilled wine experts."
The co-chairs say that they will be working from their own version of NASA's control center that night. All have pre-recorded messages for the evening.
Regarding what to wear, Herb shares, "We are planning to wear fall colors, but the beauty of an event like this is that you can be casual and out in your backyard. We have heard from so many guys that they are delighted that they don't have to dress up for this one."
Like the dress code, the Board has found within the challenges of this year a greater flexibility—and an even greater determination and sense of dedication: "It will be invaluable in helping Rush meet its goal to become the preeminent destination for cancer care in the Chicago area," Herb says. "Guided by the principle that comprehensive cancer care shouldn't come at the expense of convenience, these initiatives aim to enhance the patient experience by addressing intake and access challenges, streamlining patient flow and navigation, reducing wait times, optimizing the use of clinical space and technology, and improving patient communications. By combining procedures and eliminating unnecessary tests, costs for care are reduced for patients."
This year's event will take place online at 6:30 pm on October 2. For more information, visit thewomansboard.org.