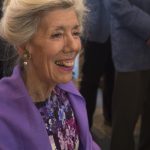 BY JUDY CARMACK BROSS
"Our goal is to create something spine-tingling and unforgettable, often combining the disciplines of art, history, food, wine, and music to create one carefully curated and personalized package," shares Rose Balston.
The dazzling Balston is all about "bespoke cultural experiences" created not only with her knowledge and passion for art history but using what she describes as her "strong little black book" to give the most intimate opportunities: "This is partly because I have done a certain amount of TV presenting on BBC and Sky, which has allowed me access to some influential people, and partly because with over 11 years of experience, we have had lots of time to meet major arts patrons, collectors, writers, and influencers," she explains. "This not only allows us some really interesting private access but also helps us create one-off experiences with well-known people across the globe."
"By way of illustration," she continues, "they have included a private dinner in the Tower of London; behind-the-scenes exclusive access at Westminster Abbey; portrait painting classes with leading British artists; intimate views around private art collections; panel conversations with leading artists, writers and journalists; overnight stays in stately private homes with epic art collections, including dinners with their sometimes royal owners—the list goes on."
When she wanted to expand Artscapes, which she founded in 2009, virtually to a US audience this spring, the Scottish lecturer, art historian, TV presenter, and guide turned to Chicago cousins Ellen Stirling, the owner of one of our local chicest experiences, the Lake Forest Shop, and husband Jim. "Rose is extremely well-connected across the art world as well as celebrity and royal circles. Her clients are from all over Europe," Ellen Stirling told us. "Her family represents over 900 years of Scottish history but she is an intriguing and highly experienced woman of 2020."
Just as she makes commuting to London from Dubai (where she has lived with her husband, Ben Higgins, since 2015) seem easy and fun, she is responding with virtual experiences as fast as the world is changing showing her trademark enthusiasm. "Last week I was asked to create a talk on how, historically, we can show that from adversity green shoots of culture will always grow and thrive. I put together a lecture on four examples: Michelangelo's David, Rembrandt's Self-Portrait at the Frick, Christopher Wren's St. Paul's Cathedral, and J.M.W Turner's Rain, Steam, Speed. The Covid-19 pandemic, Black Lives Matter, general elections, Me Too, climate change—all these themes inspire our programs," she shares.
Having just led a group of International Women's Forum members, including Chicagoans, through a virtual tour of London, Balston is delighted to be developing a lasting Chicago connection. Due to Covid-19, the 'on-the-ground' experiences had to be cancelled, including stops at Westminster Abbey, Kensington Palace, and the Wallace Collection with carefully selected experts from the Artscapes team. Though the in-person visits were transformed into an online adventure, the raison d'etre remained the same: getting to the heart of the feisty English Royal Court, discussing the "complex and delicate relationships between kings, queens, courtiers, and lovers from the Stuart, Georgian and Victorian periods." This included an exploration of the "rigmarole of courtly etiquette" and the power royal lovers have yielded over history, bending the ears of monarchs for financial, social, and political aims. Within the framework of portraiture, these figures rise to power and influence the group could be examined, drawing parallels to more contemporary royal ladies, including Princess Diana; Camilla, The Duchess of Cornwall; and Meghan, The Duchess of Sussex.
Having recently viewed one of Balston's recent online lectures, Sex, Power, Betrayal and Death: The Sublime Poetry of Titian's Poesie, we agree with her husband who says: "You don't get how great she is until you see her in action online."
On June 20, live at 11 am, Balston and Annabel Howard invite you to The Female Body in Art: A Mirror of Its Time: "From the Renaissance right up to the present day, you will see how the genre has puzzled, angered, and delighted artists and onlookers alike," Balston describes. "Controversial now, controversial then, beautiful or voyeuristic, insulting or celebratory, naked or nude?"
We had to learn more about those bespoke experiences Artscapes offers, and the special places where they have entertained their guests.
Take us back to the beginning, to the founding Artscapes.
I had recently returned to the UK after a few years guiding and lecturing in Italy and was surprised that my friends hadn't spent much (or any) time since graduating in the great—and free—galleries of London.  I set about trying to remedy this by doing a series of Friday night tours in the National Gallery, London. I called the tours "Artshots," and in them we would explore one superstar artist each month of the year, working our way through Western art history. We topped and tailed the talks with drinks in the National Gallery bar beforehand, and a boozy dinner in Soho afterwards, to carry on the conversations we had had started in front of the paintings. It was absolutely glorious and I loved every second of it! Word quickly spread and, rather by mistake, Artscapes was born. 
Now 11 years on, we continue to create intimate exploratory cultural experiences for people from across the globe. We work with a lot of corporate clients who are looking for a new type of client/team entertainment, clubs and societies, locals, plus travelers and families who want to get the best out of London and further afield. 
What are the changes you have had to make due to the pandemic, and what you are learning as you add more and more to reach people around the word?
This has all been rather extraordinary. In early 2020, 100 percent of our art experiences had to be canceled for the spring. Head in hands, we feared for the future of the company. However, supported by our amazing clients, we were almost immediately asked to put everything online, to offer art history courses and recreate tours and corporate events, virtually. It had never occurred to me we could pivot our business in such a way, so quickly and so seamlessly. Within the first couple of weeks, we were connecting with thousands of people in 25 countries around the world.
We never would have been able to do this on-the-ground, and it has been so inspiring and eye-opening. Not only has the business managed to survive this pandemic, but we now have a whole new offering that we will continue working on well after lockdown finishes. 
What an amazing job you have! What do you love best about it? What are you concentrating on right now?
Yes, you are right. Every day I feel so blessed. What do I love best about it? This is really tricky. There are so many wonderful aspects. I think most exciting is witnessing the light-bulb moment, when you are talking to people about a concept in art and history, and you see clarity suddenly dawn on someone's face. Likewise, it is so rewarding to be told that after our experiences people have discussions they might not have otherwise had with their colleagues and families, that they have gone out to buy books for more research, or that they will look at art in a new way. Helping people access the wonders of this subject is a real privilege.  
It is also an enormous pleasure to work with a group of art historians and historians in London. We are all great friends and have such extraordinary conversations! They have wonderful charisma and knowledge (always worn so lightly) and to debate various art historical topics with them over a glass of wine or two, or to explore a new area, or collection, in town, is just such a highlight! 
How do you describe your obvious passion for art?  
Haha! This is even trickier! I suppose people often comment on my enthusiasm and passion for my subject transmitting naturally both off- and online. I do tend to get overexcited about what I am talking about and if this is a helpful way for people to engage, then it is a win-win! 
I know you have a great love of the Spanish painter Diego Velasquez. Tell us about your next lecture series beginning September 5 on the Baroque period.  
My love for Velazquez began when I was at university, studying with a great professor of the Baroque period. After graduating, I moved to Salamanca in Spain to get under the skin of the language and spend more time with the Velazquez paintings in Madrid. While I ended up spending much more time in Italy, my love for the Spanish master has endured, and I find him endlessly fascinating. You can look at his works again and again and they remain elusive and complex and you can read them differently each time.
I love lecturing on him, as I do with all the Baroque artists. While drama was at the heart of this period of art, Velazquez's drama has a depth of stillness to it that I can only really connect to Vermeer. He is leagues away from the bombastic nature of Rubens and Van Dyck, or the intensely personal Rembrandt paintings, and his virtuosity shines out in a completely different, unique way. 
Speaking of travel, tell us a little more about life in Dubai.
It has been fascinating. I rather dreaded it, thinking of this cultural desert I had heard so much about. When I arrived, I found a very different picture: a vibrant grassroots creative scene that was doing everything it could to be explorative and innovative. At first, contemporary art was the order of the day, but with the opening of the brilliant Louvre Abu Dhabi in 2017, a whole new chapter of art has been opened up. Commuting back and forth to London is easy. Emirates is great, and it has provided me with the escape I need to never get tired of one city or the other. 
How can our readers find you?
The best thing to do would be to contact the Artscapes team at office@artscapesuk.com for general enquiries. Or visit is artscapesuk.com to sign up for our newsletter to get information on all the public and private opportunities that are available. A series on Modern Art starts July 11.