BY SOPHIE BROSS
Robert Garvey, who has been obsessed with making the perfect pizza for over twenty years, has finally achieved pizza nirvana.  He and his wife, Dana Hokin, have hosted hundreds of private pizza dinners in their home over the past twenty years trying different iterations of Robert's dough until finally coming up with his current recipe of pizza perfection.
Although Robert's Pizza just opened on Friday, May 17th in the Streeterville neighborhood, my love of Robert's pizza started when Dana and Robert invited me and my children over for pizza in their apartment over fifteen years ago.  It was love at first bite and has only gotten better with time.  I have been on this personal and culinary journey with my dear friends over all these years watching their lives evolve, seeing their daughter grow up, witnessing both happiness and tragedy and, of course, the laborious process of perfecting their pizza.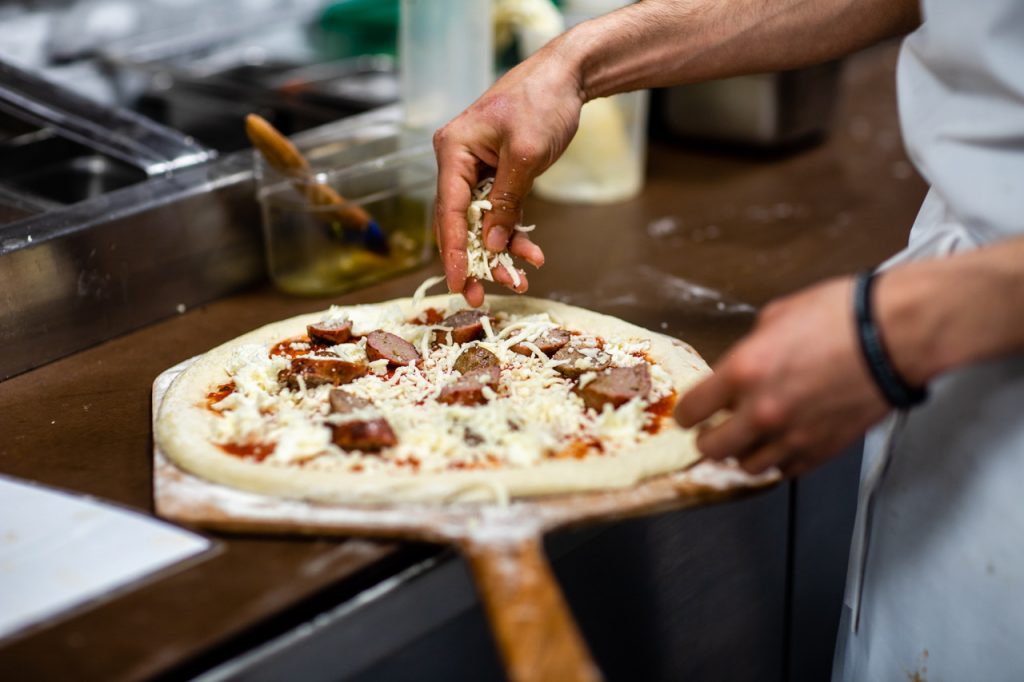 Making pizza.
It really is all about the dough.  The pizza starts with a cold rise in a refrigerator for 3 days.  Robert works the dough with his fingers instead of a roller to ensure the dough is not overworked and to put a bit of air in the crust.   After about 10 minutes in a gas fired oven, the pizzas emerge beautifully thin and crisp.
Prosciutto and Arugula with prosciutto, arugula, grape tomatoes and fresh mozzarella pizza.
Although there is always an opportunity to create your own masterpiece, the standout pizzas include:
Duck Prosciutto with Calabrian chiles, fresh mozzarella and homemade tomato sauce
Pepperoni with housemade pepperoni
The Jay with housemade fennel sausage, Calabrian peppers, fresh mozzarella and tomato sauce
Brussels and Bacon with brussel sprouts, dates , Broadbent bacon, smoked mozzarella and drizzled balsamic
Prosciutto and Arugula with prosciutto, arugula, grape tomatoes and fresh mozzarella
Veal and beef meatballs with house giardiniera and homemade red sauce.
As for the starters, I recommend the marinated olives that arrive warm to the table, the burrata with date jam and the artisan meatballs.  The veal and beef meatballs with the house giardiniera and homemade red sauce are nothing less than amazing.  Robert has also added three entrees to the menu of steak, chicken and fish for those foolish enough to pass on the pizza.
Robert's Pizza will have a selection of local craft beer, a specialty cocktail menu and a variety of wines including selections designed by Robert's family in Piemonte, Italy.   The wines and craft beers have been chosen specifically to pair with the pizzas.
Private dining room at Robert's.
The restaurant is located at 465 N. McClurg court next to Winter's Jazz Club on the Riverwalk overlooking the Ogden slip.  It is in a loft space with exposed brick and pillars and a décor that has a retro feel.  The restaurant seats about 140 people and has room for an additional 70 people outside.  It has an 18 seat bar with charging stations.  Robert's also has a separate to-go window for carryout orders.  It is open for dinner Tuesday through Sundays at 4pm with plans to open for brunch and lunch in the near future.
Robert's pizza is sure to become a favorite in a city known for great pizza.