Vibrant School's Unique Program Helps Develop First-Generation College Students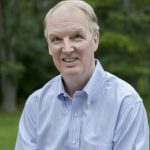 By David A. F. Sweet
Beset by crowded conditions in a parish designed for 200 grade-school students rather than twice as many high-school students, the administration of Cristo Rey St. Martin College Prep needed to procure a space offering vastly improved conditions to secure its future.
More than 90 sites in Waukegan were considered about a decade ago. And the final choice was as far from a parish as could be imagined: an abandoned K-Mart building fronted by a Burger King restaurant off a busy state highway.
Vacant for four years and in derelict condition, the school dispensed of asbestos-ridden tile, brought a ton of natural light into the 100,000-square-foot structure and — $29 million later, including the cost of purchasing the property – developed a modern, vibrant educational institution. One example: Cristo Rey boasts state-of-the-art chemistry, biology and physics labs to engage science students.
"At the old place, the science labs were designated as such because they had sinks," said Cristo Rey President Preston Kendall.
Welcome to a school unlike any other – and not just because its renovated building earned the inaugural 2021 Richard H. Driehaus Legacy Award for Innovation. The heart of Cristo Rey – which stands for Christ the King — is its work-study program. On any given day, a quarter of its students are working at Abbvie, Discovery and other employers in the area, driven to their jobs in one of the school's 12 vans.
Before Covid-19, the income generated from these jobs paid for half of Cristo Rey's operating costs. All students must complete four years of professional work to graduate.
"It's a transformative experience," Kendall said. "And most of our students want to come back to the area to work after college, so these companies find they'll have employees they know who will work in the suburbs."
Amy Wagliardo, executive director of Gorton Community Center in Lake Forest, sees up close how valuable Cristo Rey students are.
"They come here ready to work," she said. "They always follow through on their tasks.
"One of our interns has shown a real affinity for accounting, and this was not a profession or career path she knew anything about. She's taking this idea back to school to discuss with her college advisors."
Kendall – who holds two degrees from Northwestern University, a master's in management from the Kellogg School along with a bachelor of arts degree – left a financial-service job to help launch the first Cristo Rey school in Chicago in the 1990s. Back then, the Jesuits were concerned that private schools such as Loyola Academy were becoming too expensive and would be unable to attract immigrants. Taking to the streets, Jesuits asked Latino and other immigrants what they wanted for their sons and daughters. The message was clear: a chance at college, where many of them would be first-generation students.
At Cristo Rey in Waukegan, it's mission accomplished. One hundred percent of seniors in 2021 were accepted at a college to earn a four-year bachelor's degree. A massive board on one wall shows not only where each 2021 graduate is attending college – such as Cornell and Holy Cross — but each school he or she was accepted at. So far in 2022, for the first time a Cristo Rey student was accepted at Stanford University and a number will matriculate at Johns Hopkins University.
Before going to Cristo Rey, Katia Astudillo attended a public middle school. How did her new school differ?
"There is the community feeling Cristo Rey creates for the students," said the alumna, who is now an architect and who mentors a Cristo Rey student who would like to join the profession. "It really allows students to make personal connections with their teachers. When students need help with an assignment or topic, they are more likely to ask. That allows students to be more successful in their studies."
For struggling students, an academic assistance program is mandatory for those who post a grade point average below 2.0 – yet the school has a good problem: 99 percent of students receive grades above a 2.0. For the few who use the program, "even those kids who have brought their grades up want to go back," Kendall said.
How did Cristo Rey come to Waukegan, where more than 17 percent of the population lived in poverty as of 2019? When Cristo Rey began, there was no thought about replicating the first school, Cristo Rey Jesuit High School in Chicago. But in 2004, the Bill & Melinda Gates Foundation and the Cassin Educational Initiative Foundation offered hundreds of thousands of dollars to start more. That same year, Kendall become the first full-time employee of the Cristo Rey Network, and he took over the floundering member school in Waukegan in 2011. Today, there are 38 Cristo Rey schools across the country.
When the Waukegan school receives about 150 applications – all with per capita incomes below $14,000 — it closes the process, because Cristo Rey doesn't want to be in a situation where it rejects most applicants. First-generation college students are given preference. All students receive a Chrome laptop on their first day of class, one they can keep after graduation. If it needs repairs, they can drop it off with fellow students who have been trained to fix them.
Donors are essential to the school's success. Off the main entrance, the names of dozens of benefactors cover the front wall: the Gorter Family Foundation, Steans Family Foundation, Lake Forest Bank & Trust and more.
Cristo Rey students are known for giving as well. In the parking lot in front of the school, students partnering with the Northern Illinois Food Bank handed out more than one million meals in 2021. Some days, more than 800 cars would snake through the lot, and the dozens of student volunteers persisted in giving away food even if the pavement was sizzling from the mid-summer sun.
And that spirit animates the school. As Kendall once wrote, "The real Cristo Rey St. Martin is found in the hearts and minds and dreams of our students. How can we be anything but inspired and invigorated by them, using their God-given talents for the benefit of others?"
Unsung Gems columnist David A. F. Sweet is the author of Three Seconds in Munich. He can be reached at dafsweet@aol.com.