Shirley Ryan , right, with Mrs. Robert Funderburg  and Bill Graham at the first Lyric Wine Auction in 1988.  It was Shirley, who  created the immensely successful event, traditionally produced  every three years.    
By Megan McKinney
For the many who have missed the triennial Wine Auction, produced by the Women's Board of Lyric Opera of Chicago, the popular event will return on Saturday, May 13 with the diverse wines of Maison Joseph Drouhin as its centerpiece and Laurent Drouhin, a fourth generation member of the distinguished French dynasty, as Honored Guest.
Since the Wine Auction's 1988 inception, the elegant evening  has raised more than $11 million in support of Lyric Opera . Next month's auction will be led by co-chairs Nancy Searle and Erica Sandner. Nancy Santi is Women's Board president.
During the same 1988 evening Patrick G. Ryan joined his wife, Shirley, with the  late Margrit  and Robert Mondavi of Napa Valley
To celebrate the return of the greatly missed Wine Auction following an unprecidented five year hiatus, Classic Chicago friends at Lyric gathered photographs from past events. Our readers who have attended the Wine Auction through the years will recall the event being held on the stage of the Ardis Krainik Theatre, surrounded by sets of a current opera.  Among those in our in the photos for each of the triennial auctions are Honored Guests, members of the "royalty" of  winemaking world wide.  It is truly a benefit like no other.
In 1991, Susan Oliver with Monsieur Jean-Claude Rouzaud,  who was for 30 years president of Champagne Louis Roederer, and Madame Rouzaud.
In 1994, Ardis Krainik with Monsieur and Madame Jean-Michel Cazes, of Bordeaux, France, and Renée Crown.
In 1997, Susan Oliver and Shirley Ryan were with the late Count Paolo Marzotto,  founder of Baglio di Pianetto, and Countess Marzotto.
The Lyric stage as banquet hall in 2000, What could be more festive?
In 2003, Women's Board member Bonnie Pritchard, left, was joined at her table by  Florentine vintner Marchese Piero Antinori and  his winemaking daughter, Alessia.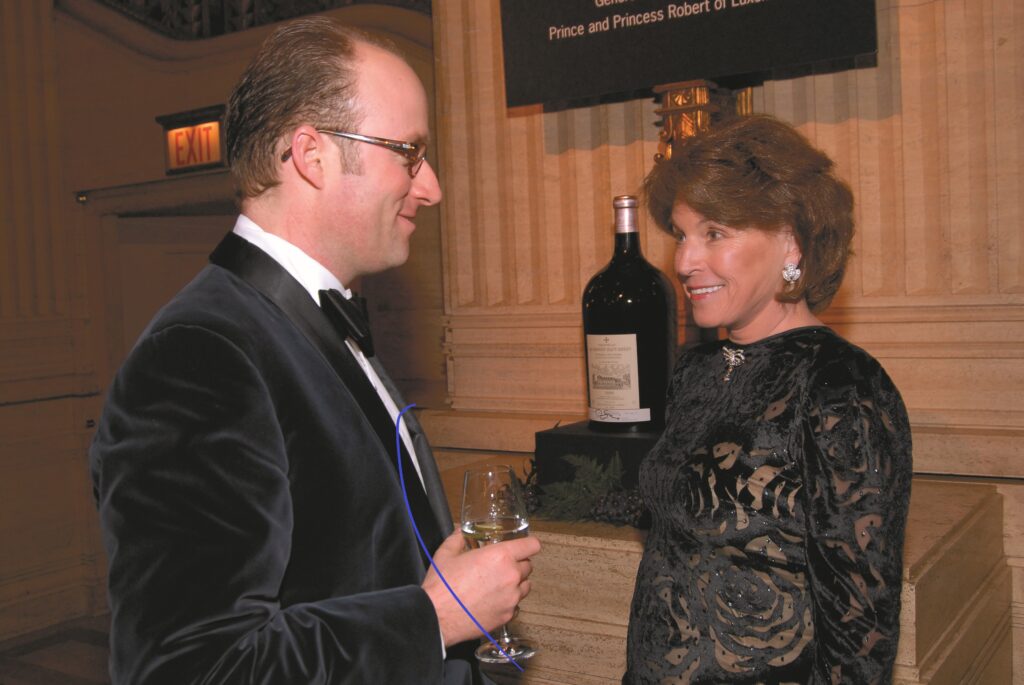 In  2006, Nancy Millikin chatted with Prince Robert de Luxembourg, possibly about his Château Haut-Brion winery.
 In 2009, Cathy Osborn and Nancy Searle with Pierre-Henri Gagey, president of Maison Louis Jadot. 
In 2012, Becky Knight  and Alison McNally.
In 2018, John Krehbiel and Karen Z. Gray-Krehbiel entering the opera house on the red carpet
The 2018 Wine Auction netted a record-breaking $2.2 million and was named a "Top Charity Wine Auction" by Wine Spectator.  
The elegant evening, which attracts 400 guests from throughout the nation and Europe, features a lavish reception, superb dinner, and live auction offering"a dazzling array of curated wines, unique dining experiences, and exquisite travel packages." What a wonderful place to be on Saturday night, May 13!
Author photo: Robert F. Carl