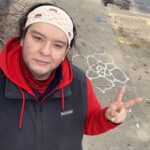 Chicago, a city known for its toughness and grit…sometimes referred to as the city of broad shoulders. One person fully embodies those characteristics, his name is Richard Marvin Butkus – simply known to the masses as Dick Butkus. An all-American football linebacker who played for the Chicago Bears from 1965 to 1973.
Butkus struck fear into those who played opposite of him, ball carriers were always on the lookout for No. 51 whenever they played the Bears. Rightfully so, Butkus was invited to eight Pro Bowls in nine seasons, named first-team All-Pro six times, and twice recognized by his peers as the NFL's Defensive Player of the Year. He was a brutal tackler who played with unrelenting effort, he is widely regarded as one of the greatest and most menacing linebackers in pro football history.
Butkus was a born and bred Chicagoan. Butkus style of play reflected the gritty nature of Chicago. His father, John Butkus was a Lithuanian immigrant, he worked as an electrician for the Pullman-Standard railroad car manufacturing company. His mother, Emma, worked in a laundry. Butkus was the youngest of eight children. Raised on the tough South Side of the city. He played his entire football career in his home state of Illinois, which began at Chicago Vocational High School. He was Chicago's football player of the year as a junior.
He played linebacker and center for the Illinois Fighting Illini. He was twice consensus All-American, and he led the Illini to a Rose Bowl victory in 1963 and earned MVP in the Big Ten Conference. Butkus also finished sixth in the Heisman Trophy balloting in 1963 and third in 1964. He was inducted into the College Football Hall of Fame in 1983.
Butkus was selected by the Chicago Bears as the third overall pick in the 1965 NFL Draft. He quickly proven himself as a wrecking ball and force of nature with his inclination for causing turnovers. During his NFL career, he intercepted 22 passes and recovered 27 fumbles (a record when he retired) and was also responsible for causing more fumbles with his missile-striking tackles. His tackling ability earned him both admiration and fear from opposing players. According to Hall of Fame defensive end Deacon Jones, "Butkus 'was a well-conditioned animal, and every time he hit you, he tried to put you in the cemetery, not the hospital.'" Despite playing for a winless season with the Bears during his playing career, Butkus gained a reputation around the league as one of its the best players. He appeared on the cover of Sports Illustrated in 1970 with the caption, "The Most Feared Man in the Game", a reputation that cemented his legacy.
Butkus was known to play angry, often times creating scenarios or imaging things to make him mad, he felt it gave him an edge in the field. In 1969, After the Bears lost to the Lions in their first matchup, Lions rookie running back Altie Taylor told reporters that Butkus was overrated. The next time the Bears played the Lions again that season, Butkus responded by chasing Taylor out of bounds after a play, causing Taylor to jump into the stands for safety at Wrigley Field.
Butkus was elected to the Pro Football Hall of Fame in 1979, his first year of eligibility. The Hall's voters also named him to the NFL's 1960s All-Decade Team and 1970s All-Decade Team, regarding him as one of the best players of both decades. On October 31, 1994, the Chicago Bears retired Butkus's No. 51 jersey along with Gale Sayers's No. 40 jersey during a ceremony at Soldier Field. A sculpture featuring Butkus, Halas, and seven other former Bears greats was unveiled in 2004 at Soldier Field. Butkus was inducted into the Chicagoland Sports Hall of Fame in 2008 for his contributions to Chicago sports. On August 24, 2013, he was inducted into the National Lithuanian American Hall of Fame. In 2018 Butkus was inducted as a laureate of The Lincoln Academy of Illinois and awarded the Order of Lincoln, the state's highest honor, by the Governor of Illinois.
Butkus embodied the city of Chicago, and the city loved him for that. Fans still wear his jersey number at the games. The No. 51 will always be regarded as a menacing number to most Chicagoans, to intimidate and strike fear to opponents. A legend that will never be forgotten. Truly one of Chicago's finest to ever lace up and grace the field.
Butkus is survived by his wife, Helen, his high-school sweetheart whom he married while they were both at university, and three children, Richard Jr, Matt, and Nikki.
Richard Marvin Butkus, American football player and actor, born December 9, 1942; died October 5, 2023.