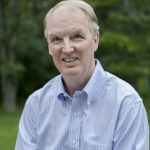 By David A. F. Sweet
"What is it about Adler that draws you in to these extraordinary things he has created?'
That is a question designer James Shearron asked the audience during a recent talk in Lake Forest about the renowned architect, who is currently the subject of a four-part documentary on PBS entitled David Adler: Great House Architect.
One answer: Adler juxtaposes elegant classical elements with modern ones.
"One room is earthy, and one across the way is full-on glamour," said Shearron, a former editor at Home & Garden who runs an architecture firm with Dick Bories that Architectural Digest ranks as one of the top 100 in the country.
Shearron singled out three spectacular homes Adler built during the 1930s in Lake Forest, which happens to be Shearron's hometown. The Helen Shedd Reed Estate, the Mrs. J. Ogden Armour House and the Mr. and Mrs. Leslie Wheeler Home are all showcases of an architect at the height of his powers.
Shearron's introduction to the Reed House on Lake Road occurred during an estate sale on Deerpath Road in Lake Forest. He opened a book and tucked inside it were Town & Country magazine pages that had extraordinary photographs of the house when it was new.
On the outside, Shearron pointed to the fact that the Midwestern house possesses a passion for Pennsylvania silver-gray stone. He noted the beauty of the forecourt, where tall oaks dominate in almost a forest-like manner.
The inside – especially the Long Hall — is brimming with glamour and elegant touches, such as the thin line of inlaid black marble around an arched doorway and the grand staircase and its balustrade made of Steuben glass. Another intriguing design is found in the men's cloak room, where a wall sconce in the form of a plaster hand comes out of the wall holding a cup.
"It is really the best house," said Shearron.
He was especially enthusiastic about the library, which features Hermes leather walls and upholstered furniture, a result of Adler's collaboration with French Art Deco designers. 
"I could talk all day about this room," he said. "Many of the books are hidden behind curtains. The furniture is mixed with antique pieces."
The guest bedroom is so inviting that few visitors would want to leave it. Silver wallpaper covers the walls, and the beds are made of ivory. Shearron said there is nothing like it – "except maybe in the great palaces of Versailles."
The Armour house on Green Bay Road (only a chip shot away from the Armour mansion made famous by Mr. T) is beloved by Shearron, mainly because his best pal from childhood lived there.
"We both wanted to be architects, and that house gave me an education," Shearron recalled.
He praised the Sun Room there as "probably one of Adler's most extraordinary rooms" and noted the unusual touch of Venetian blinds placed on the outside of the house.
"They didn't last long because they couldn't handle the sun," said Shearron, who lamented that almost no photos exist of the house's interior when Mrs. Armour lived there.
The Wheeler Home on Mayflower Road was originally all white outdoors (white was one of Adler's favorite interior colors as well). It features a sunken garden in the back along with a Pennsylvania-influenced exterior. Inside, Shearron noted "the library is like no other. It is all veneer."
During his talk, Shearron gave plenty of credit to Frances Adler Elkins, the architect's sister who was known for her exquisite interior designs.
"There are often questions about where did Elkins start and where did Adler leave off with their designs," Shearron said. "I know of no other brother-sister team in the history of architecture and decorating that ever worked liked that."
Adler's unique designs – such as ebonized wood floors inlaid with Chinese puzzle patterns in stainless steel and fish tanks in the windows of rooms – still captivate the eye today. Said Shearron, "In his head, he must have been so excited to express his ideas. I think he has no equal."  
Unsung Gems columnist David A. F. Sweet is the author of Three Seconds in Munich. He can be reached at dafsweet@aol.com.