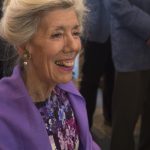 BY JUDY CARMACK BROSS
Brillo pad boxes, silver cloud balloons, photo booth fun, and swinging '60s music by the band Evening Attraction will transform Pilsen's Lacuna Lofts into Andy Warhol's studio for their September 28 celebration in honor of the sure-to-be-blockbuster exhibition "Andy Warhol—From A to B and Back Again" opening at the Art Institute October 20.
Who better than the museum's Auxiliary Board, formed 46 years ago when the Warhol's Factory was the epicenter of art, celebrity, fashion, and film in New York, to recreate the moment? The oldest and most recognized board of its kind the country, its membership has always been considered young leadership at its best and most creative.
The Factory, often hung with tin foil as a tribute to Warhol's love of the color silver, frequently witnessed screen tests and silkscreens created at the same time. Party Chairs Shay Bahramirad, Joe Duffy, Bridget Jordan Levy, Tommy Miller. and Erin White promise a pop culture paradise filled with interactive delights in a multitude of rooms, with custom cocktails created by star bartender Annie Beebe-Tron saluting the era.
Auxiliary Board president Matt Pettinelli told us: "As with the Manet exhibition, the auxiliary board is the lead affiliate sponsor for this highly anticipated show. With 350 Warhol works, it is the first major retrospective and features sketches of shoes he designed soon after he graduated from college to final years works from the mid-1980s until his death in 1987. An image of Mao takes over an entire room: you will be able to see how he imagined it. It is the evolution of his career—paintings, sculpture, video—a not-to-be-forgotten retrospective."
Pettinelli and his wife, Kristi, became involved with the board in 2009: "We have made wonderful friends and have had the opportunity to learn from curators. The board supports the endowment of the Art Institute and is grateful that our funding goes directly to specific programs that are open to the public. All proceeds from our events go back to the museum so that we will be able to sponsor future events."
He describes the board's vetting process as "deep and robust"—a "pipeline of young people who want to support the Art Institute." Board membership is capped at 60 members and the current average age of those involved is 43.
One of the organization's founding members explained, "From the first, it has been an enthusiastic group of young professionals who wanted to support the Art Institute through a variety of events and activities all of which were intended to raise funds, friends, and public support for the museum. It was unusual at that time to have a group composed of both men and women."
Pettinelli added, "Everyone should come to see the show. If you don't see it now, chances are slim that you will be able to see all of these magnificent Warhol works assembled together again."
For further information about the Studio Party taking place September 28, email auxiliaryboard@artic.edu or call (312) 443-3674.