By Francesco Bianchini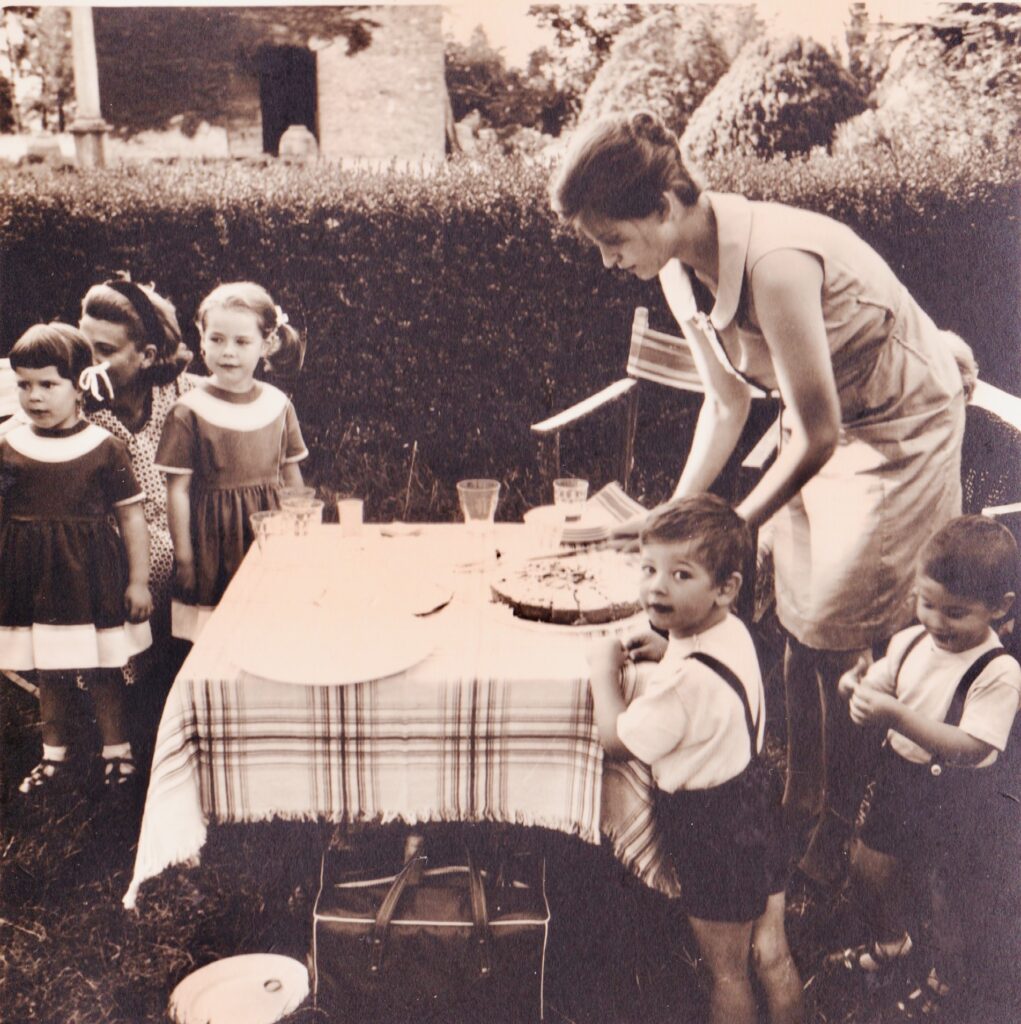 One of mamma's picnics with me looking at the camera
Some say that life is no picnic, but picnics are certainly among the delights of my life. My mother loved to organize them for us in our garden at Collevalenza. It was a pleasant place in the morning or right after lunch, but at a certain time in the afternoon, the sun stretched shadows across the grass, and an early chill forced everyone back inside. Books and sewing were stuffed into bags, and deck chairs folded while the enchanting evening light, denied to us, migrated to cheer the children's play in the village square; to stir the gossip under the tall Gothic window of the medieval wall facing west. On sultry summer evenings, however, the garden was ideal for tea, a snack or – exceptionally – for an open-air dinner. At some distance from the house, there was a hazelnut grove, planted by my great-grandfather on a slope in the shape of an exedra and enclosed by a hedge of laurel. The plants had grown to form a sort of ceiling that sheltered a stone table and wooden benches arranged all around it. We called it le nocchie, the hazelnut grove, and it was the best spot for a summer picnic. It was necessary to bring everything from the kitchen, but there were many of us, and the bustle of baskets with plates, cutlery and glasses, tablecloths and food, was part of the fun. Mamma hung Chinese lanterns from the branches and waited until dusk to light them. When we didn't eat on colorful melamine tableware, we used thick waterproof paper plates, fluted on the edges, often decorated with attractive patterns that we were sorry to throw away.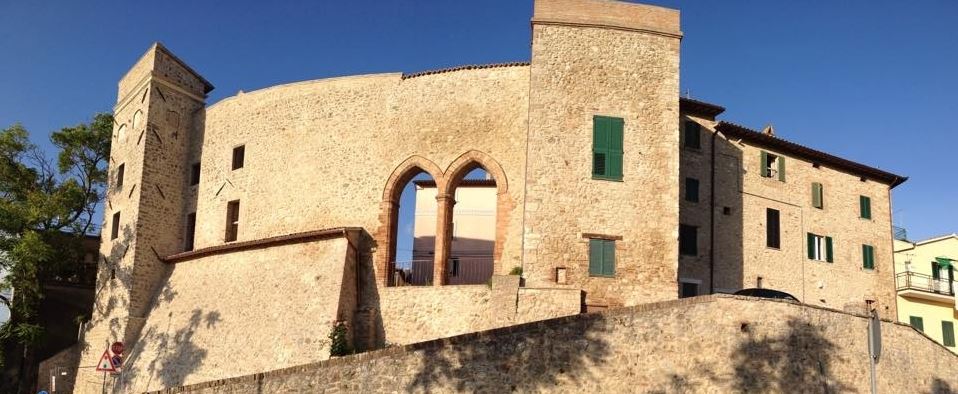 The western wall of Collevalenza
Now when it comes to picnics, it is rare to find even two people who think alike. Some believe that they should be planned with the most genuine spontaneity, while others think that they can never be improvised and that nothing should be left to chance. There are a thousand things that can spoil a meal on the grass and they are all lurking. Personally, I'm okay with either option. After all, it's about having lunch outdoors, sitting on a lawn, eating a sandwich, and drinking a drink, you think. Not by a long shot! If that's the way you feel, call it 'eating a sandwich in the open air' but not a picnic. On this point I do not derogate: even in its simplicity, a picnic should be prepared with all the elegance of its noble origins. Therefore, no disposable dishes, plastic cutlery or goblets, no food to be extracted from crumpled wrappings! With the exception of the imprint of your bodies on the sand or grass, the perfect picnic should leave no trace of its passage.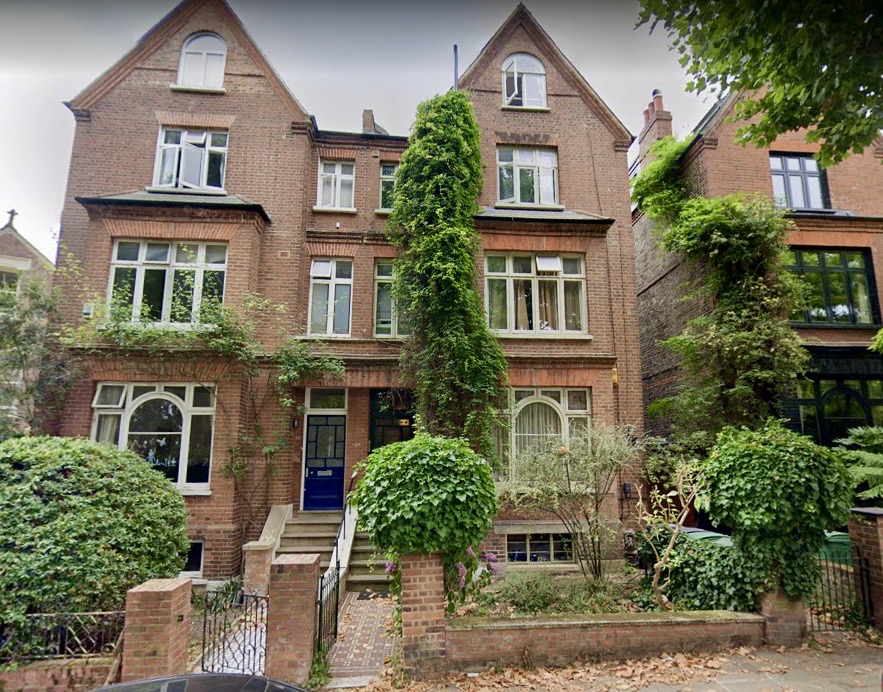 Daphne's house in Hampstead
In the 1980s I went to London for the first time in the company of my sister Sofia and my brother Federico. We found accommodation for two weeks in July at a house in Hampstead. The landlady's red brick home, just a few meters from the entrance to the heath, looked like Mary Poppins was employed there as governess. When we arrived, Daphne handed us the key to the front door, holding it in mid-air for a moment, eying us each in turn as if to discern who would give her a hard time. Hold on to it, she warned, because I won't give you another, and I won't come down to open the door. We decided whoever was first to get back at night would hide the key under the planter. But that didn't always work. Each one of us three waited sleeplessly on the front stoop at least once for the designated key keeper to arrive home. Our first night was eventful: on the way to the toilet, we stumbled in the dark over the bodies of Daphne's children lying asleep on the landing, evidently dislodged from the rooms she had rented to us. In the wee hours of the morning, we were roused by the sound of the first trains passing at the end of the back garden. Finally we went downstairs to the large kitchen for breakfast where we devoured everything Daphne had put on the table: tea and coffee, eggs, bacon, sausage, baked beans, stewed tomatoes, mushrooms, cereal, bread, butter and jam, croissants, grapefruit and orange juice. But the next day and thereafter, our hostess drastically reduced the splendor of the English breakfast, and made herself unavailable by taking refuge in her garden with her dog from where she could keep an eye on us, and at the same time listen to her Swahili lessons on audiocassette.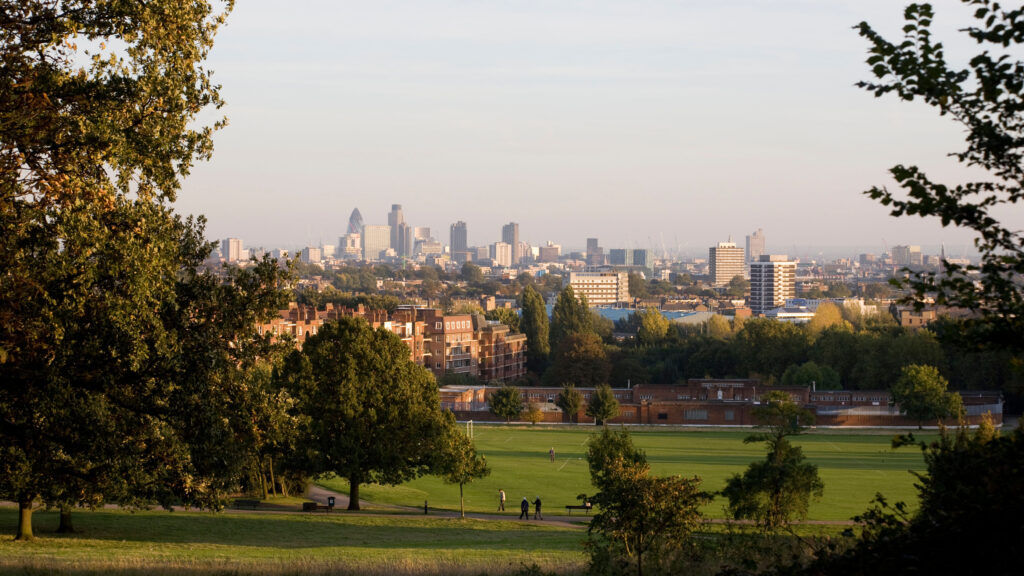 London skyline from the Heath
Although we didn't have a lot of money and were forced into complicated calculations at every meal, we lost our minds in Harrod's food court. We returned to Hampstead laden with the most frivolous and decadent delicacies, some of them difficult to preserve. Hence the idea of a picnic. But how to organize a regal one? Yes, there had been some magnificent and elegant Edwardian wicker baskets for sale with everything one would desire. But, come to think of it, Daphne had everything we needed in the kitchen! Our first idea was simply to borrow one of her beautiful baskets, capable and resistant, and bring it back without her noticing. But as she had providentially gone out with the dog that Sunday, we started grabbing this and that, plundering a beautiful white cotton tablecloth with assorted napkins, crystal stemware, silverware, and crockery. Not the ordinary blue and white ones reserved for our breakfast table, but her fine porcelain decorated with gooseberry shoots that looked like they had belonged to some great aunt. From the fridge we snatched a bottle of elderberry wine, a packet of cheddar cheese, and some seedless grapes.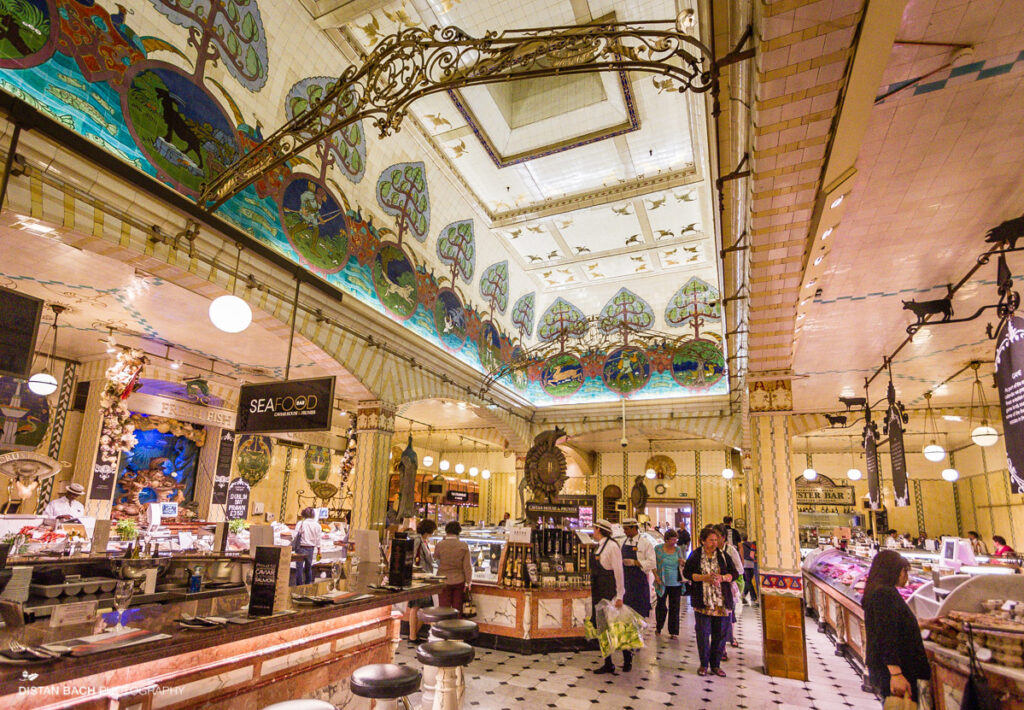 Harrods Food Court
The basket, jingling with Daphne's heirlooms, was heavy and we had to take turns carrying it up Parliament Hill until we reached the right spot – fairly level and distant from other feasting families – and carefully arranged our treasures: apricot and pistachio sausage rolls, truffle pate en croute, smoked meats and mango chutney, quiches, baguettes, aged Stilton cheese, berries and cream, and triple chocolate brownies. We tasted each delicacy with studied slowness surrounded by a landscape that could have been painted by Constable, with great oaks bordering meadows yellowing from the summer heat, and the city shimmering in the haze. All of us humans confusedly remember a golden age before our expulsion from the Garden of Eden, and wishing for the ideal picnic is evidence of the nostalgia that dwells in our souls. But every picnic – no matter how close it comes to perfection and the happy communion of all the senses – hides a thorn. Just like life. Before long, a dog approached. He had recognized us. And before long its mistress appeared, as fearsome as a bolt of lightning.