By Michelle Crowe
Doris Day cycles in dots.
A bicycle might just be the ultimate summer accessory. As firm believers in the old adage that our ability to accessorize is what separates us from the animals, choosing a bicycle is an opportunity for personal style. It's also the most practical, earth-saving, beat the traffic and heat accessory around.
For even more of a statement, add accessories. A basket up front for farmers market spoils. A basket in the rear for a furry best friend. Flowers, baguettes, lipstick and sunglasses all add to the devil-may-care insouciance and pure summer freedom of riding.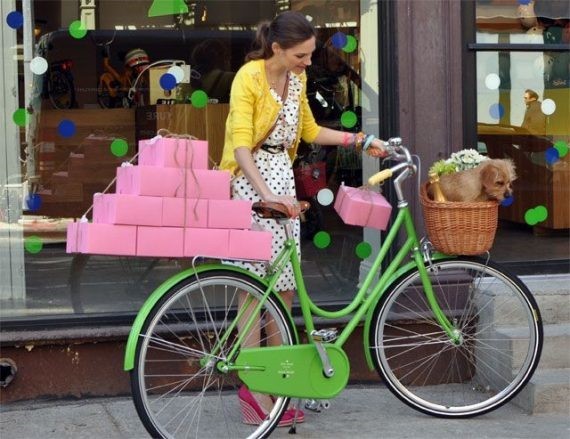 Limited-edition bike designed by Kate Spade, Spring 2011.
Fashion folks have always seen the charm and sensibleness of traveling via pedal power. Bill Cunningham, of course, the genius photographer for the New York Times, was always in his blue work coat and on his trusty black bike, an object of chicness if ever there was one. Lela Rose, the Texas-born New York designer known for her entertaining skills, has made biking in a beautiful dress de rigeur – bonus points for the terrier on board.
Lela Rose in an image from her 2015 book, Pret-A-Party.
My own personal rosebud is a bike I should have purchased years ago. While living in Marin County, California, home of serious cyclers with sleek, powerful rides built for distance and speed, I was drawn to a beach cruiser at a local shop.
Imagined by Petro Zillia designer Nony Tochterman for Electra, I regularly window shopped this riot of rainbows, hearts and flowers complete with a wicker basket and pom poms. Swoon. Never has the phrase, "You only regret what you don't buy," rung so true. Well, never except a navy and white Chanel cashmere cardigan.
I'm not alone in my lingering love of this particular model. In 2014 it made Bicycling magazine's Editor's Choice Hall of Fame and any eBay listings that pop up will put a dent into any girl's fall handbag and boot budget.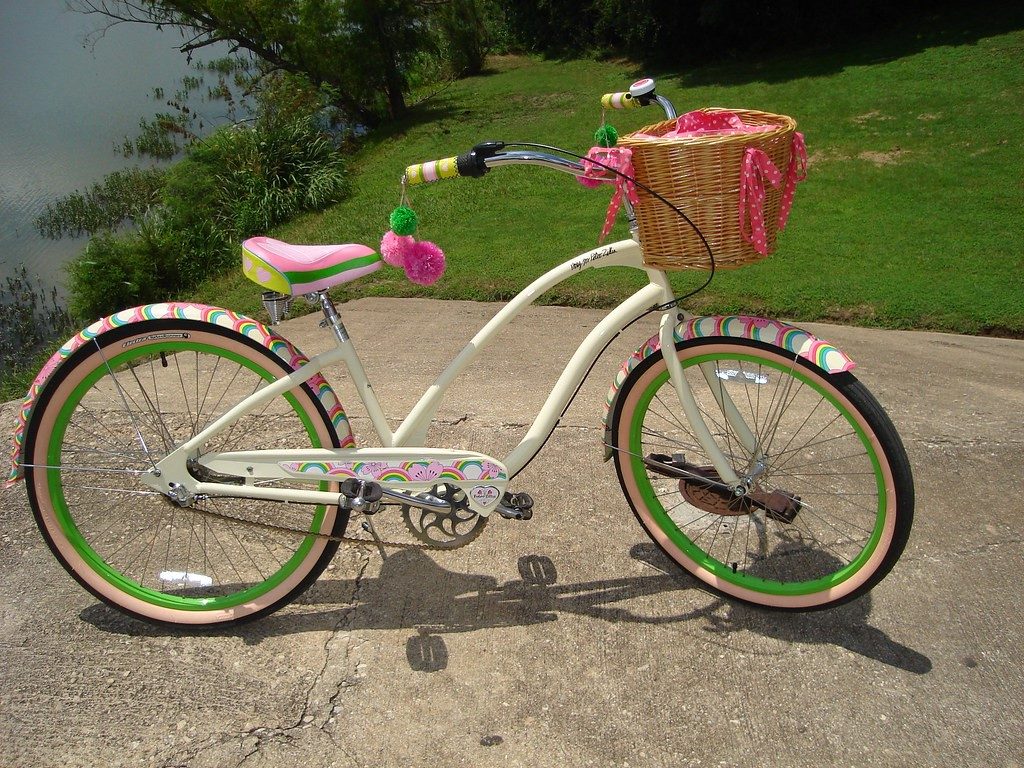 Try not to smile at the Petro Zillia for Electra beach cruiser.
It needn't be a hall of famer. Choose basic black, living coral or the brilliant blue of a Divvy and get out there. With a bicycle and a summer Sunday, the whole city is yours.
A row of bicycles from the fragrance launch of Marc Jacobs Daisy.