By Judy Carmack Bross
"If a house is a portrait that provides insights into the tastes, penchants, exotic travels and idiosyncrasies of its inhabitants, then a collection of houses speaks to the social patterns of a town.  Palm Beach residences create a narrative of a slightly eccentric, unfailingly philanthropic population inspired by the natural beauty of subtropical surroundings."  Jennifer Ash Rudick, author of the recently published Palm Beach Living, photographs by Nick Mele.
It's the apogee of spring vacation, and many Chicagoans are pleasuring in Palm Beach.  For those elsewhere, author Jennifer Ash Rudick's splendid Palm Beach Living takes you inside the nation's most exclusive barrier island where legendary architects, renowned landscape creators and internationally celebrated interior designers have assisted the unique aesthetic of its owners.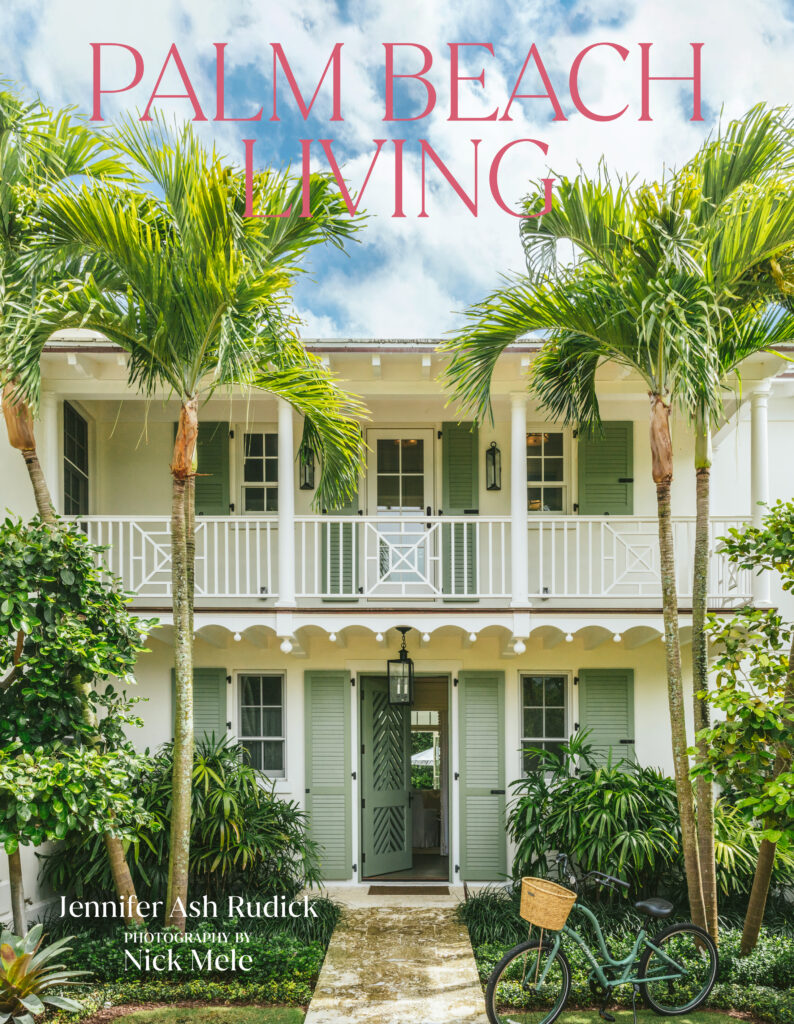 "It is 75 degrees and breezy here today," Rudick, who divides her time between Palm Beach and New York, reported this week. "It's indoor/outdoor living at its best."
Rudick is also the author of Palm Beach Chic, and five other Vendome titles including One East: Houses and Gardens of the Hamptons, and Summer to Summer: Houses by the Sea.  Design editor at large for Galerie magazine and a contributor to Veranda, she is also a producer of documentary films including the Emmy-nominated Iris and Scandalous.
"In 1980, during the summer between my junior and senior years of high school, I had a job organizing the photo files of the Palm Beach Daily News, known as the Shiny Sheet to locals, for its glossy paper, used so the ink wouldn't rub off on readers' hands."  Jennifer writes in the introduction to her latest book. "The unpaid position was created by the publisher, my mother, who saw it has a resume builder and a welcome distraction from normal teenage diversions."
"Eventually, I became absorbed in the silver bromide world of Palm Beach newsmakers," she pinned. "I especially remember a photograph of the late Eva Stotesbury, the Philadephia heiress standing in front of El Marisol, a 37-room Spanish colonial designed by Addison Mizner, one of Palm Beach's first grand-scale houses, pin curls dripping down her forehead, a pearl necklace three strands deep around her neck."
"Many of the great Mizner houses have been torn down, they were such a part of the legacy of the town," Rudick said. "Palm Beach is first and foremost a small town, very sophisticated but still a small town.  People are now hesitant about tear downs now."
"Our architecture includes Moorish, Italianate, West Indies Colonial and styles adopted from the tropics," Rudick said. "There is much outdoor living, with verandas, much with the sub-tropic appeal.  We are seeing more modern homes being built. An example would be Dos Palmas, the home of Lillian and Luis Fernandez, inspired by a secluded community in the Dominican Republic. I think homes are biographical and I love telling people's stories. Over the years I have written about almost 100 houses in the Palm Beach area.  It would be impossible to declare a favorite, but it was a pleasure to write about a few standouts as icons of inspiration."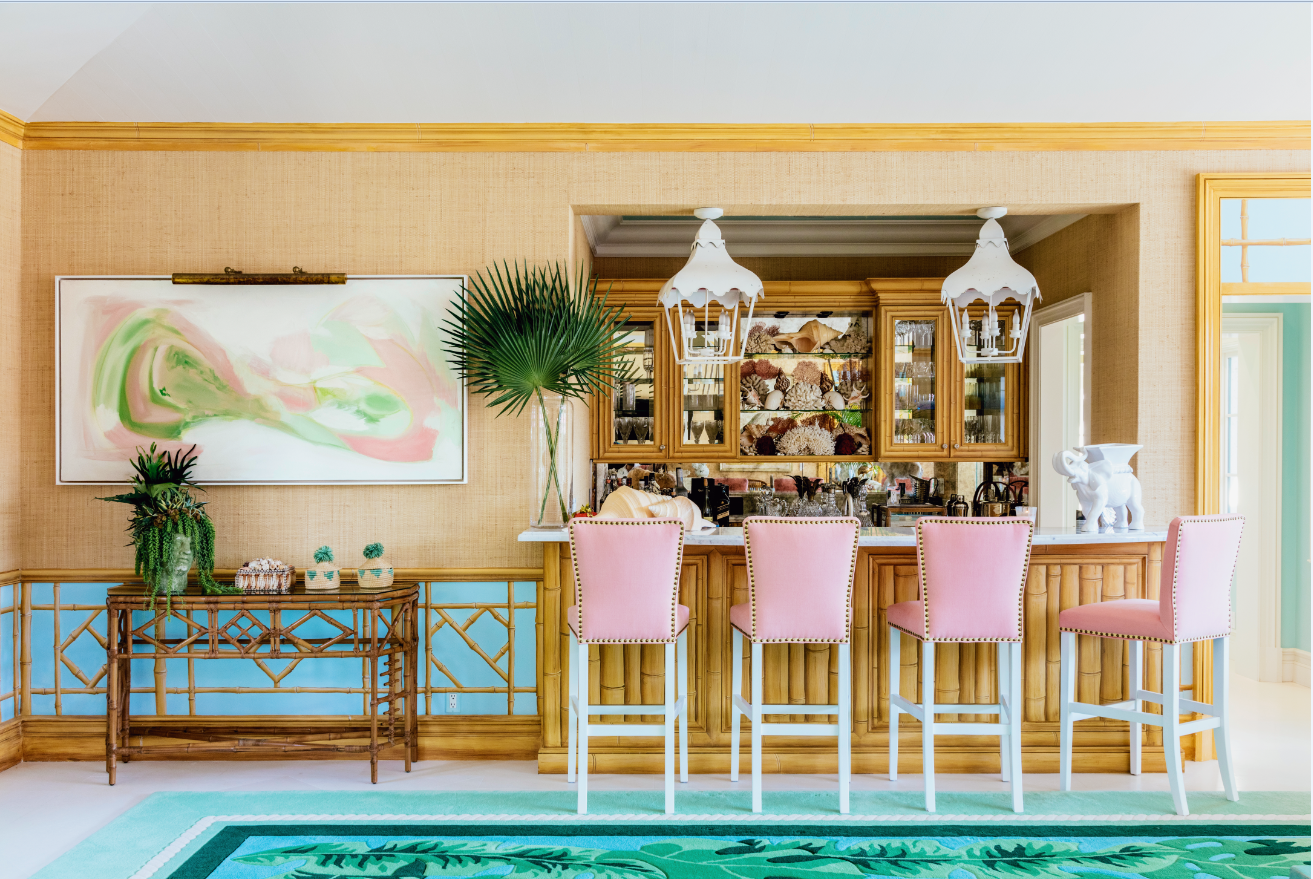 "Fate had a hand in bringing together Nina Taselaar who, with her husband Pieter had just bought a house in Palm Beach, with the late, great Carleton Varney, known in design circles as 'Mr. Color' for his penchant for vivid interiors," Rudick writes.  "Taselaar and Varney, who both shared a passion for joie de vivre, hit it off instantly when they met on an airplane and he was hired.  To establish a joyful spirit that would reflect its inhabitants, Varney commissioned Jadranko Ferko to paint a jubilant lime-green mural in the Taselaar entrance hall.  The audacious color scheme extends into every part of the house."
Tropical Punch is only one of the houses that Palm Beach Living portrays indoor/outdoor living at its best.
"Unlike Montecito where houses have lots of property, Palm Beach lots are somewhat smaller.  People like to extend indoor living onto beautiful terraces which maximize the living areas.  This extends living space and provides places for children to play.  Nothing better than sitting outside in a beautifully comfortable chair while the breezes gently blow."
"The origin of the name Duck's Nest goes back to 1891 when Henry Maddick shipped two wooden cabins from Brooklyn to a small colony in Palm Beach where they were joined and embellished with scalloped shingles, a gabled roof and an inviting front porch," Rudick writes.  "The house overlooked the Lake Worth to the west and a sprawling freshwater lake to the east where the quacking fowl inspired the house's moniker.  Today only the original Bethesda-by-the-Sea Church and Duck's Nest stand sentinel over the bike path, charming all who pedal by."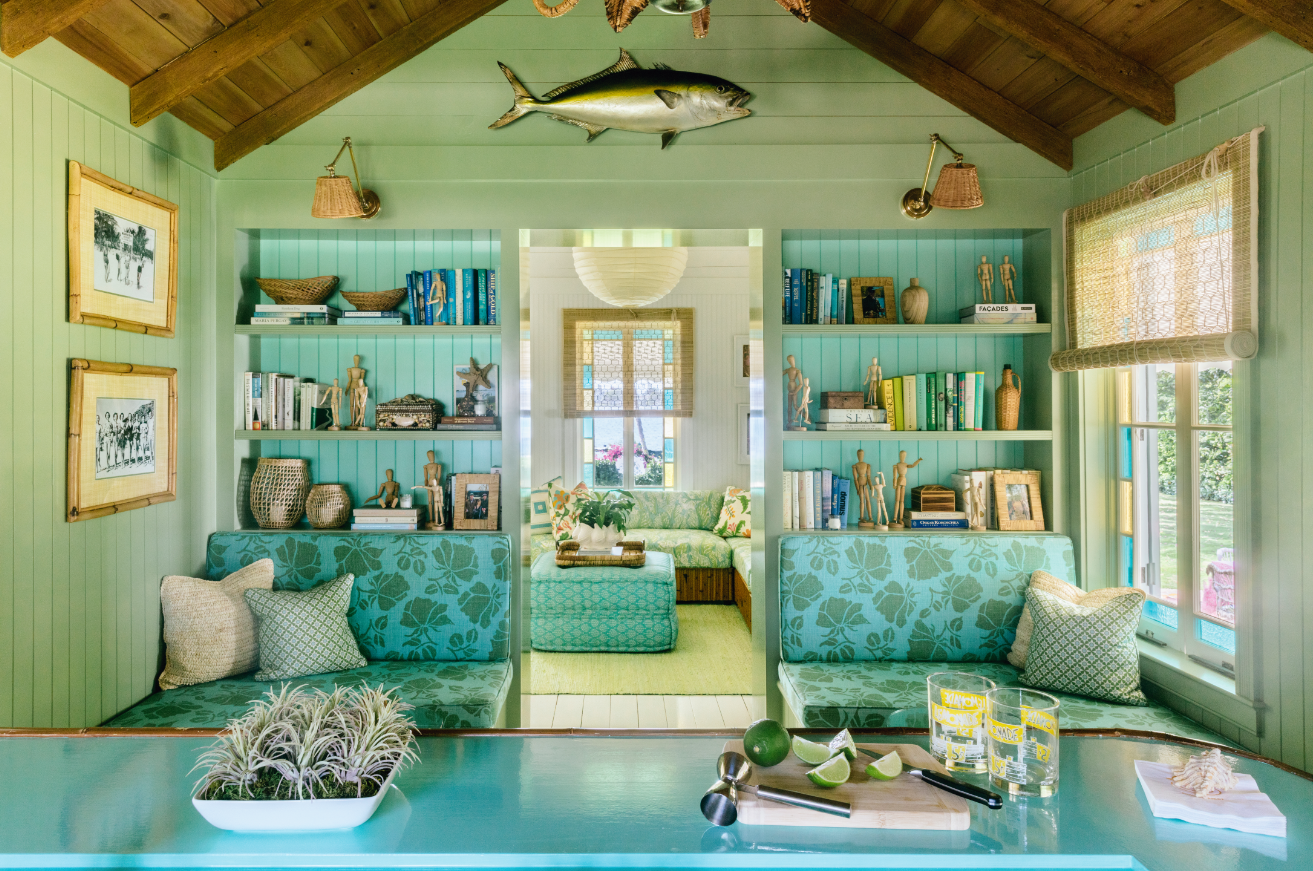 | | |
| --- | --- |
| | |
| | |
| --- | --- |
| | |
Rudick quotes the current owners, Chicago's Julie and Brian Simmons, who relished the idea of "bringing one of the town's architectural darlings back to life."  Having previously renovated an historic home in Nantucket, they understood the challenges and pleasures of preservation.  The work included resettling a family of feral cats and replacing the original foundation of stacked bricks and tree stumps.   Landscape architect Jose Sanchez was asked to unify Duck's Nest with the main house.
"To me, Palm Beach has always felt like a conjured paradise.  I loved raiding vintage and antiques shops in West Palm Beach on Dixie Highway, " lakefront Spanish revival owner Liz Lange told Rudick.  "This is my comfort zone.  I grew up in New York with bold colors and lots of prints.  My parents first apartment apartment there was on the cover of House & Garden's annual color issue."
Palm Beach Living features not only large-scale homes in various tropical styles but apartments, town houses, bungalows and a ranch as well.
 "As a child in Cuba, Pepe Fanjul spent weekends riding, fishing, and shooting at Amistad, a sprawling ranch established by his great grand-father in 1906," Rudick writes.  "Fast forward to the early 1980s when Pepe and his wife Emilia purchased land in south-central Florida and created their own 4,000-acre ranch connecting them to their family history.  Amistad offers a delightfully individualistic take on country life and a satisfying contrast to the couple's more formal home in nearby Palm Beach."
"When apartments were first built in Palm Beach, most had two bedrooms. It is hard to find a three-bedroom apartment, often people put two apartments together" Rudick said.  "Except for three weeks out of the year when I have company, it is so easy for me to live in an apartment without the responsibilities of an oceanfront house."
Interior designer and Florida native Amanda Lindroth designed her apartment featuring a terrace overlooking Via San Marco to the east.  "I grew up in sunrooms with miles of rattan furniture, which to me are so emblematic of a life of leisure and of the Amanda Lindroth Design collections," Lindroth told Rudick.
We asked Rudick to tell us a little more about Palm Beach lifestyle.
 CCM: How do Palm Beach host and hostesses best use their homes for entertaining? 
"People love to entertain outside. Really, people entertain every way imaginable here as they bring talents they've honed in Chicago, Paris, Los Angeles, New York, to Palm Beach. Some people prefer to entertain casually, like Liza Pultizer where everyone helps themselves to a buffet in the kitchen – she's a marvelous cook. Others have chefs and staff and your feet don't hit the ground. People do move from space to space, for example, drinks outdoors, dinner in a pergola around the corner or in the dining room and desert in the living room." 
 CCM:  What are some of the legendary parties that you attended? 
 "When we were young, the Red Cross Ball on New Year's Eve at the Flagler Museum was it. Once it was transformed to Studio 54 and another time it was a circus. My favorite all time party was a dinner in Lilly Pultizer's slat house. It was hung with seashell chandeliers and the table was set with mismatched polka dot cloths and napkins. Her backyard was more a jungle than a garden so evenings were completely transportive."
 CCM: You have written about both Palm Beach and Southampton. What have you seen that is both similar and different in the style of homes they create? 
"They are both beachfront communities with storied histories and generational houses. Southampton, decoratively, has a more New England feeling (although it's not New England) and Palm Beach, of course is tropical. Therefore, the choices of color and fabrics when designing is different. Where in Palm Beach one might use lime or leaf green, they would use fern or deep green in Southampton."
CCM: You grew up in Palm Beach and know it so well, how do you feel that the owners of those beautiful houses continue the historic legacy of the city?
"The Palm Beach Preservation Society does a wonderful job of protecting our historic houses. And those who buy them are really good stewards. It takes a. lot to maintain a house in the tropics – gardens grow fast and humidity and sea salt are hard on a house." 
CCM:  What will you write about next?
"I have always been interested in small houses and small spaces.  They are both practical and aspirational.  Even in a big house, we all want a space of our own. I very much like what master interior designer Tom Scheerer has said: 'style is about economy'."
Photographs by Nick Mele