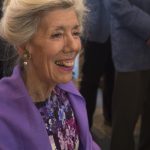 BY JUDY CARMACK BROSS
Editor's Note: We present Part III of our profile of several Chicago area non-profits strategically facing into the daunting challenge of helping those they serve during this pandemic. With galas cancelled from March through the summer and millions of dollars in bottom lines lost, employees furloughed or let go, many turn to virtual events and new fundraising strategies with renewed emphasis on the communities they serve.
What would Jane Addams do now?
When we asked Karen Foley, President and CEO of the Juvenile Protective Association, how Chicagoan Jane Addams, founder of JPA, pioneer social worker, and recipient of the Nobel Peace Prize in 1931, would have reacted to our current pandemic, she quoted Addams herself, an inspiring figure during the influenza pandemic of 1918-1919: "America's future will be determined by the home and the school. The child becomes largely what he is taught; hence we must watch what we teach, and how we live."
"I think she would be proud of how JPA is responding. We have her prophetic words with us as we serve our families, modeling for teachers and parents, and showing our mutual futures," Foley continues. "We are in close contact with all our families. At this time, children are anxious and afraid, and they pick up even more when parents show understandable fears. We are dealing with families in high poverty and violence—we want them to know that they can rely on us."
In its earliest incarnation, JPA provided the city's first probation officers for children. As society began to assume this role, JPA continued to provide children and families with better living conditions, even opening up the Chicago beachfront for play.
Always focused on child abuse and neglect, its work led to the creation of new laws protecting women and children, the formation of the Illinois Department of Children and Family Services, and the adoption of more effective child welfare practices based on JPA research. To accommodate children's changing needs over time, JPA also began to offer mental health services at its offices for children and families.
Foley told us, "In this new normal, I see a destigmatization of mental health services. There are more mental health support groups online, and we are continuing to build expanded services delivered, with great trust, by our therapists. We find that the kids consider these relationships important. Often for younger children, it is just being encouraged to look out the window as they shelter and see the squirrels or the leaves opening up, or for older children to call up their therapists when they need them."
Dana Snodgrass, JPA's Chief Development Officer, explained that their cancelled May 8th All for the Kids Gala is going virtual. Next year's benefit will be May 7 and will be a celebration of JPA's 120th anniversary.
"From Monday, May 4, to Friday, May 8, 2020, we will offer a silent auction, with an online paddle raise on Tuesday, May 5, which coincides with the new #GivingTuesday, the worldwide giving day," Snodgrass shares. "Some highlights from our online auction are a $5,000 shopping spree at Saks Fifth Avenue, dinners at RPM Steak and Maple and Ash with wine pairings, private use of the Steel Room located on the 33rd floor of the Willis Tower to host anything from a private dinner with friends to a happy hour with clients, and a three-night stay for two in an Ocean View Casita at the Four Seasons Punta Mita."
Priceless auction items include sports memorabilia signed by Walter Payton, Patrick Mahomes, and Mickey Mantle. The link to the online auction and paddle raise will go live May 4 on the JPA website.
The Junior League of Chicago was very fortunate to have celebrated their Annual Gala, held this year on February 8 at the Drake Hotel, well before closures began. Each year the JLC recognizes one of its community projects, this year highlighting the vital work of the Freeing Individuals from Human Trafficking Committee. Funds raised at the Annual Gala support their community projects and programming.
Like JPA, the Junior League benefitted from the revolutionary social reform ideas of Jane Addams, who was a community advisor of the League soon after its founding in Chicago in 1912. She addressed several of its meetings until her death in 1935.
We asked JLC President Delane Heldt how a large organization can best relate to a membership of over 1300 women and keep them goal focused: "We are a mission-focused organization, and we rely heavily on connecting in-person for our work. We realized it was essential to pivot from our typical operational model to an entirely virtual model to fulfill commitments we make to our members and the communities that we serve."
They've shifted all meetings and member trainings online, saying it has been a natural shift for most members who have experience with online platforms through their work. Heldt shares, "We continue to meet the evolving needs of our community partners by providing food to those in need, such as the Lincoln Park Community Shelter, or performing telephonic wellness checks on senior citizens. We are finding new ways to promote voluntarism, develop the potential of women, and improve the community through effective action and leadership of trained volunteers."
Heldt says that they are even extending programming by exploring opportunities to help members stay both physically and mentally healthy in this new world of social distancing: "We've launched a member buddy program to help our members who are in need of assistance during COIVD-19. And, we are trying to find new ways to fundraise and engage with members virtually. We are doing well with our new virtual model but look forward to reengaging with our members in person."
We asked Heldt if the Junior League will continue some of the new virtual aspects developed at this time when we emerge in the new normal, and she believes nothing can replace face-to-face interactions, though they have previously offered online options, and will continue to do so, for those who travel for work or need to stay at home. She shares, "Our virtual meetings have also welcomed some fun 'guest' participants: just the other night, our Management Council welcomed a feline friend named Brady to their monthly meeting! While we do miss seeing our JLC friends in person, we have learned about some amazing technology that assists with these types of virtual connections allowing our organization to continue to operate and support our community and members."
The Junior League is one our country's best example of hands-on voluntarism and mentorship. Her advice for other large organizations charting their path through the chartless times? "My advice, have empathy. As individuals, each of us is going through this pandemic. And, each of us has our own emotions and challenges. We are all in this together, and we need to support each other, have empathy and compassion. Positive and supportive messaging has been essential to engaging our members. We continue to provide recommendations, motivation, and encouragement in our weekly newsletter and on our social media."
Opened in 1911 as a neighborhood playhouse by the German-American parish of St. Alphonsus Catholic Church, the Athenaeum Theatre is the oldest continuously operating off-Loop theater in Chicago. Given this timing, it is conceivable that Jane Addams possibly took in some of their events.
We spoke with Allan Chambers, the theatre's general manager, about how they are continuing to forge ahead during this time. "Throughout its history, we have dealt with many highs and lows, but this current situation was new to all of us," he shares. "We work with national presenters, local theatre and dance companies, and others planning to use the Athenaeum for its events and had to cancel or reschedule almost two months of programming in all four of our in-house performance spaces."
"We had the daunting task of working with the promoters and artists and informing the ticket holders that their performances were either canceled, postponed, or rescheduled. Artists understood the situation and were helpful in trying to find the best ways to alert audiences and answer their questions," he continues. "Our box office was exceptional at how quickly they reached out and the amount of time they put in to make sure all were up-to-date on any event that we were hosting. We don't have a traditional season, rather, we run year-round, and the spring months are usually some of our most busy. Cutting into this time period is a hardship and a significant blow to revenue."
As you can imagine, the Athenaeum's revenue halted to a stop, without ticket or concession sales. "At present, most of our supporters and donors are taking care of their loved ones and trying to make sense of [the question] 'where do we go from here?' We're all in this together, and we all hope to be here at the end of this pandemic. They understand our mission and help when they can," he says.
Though it is a time of uncertainty, Chambers remains hopeful for the future: "We hope to throw open the doors and welcome all those artists and patrons back with open arms and glasses raised high as we toast to another century of music, dance, and theatre at the Athenaeum."
By profiling a variety of Chicago's non-profits, whether related to social service, healthcare, or the arts, Classic Chicago stands in awe of our organizations finding ways to lead us in uncertain times. We present Part IV next week.