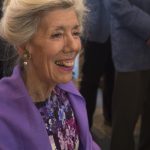 BY JUDY CARMACK BROSS
Editor's Note: We present Part IV of our profile of several Chicago-area non-profits strategically facing into the daunting challenge of helping those they work with during this pandemic. With galas cancelled from March through the summer and millions of dollars in bottom lines lost, employees furloughed or let go, many turn to virtual events and new fundraising strategies with renewed emphasis on the communities they serve.
"Be creative, innovative, listen to everyone's ideas, don't be overwhelmed, and don't give up," shares Mary Ellen Connellan, Executive Director, the Alliance Française de Chicago. "Follow your mission and continue to do what you do best."
We reached Connellan as she had just learned that the Alliance's Paycheck Protection Payment Loan had come through, enabling staff members could come off of furlough. Working recently well beyond pre-virus business hours with a skeleton staff, she was thrilled to schedule a Zoom meeting with her reunited team the next day.
"Our Board President, David Horn, and I are so grateful that we received the support of the Alliance's bank to make the loan happen. I felt emotional as I met with our skeleton staff to thank them for all their hard work, meeting the challenges with grace and coming up with new ideas constantly," she says. "Prior to receiving the PPP loan, private philanthropy from members of our Board of Directors and Woman's Board made possible the continuation of our Education Outreach Program, our signature enrichment program with the Chicago Public High Schools, funding our strategic move to the Zoom platform, which permitted us to offer classes online. Our members and students have all made gifts at the time they enrolled in classes or renewed memberships. Everything helps and we are so blessed by the outpouring of support we have received."
Connellan says that an organization must first think about its mission: what it is you do and can continue to do. For the Alliance, that is the promotion of the French language and the French and Francophone culture. "When we saw in March that closures were inevitable, we ended our winter French classes two weeks early in order for our staff to train on our Zoom platform. We were thus able to start classes on every level for our spring session. We had predicted that classes would have about 40-50 percent of our usual number, but now we are delighted that the number is over 60 percent. We feel that we might consider offering online as well as in-person classes—the world is our oyster. We could offer teachers, say, from the Sorbonne and have students from all over the US, without losing classes held at our headquarters. Online classes really broaden your market," she explains.
One of the Alliance's additional challenges was to reschedule its biennial ball—always the definition of dazzling joie de vivre— originally planned for May 9. To enchant guests with Un Air de Provence, the gala will now be held on November 13, again featuring the magic of George Jewell.
Conery Hoffman, the Alliance's program director, told us that they have been able to successfully rebook all speakers for their Symposium on the Arts of France: "Le Grand Style de la Riviera, originally scheduled for April and May are now to be held in the fall. Sarah Coffin, former Curator and Head of the Product Design and Decorative Arts Department at Cooper Hewitt, the Smithsonian Design Museum, will present the first lecture, The Côte d'Azur as an Artistic and Social Swirl: the radiating worlds of the Ballets Russes, Picasso, the Gerald Murphys, the Cole Porters and friends on September 10."
He shares that the dates will soon be finalized for the other two lectures, The Millionaire, His Wife, and His Lover: The Ménage à Trois (and High Style) of Patricia and Arturo Lopez-Willshaw and Baron de Redé, given by Mitchell Owens, Decorative Arts and Antiques Editor of the Architectural Digest; and French Art Deco and the Côte d'Azur, presented by Jared Goss, Chairman of the Board of the New York Horticultural Society and former Curator at the Metropolitan Museum of Art.
On April 29th the Alliance's popular wine tasting event will happen virtually, Connellan told us: "Sommelier Alicia Barrett will take guests through the fine vineyards of the Loire Valley with a virtual taste and chat. When guests register they receive a list of the wines they should purchase for the tasting."
Other online offerings include an online film club and a fully staffed children's online summer camp program at Chez Kids. Café d'Albi, will provided an opportunity for online French conversation, as was once offered in the cozy Alliance library over coffee and cookies. A plus for the café, named for a town in Southern France where Alliance interns had lived: it now has participants from as far away as Boston.
The Alliance website sums up the organization's winning approach in this extraordinary time: "All the culture, all the convenience, and none of the coronavirus."
"At Humble Design we have worked with a mother and her son who were living in an abandoned building, with a family whose home is their car, and so many more emerging from homelessness. The impact of getting these families up off the ground and giving them a fresh start with everything needed to make a house function from beds and couches to books and spoons is profound," says Julie Dickinson, Director of Humble Design Chicago.
With no business as usual in a high-touch organization, Dickinson had to pivot quickly to a new strategy for Humble Design, which transforms empty houses, now residences for the formerly homeless, into welcoming homes with donated furniture and household goods. In four cities around the country, Humble Design warehouses are curated and stocked by design teams that personalize homes by providing a life-changing experience for clients. With the pandemic, staff and volunteers could no longer help families by delivering donated goods from their 40,000-foot warehouse, installing everything to the everlasting delight of their clients. Humble Design is now focused on curbside kits, and they are asking all of us to consider getting involved.
Dickinson, who joined the Humble Design team in 2018, first as the development manager, became its director in 2019. Prior to Humble Design, she worked for Midnight Circus in the Parks, a world-class circus with a mission of building community and raising funds for neighborhood parks in Chicago, an anchor in Mayor Lightfoot's Night Out in the Parks program.
She told us: "Donations will be used to build custom curbside kits for families emerging from homelessness. Please keep in mind that the individuals receiving these items will be carrying them into their homes, without the aid of our movers. Items need to be lightweight and easy for one person to fit up stairs and around corners. Categories include dining and kitchen items, bedrooms, kid's activities, bathroom, cleaning and packing supplies, and hanging art. On our website we give a little more detail as to what we'd ideally like to include in those custom curbside deliveries with an Amazon wish list. We just did our first delivery for a veteran, with families to come starting April 27. Our designer, Debbie Roseen, made notes for boxes we are delivering and even grew plants for our families."
Designer Julia Pesek, who introduced us to the organization, explained how she got involved: "Shelters and agencies partner with Humble Design to select candidates to receive an entirely furnished household specifically designed for their needs and likes with gently used donated items. I was fortunate enough to participate on an installation for a family of 6 on the last 'Deco Day' before Humble Design had to suspended any further installations because of the pandemic."
"We recently received a call from one of their shelters and partnering agencies, The Center for Abused Women and Children (CWAC), where 35 women and children are residing. A fire damaged their kitchen and forced the shelter to throw away all their plates, pots, pans, cups, bowls, and silverware as they were contaminated by foam used to put out the fire. To make matters worse, due to COVID-19, the CWAC was forced to cancel their annual spring fundraiser, so funds to replace the items were not available," Dickinson describes.
"We knew we had to step up. We packaged up a large assortment of donated kitchen supplies, bedding and towels, and even included 35 donated vases filled with faux flowers, all the while following strict COVID-19 guidelines for everyone's health and safety," she continues. "We realize that during this unusual time the needs of the communities we serve don't stop."
Our final salute goes to Vershawn Sanders-Ward, Founder and Artistic Director of Red Clay Dance Company, who has not only creatively used social media to replace their spring benefit but also to also continue classes for their own Academy and Chicago Public School students. The company's Vimeo page shares previous performances and their Instagram posts are among the most engaging posts offered by non-profits.
Sanders-Ward conceived the idea of RCDC while on her first trip to Senegal, West Africa, when she became fascinated by the interconnectedness of dance and everyday life. The name Red Clay comes from her childhood memories of playing in the red earth during her summers in Mobile, Alabama.
"Red Clay Dance Company lives to awaken 'glocal' [global and local] change through creating, performing, and teaching dances of the African Diaspora—change that transforms cultural and socioeconomic inequities in our local and global community. Our Paint the Town Red gala moved to Instagram to remain connected to our supporters on the day we had all planned to gather together and celebrate," she says.
"As an artist, one is always challenged to explore new ways to express and share an idea. This is what we are aspiring to do by making this shift," she adds. "New ways to stay engaged and express our humanity in the virtual world using music and dance. It is vital for our survival as a company and as a sector."
Leading up to the virtual party, Sanders-Ward shares that they have carefully curated a series of videos and Instagram Live conversations that appeared on their social media pages to build excitement for the party. They even partnered with Chicago-based artist and wardrobe stylist KFLEYE ™ (@kfleye on Instagram), who shared tips on how to get ready for the virtual party.
To date, the Red Clay Dance Company pushes to reach the goal for the virtual event.
We asked how the organization advances in pandemic times: "We are mostly working remotely and meeting through the GoTo Meeting platform. We were just beginning the implementation phase of our new three-year strategic plan, so we have continued with the planning and setting new timelines and measures based on the current situation. We are a small staff, so we have always worked more collaboratively, and this is the culture of Red Clay Dance Company already, so working in this way is not new to us. It is already embedded in the fabric in which we work. The morale has been good," she explains.
In addition to Instagram, the Red Clay Dance Company can be found on their website at redclaydance.com and donations can be made through Flipcause.
By profiling a variety of Chicago's non-profits, whether related to social service, healthcare, or the arts, Classic Chicago stands in awe of our organizations finding ways to lead us in uncertain times.