Homage to the father of modern dentistry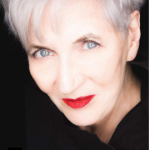 By Jill Lowe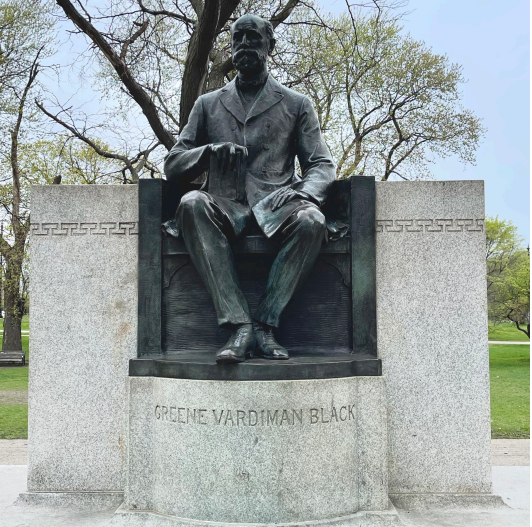 The statue of Dr.G.V. BLACK is situated in Lincoln Park Chicago, the north end of Astor Street, at North Avenue
To think……a dentist on Richmond Green in Surrey UK, or downtown Dusseldorf, Germany Woolloomooloo, Sydney, Australia, a gnathologist (problems of the jaw) in Memphis, Tennessee, a periodontist in Beaverton, Ontario, Canada, an orthodontist in Bentonville, Arkansas, or your own dentist all went to dental school and alongside lectures on "the anatomy of a tooth" and such, would have been sessions teaching the origins of dentistry, and all these individuals will know G.V.Black as the father of modern dentistry.
No wonder the restorative dentists who congregate in Chicago every February revere him. No wonder there is a "fun run" either starting at the statue or going past it. We who are not in dentistry are perhaps are not as aware of the impact on all our dental needs this man has had.
Here he sits, the more than 6 feet bronze statue designed by Frederick Hibbard ( 1881-1950) being placed in Lincoln Park in August 1918, 3 years after his death at 79. Dignitaries of the National Dental Association (now the American Dental Association) gathered at its unveiling.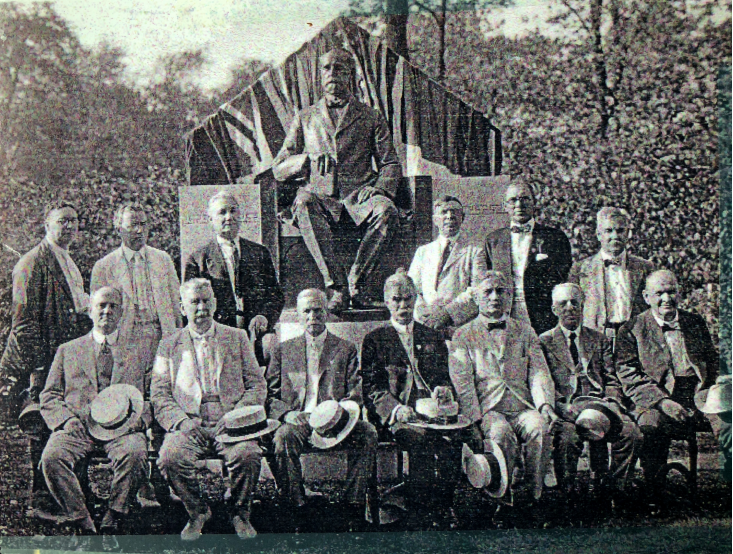 Dr.Greene Vardiman Black, born on the prairies of central Illinois near Winchester in 1836, was a dental teacher, researcher, instrument designer, and author who pioneered the use of the microscope for studying dental disease, and among his many inventions, invented a foot driven drill, and silver amalgam for fillings. He joined the faculty of Northwestern University Dental School in 1891 and became its Dean in 1897. Publishing his concepts and ideals in his text Manual of Operative Dentistry in 1896, helped elevate dentistry to a profession.
The National Museum of Dentistry in Baltimore houses many permanent exhibits of Dr. Black's manuscripts and instruments. A Smithsonian affiliate, the museum was opened in 1996.
If Greene Vardiman Black was one of our Chicago statues able to "speak", perhaps he would first say "Open Wide", that universal request of dentists.
You see in Chicago as in other cities, are statues that do talk. Indeed Statue Stories Chicago was instituted in 2015 and by scanning a code with a smartphone, one can receive a call back from some statues. Statue neighbors to G.V. Black:- the standing Abraham Lincoln sculpted in 1887 by Augustus Saint-Gaudens with the fetching homophone "hear Abe here", and the Fountain Girl, are such talking statues.:-
Standing Abraham Lincoln.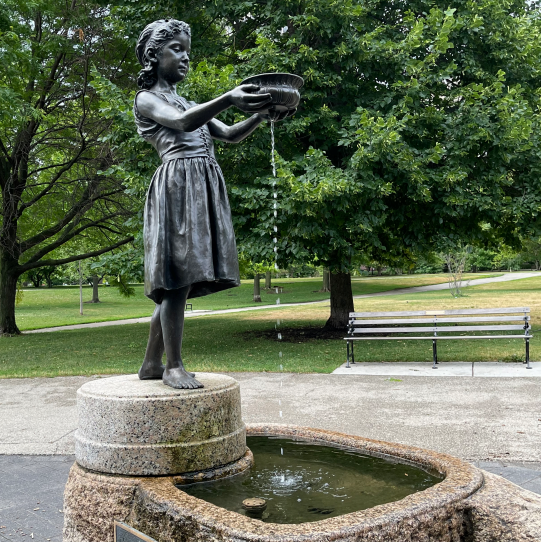 The Fountain Girl, also known as Little Cold Water Girl or the Frances Willard Fountain.
Cast initially by George Wade in 1893, as an initiative by the Woman's Christian Temperance Union (WCTU) in the late nineteenth century, urged its members to create public fountains throughout the world to provide "pure drinking water" as an alternative to liquor. Recast after it was stolen in 1950, was placed here in 2012. These statues are able to call you to tell their stories.
Now although it will be Pierre Fauchard (1678 – 1761), the French physician on whom many bestow the title of "father of modern dentistry", having written first texts about dentistry, it is the name G.V. Black who is more universally known by modern dentists as the true pioneer.
(As an irreverent aside, one wonders what prompted Mrs. Mary Black to allow her 5th son to be called Greene?)
Every February the restorative dentists from all over the world gather in Chicago, and for some 20 years, we held a small annual dinner for some. These G.V.Black Dinners presented the opportunity to be creative with all aspects of the evening but especially with invitations: the statue being the focus of invitations. The array included images of the statue using many of the available iPhone photography edits to produce pop-up cards, a booklet, a video invitation, a G.V.Black stamp, one invitation covered with vellum, another using a large marble paperweight magnifying the man himself! Always with reverence and respect.
This man Dr. G.V.Black is known widely among most dentists. Maybe ask yours?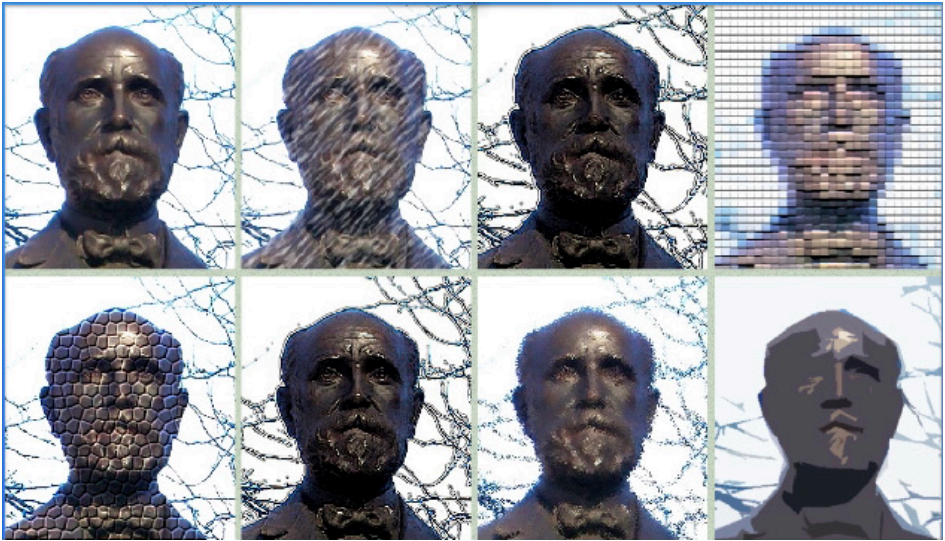 In 1896 Black made a prophetic statement to dental students: "The day is surely coming and perhaps within the lifetime of you young men before me when we will be engaged in practicing preventive rather than reparative dentistry".
An inscription on the statue's base reads, "Father of modern dentistry, born on the prairies of central Illinois, self educated, he became in his profession the foremost scientific investigator, writer and teacher of his time."
A wonderful accolade.

Sources:
Photo of Jill :Bravelux Inc :Joe Mazza
Reference : Giants in the Park: A guide to Statues in Chicago's Lincoln Park by Krista August
Essay :New York Times: Open Wide: Pioneer Dentist Gets His Due By Hubert B. Herring April 15, 2008
Hubert B. Herring is an editor at The New York Times.
The National Museum of Dentistry ( currently closed re Covid) is at 31 South Greene Street, Baltimore.
Information: (410) 706-0600 or www.dentalmuseum.org.