Walking around the Pilsen neighborhood, one cannot simply ignore the vibrant community and the surrounding culture that's at the heart of Chicago. Pilsen's demographic is majorly made up of a Mexican American blue collar-working class, enriching the neighborhood with Mexican culture and arts. Absorbing the murals on the walls of Pilsen, it naturally paved the way to the National Museum of Mexican Art to help indulge my curiosity. As Eleanor Roosevelt once said, "The purpose of life is to live it, to taste it, to experience to the utmost, to reach out eagerly and without fear for newer and richer experience."
It's quite difficult to pinpoint which of these art pieces to discuss about (Too many for me to post about here), the following art pieces left an impactful impression and continue to linger on my mind, they are in no particular order. These pieces have some fascinating stories and their illustrations are quite moving.
Alejandro Romero: The Battle of Puebla, 1987
The battle of Puebla was celebrated on May 5th, 1862, which is often confused with the Mexican Independence Day. On that day, French troops marched towards Port of Veracruz to invade Mexico City. The French army encountered a sparsely armed Mexican army of President Benito Juárez, the French were unexpectedly crushed and defeated, Mexican immigrants residing in the United States were cheering on the victory against the French army. Today the Battle of Puebla is commemorated on May 5th in Mexican American communities across the U.S. Cinco de Mayo.
Marcos Raya: The Legacy of Manifest Destiny, 1995
"The Legacy of Manifest Destiny" is a remarkable work of art. It expresses a graphic visual of the impact that U.S. imperialism had on Latin America and their attempts to gain control. Marcos Raya's painting shows resistance from the public, death, corruption deals with U.S. backed dictators, and more. As time goes on, its increasingly becoming difficult to ignore the sins of the past, this painting shows the accumulation of these events and their inevitable conclusion.
Vincent Valdez: Uncle Ernest 5 Min. Before His Capture, 2007
Ernest Valdez enlisted as an officer into the U.S. Army during World War II. During the Battle of the Bulge in December 1944, the Germans captured him. An often-overlooked aspect of World War II is the enlistment, sacrifices, and contributions of Mexican Americans which doesn't get the recognition it deserves. The painting depicts the raw terror of his apprehension, coming to terms with being captured, or worse.
A few more of my favorite art pieces in no particular order…
Alfonso Castillo Orta: Máscara con figuras pre-Cuauhtémoc, 1992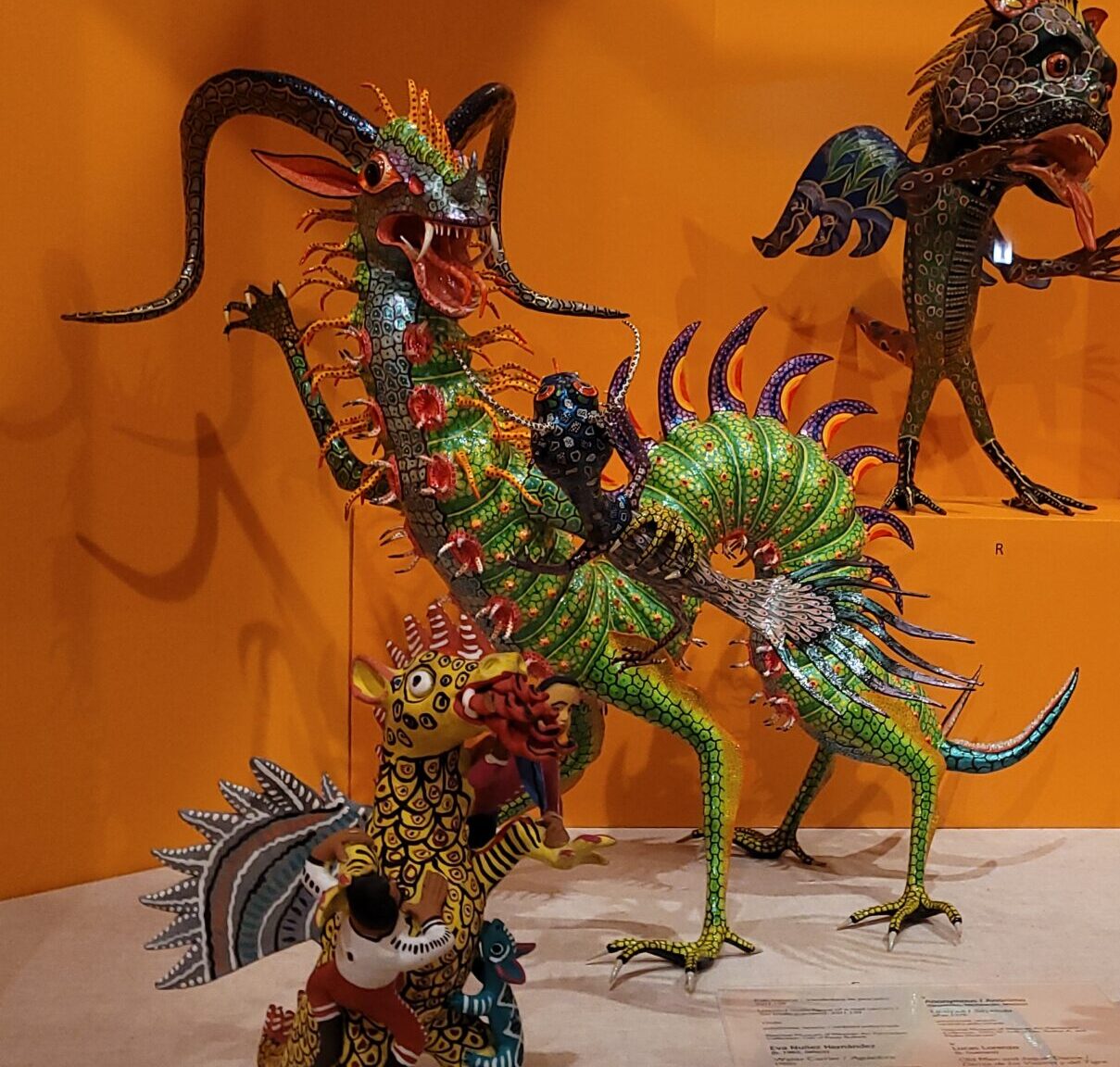 Miguel Linares Mendoza: El gusano, 1997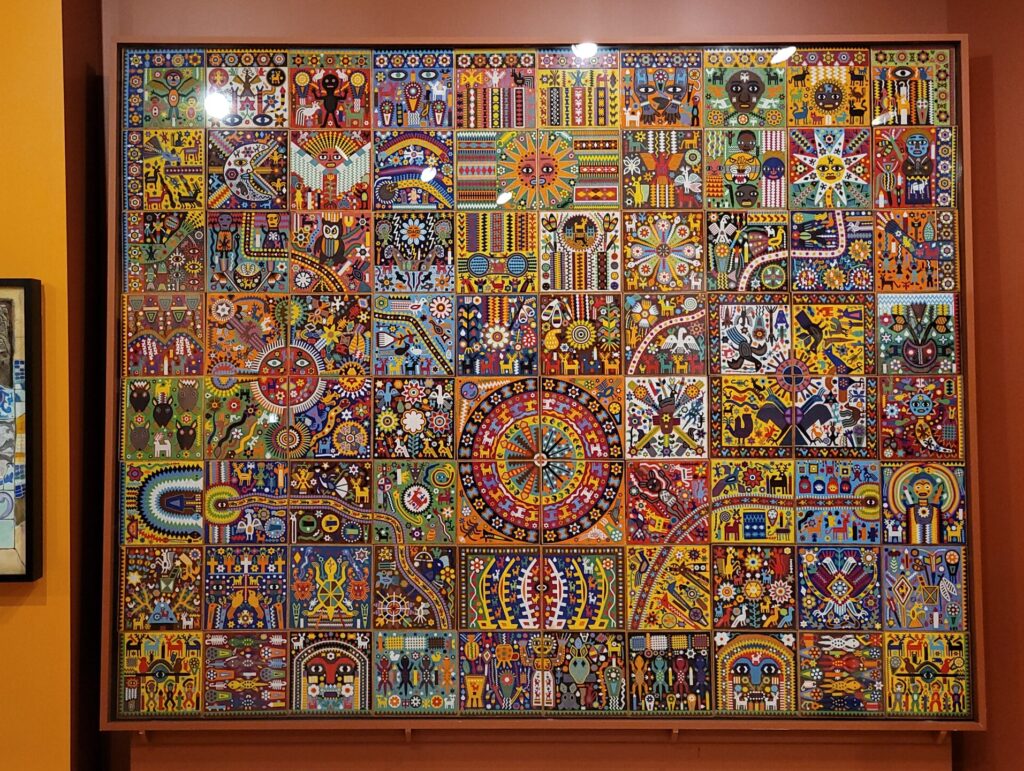 Santos Motoaopohua de la Torre de Santiago (Art Direction) with assistance by Graciela de Santiago Gonzáles, Cecilia de la Torre de Santiago, Ofelia de la Torre de Santiago, Catarino Roblez Cocio, Fel: El nuevo amanecer, 2003
Philip Stein: Madre y niño, 1952
Alfredo Arreguin: Heritage, 2005
Alfredo Arreguin: Adelita, 2009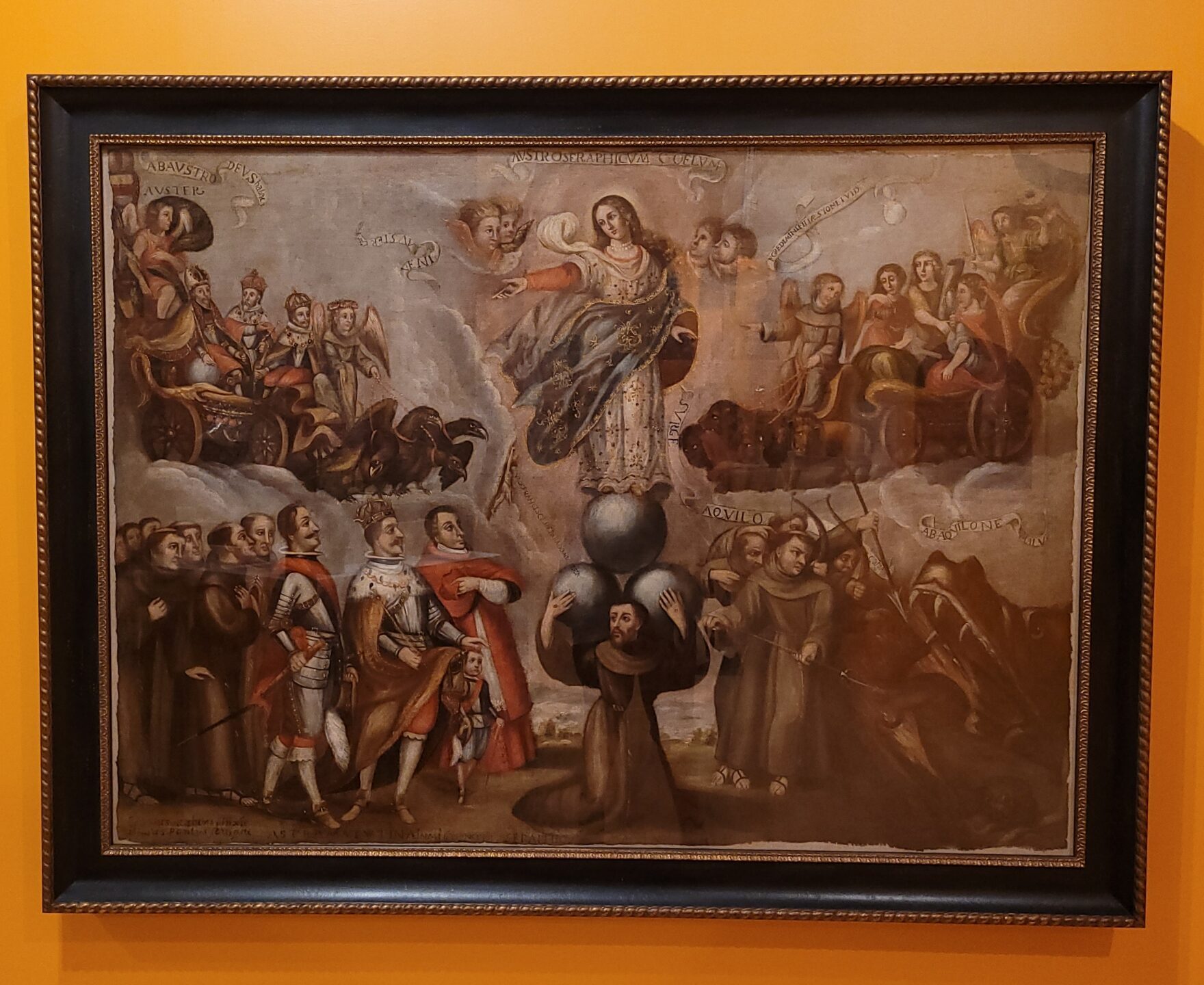 Anonymous: Anónimo, ca. 18th century
With the upcoming holidays of the Mexican Independence Day and the Day of the Dead, the inclination to visit the National Museum of Mexican Art will only grow stronger. The museum is located at 1852 W. 19th St., the doors are open from 10 a.m. to 5 p.m., Tuesday to Sunday Once you wander in, you'll walk out enlightened and enriched with the knowledge and rich history of another culture…As J.R.R. Tolkien once said, "Not all those who wander are lost."
For more information, visit www.nationalmuseumofmexicanart.org