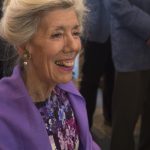 BY JUDY CARMACK BROSS
"I lifted my binoculars and then knew what I was looking at. It took a moment for my brain to catch up with my eye, confirming that I really saw what I thought I did," remembers Illinois champion birder Nathan Goldberg of a very special day just a month ago.
The tiny creature that Goldberg spotted May 3rd may have been 1,500 miles off-track but seemed very happy flitting and feeding in LaBagh Woods on the northwest side of Chicago. Because they winter in Mexico and migrate to higher altitudes in southeast Arizona and northwest New Mexico, it has been 25 years since a Broad-billed Hummingbird was spotted in Illinois by birders near Peoria. The iridescent blue bird with the bright red beak kept appearing in Goldberg's lens that day, establishing an unlikely friendship between the two.
Here's how 24-year-old Goldberg, a Chicago native and Cornell University graduate, describes this once in a lifetime experience with friend and international bird photographer Owen Deutsch: "We were enjoying ourselves poking around LaBagh Woods, imaging we'd find the 'expected' suite of great spring birds. That was until this little gem popped into view for five seconds, gave us a heart attack, and disappeared!"
"I called out to Owen that I had a hummingbird and quickly got my binoculars up to confirm what I expected to be a Ruby-throated Hummingbird. What I saw though in the span of about 2 seconds, was a deep blue-green hummingbird with a bright red bill. That was when I lost my mind," he continues. "Fumbling for my camera, I couldn't get a shot off in time before it disappeared. Looking at Owen, I started to question everything. Did I really just see a freaking Broad-billed Hummingbird? At LaBagh Woods? In May?"
Goldberg called fellow birders Steve Huggins and Jeff Skrentny, prefacing his message saying, "You're seriously not going to believe this, but … I just found a male Broad-billed Hummingbird at LaBagh."
The hour's wait for the hummingbird to re-appear seemed an eternity (Golberg says birding can be an awful lot like golf). And every birder's big claims are subject to scrutiny: "At the end of the day, if no one else sees it, they don't know if you are lying or not."
Which is one reason why photo documentation is all-important. "My deepest, gut-wrenching fear was that I not only wouldn't get a photo of the bird to document it but that I somehow even had misidentified it somehow," he explains. "I knew what I saw, but self-doubt can truly be a potent and challenging feeling to grapple with."
Fortunately, they were able to find this rare bird again about 45 minutes later, taking documentation shots before it flittered back into the ether. Word of their sighting reached the community and before long, birders began to descend onto the area—nearly 100 people within a couple of hours. The bird would return every couple of hours to feast on a beautiful Ohio Buckeye tree, seeming to roost there.
"Luckily for all of us, it stayed around for about eight days. One day when I was back, I heard this noise and out of nowhere it appeared before me, landing 10 feet away, and I snapped away," he says. "I feel so happy to have been able to repay all the wonderful people who have helped me on my searches by leading the way to this very special bird."
Golberg wonders where this hummingbird might have flown off to now, perhaps back to the Southwest, off in the opposite direction, or even closer to home, perhaps bringing magic to someone's backyard. Wherever it is, its fans are wishing him well and hoping for a return visit.
Or perhaps one of its friends will come in its place: we learned that there are approximately 340 living hummingbird species entirely and exclusively in North and South America, from Alaska to Tierra del Fuego. They are considered to be the most agile birds on the planet, gaining lift from both the upstroke and the downstroke of their wings. Scientists believe that they see warm colors even better than humans do, particularly reds, oranges, and yellows, hence the popularity of specialty red-colored feeders, designed specifically for the species. They lap up nectar with their tongues up to 15 to 20 times per second and are known to eat their weight, though meager, every day.
Goldberg, who has been birding for 12 years, serves on the board of the Chicago Ornithological Society and the Illinois Ornithological Society. He describes himself as a "bird-watcher who carries a camera" as opposed to a bird photographer, such as internationally published Deutsch.
"Birds are our windows to the natural world. They are our only remnants from the time of the dinosaurs and prove that these long-ago creatures are not totally extinct. Birds have a historic place in the spirituality of indigenous people. They are the first to flee when a fire is sensed and the first to re-colonize. They return to Montrose Harbor to enjoy the wild grasses and the other ways that their natural habitat has been enhanced there," he shares.
On a recent sunny afternoon at the Montrose Park Bird Sanctuary, Goldberg introduced me to one of Chicago's true celebrities.  Through his high-powered telescope, which he placed at the wall protecting the endangered plovers, we saw Rose (or Monty) on the nest. Heralded as a beach love story, the yearly return of these tiny birds with bright red beaks, each spending their winters in separate states, only to return to one another every May at Montrose, has seemed particularly captivating and courageous during COVID.  On our brief visit to the bird sanctuary, Goldberg counted at least 35 different species by their calls.
His aptitude for birding was more than apparent during my time with him and his many records in the field only confirm this observation: in 2020 he broke Illinois records for birds seen in the state in any calendar year. For what birders call their "Big Year," he spotted 341 different species, driving up and down the state at least 27 times on I-70 towards St. Louis during the pandemic.
"I traveled with two friends and fellow birders Steve Huggins and Glenn Giacinto," he says. "When we heard there was a rare bird sighted in Carbondale, we would head out in that direction. By July and August, I had a list of every easily available bird. Each species, whether pigeon or the endangered plover, counts as one."
The last state records were set at 334 species in 2011 and 330 in 2009, according to listings from the Illinois Ornithological Society. Goldberg broke 300 in May. To prepare, he made a spreadsheet of all the birds seen in Illinois from the common to the rare: "During COVID, with the lakefront closed down for some time, people began exploring new areas and were definitely more attentive to nature than ever before. Montrose Point is probably the premier site for seeing more species because it is on the lakefront and has shore birds as well. There are over 350 species there." He cites LaBagh Woods, where he spotted the elusive hummingbird, as another wonderful spot for sightings.
"As a child, when my mom would suggest that we take a hike, I would ask where to or why. I needed a purpose for my walks.  Now you might find that you have traveled four miles without even realizing it because you've been tracking a bird," he laughs.
For those of us less seasoned in the art of bird watching, Goldberg suggests joining the Chicago Ornithological Society and the Illinois Ornithological Society and take advantage of their educational offerings and programs. He also advises buying a field guide to familiarize yourself with what you might see in your area. When you are ready to move on to birds that are slightly subtler to the naked eye, a pair of binoculars is key—as is the expertise of more experience birders. The main thing: get out into the field and just look around you!
"And know that it is often a most humbling experience," he adds. "Often one flies away, likely not to return. You may feel discomfort because of that, but that's ok."
But like Goldberg, you might have a magic moment and what you thought was a ruby-throated hummingbird is actually a broad-billed hummingbird, and you can say as he does: "I think of all the birds I have seen and chased and hoped to re-find in the last 12 years. It honestly doesn't get much better than this!"
We couldn't help being reminded of Emily Dickinson's lovely poem "The Humming-Bird" first published in 1896, evoking the essence of this entrancing bird:
A Route of Evanescence,
With a revolving Wheel –
A Resonance of Emerald
A Rush of Cochineal –
And every Blossom on the Bush
Adjusts it's tumbled Head –
The Mail from Tunis – probably,
An easy Morning's Ride –
For further information, visit the Chicago Ornithological Society at chicagobirder.org and the Illinois Ornithological Society at illinoisbirds.org. Both offer terrific bird-related walks and other fine learning opportunities and publications