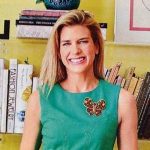 By Stuart Dyer
When traveling its always fun to see fellow Chicagoans and this year's Nashville Antiques & Garden Show (February 3-5) had some special Chicago connections. The show was co-chaired by Beth Kost who lived in Chicago for over 25 years before making her way to Nashville.
The Antiques & Garden Show was founded and co-chaired thirty-three years ago by Sigourney Cheek and Connie Cigarran who is the mother of Chicagoan, Lindsey Axel. 
Another Chicago connection to the Antiques & Garden Show is that this year's Presenting Sponsor was Chicago based company, Northern Trust. 
The Nashville Antiques & Garden Show is one of the largest antiques and horticultural events in the country, routinely drawing over 16,000 attendees from across the nation. 
| | |
| --- | --- |
| Pictures at Dinan & Chighine Booth | Chicken coop designed by Martha Stewart and Christopher Spitzmiller |
The show was held at the Music City Center in downtown Nashville. It brought together an impressive showcase of antiques from more than 150 dealers, world-class landscaped gardens, and opportunities to engage with some of the nation's top names in design and horticulture through educational lectures, panel discussions and book signings. 
This year's speakers included: keynote lecturers Aerin Lauder and Alice Naylor-Leyland (Mrs. Alice); florist and author Christin Geall; interior designers Thom Filicia and Mary McDonald; and a design panel featuring interior designers Suzanne Kasler, Celerie Kemble, Corey Damen Jenkins, and Richard Keith Langham.
| | |
| --- | --- |
| Leslie Rascoe, Design Director for MILEAU Magazine, Heidi Avedisian, Susan Canman | Dodie Thayer lettuceware |
The show was fabulous and I would definitely recommend hopping on a flight next year to make the quick trip to Nashville for the 2024 Antiques & Garden Show.
| | |
| --- | --- |
| Jewelry from Camilla Dietz Bergeron | Stuart Dyer, McKenzie Mullins |
Proceeds from the Antiques & Garden Show benefit Cheekwood Estate & Gardens, a historic estate that serves Nashville as a public botanical garden, arboretum and art museum, and ECON Charities, which serves charitable organizations to better communities in the Greater Nashville area.
Stuart Dyer is the owner of LadybugVintage.com