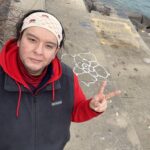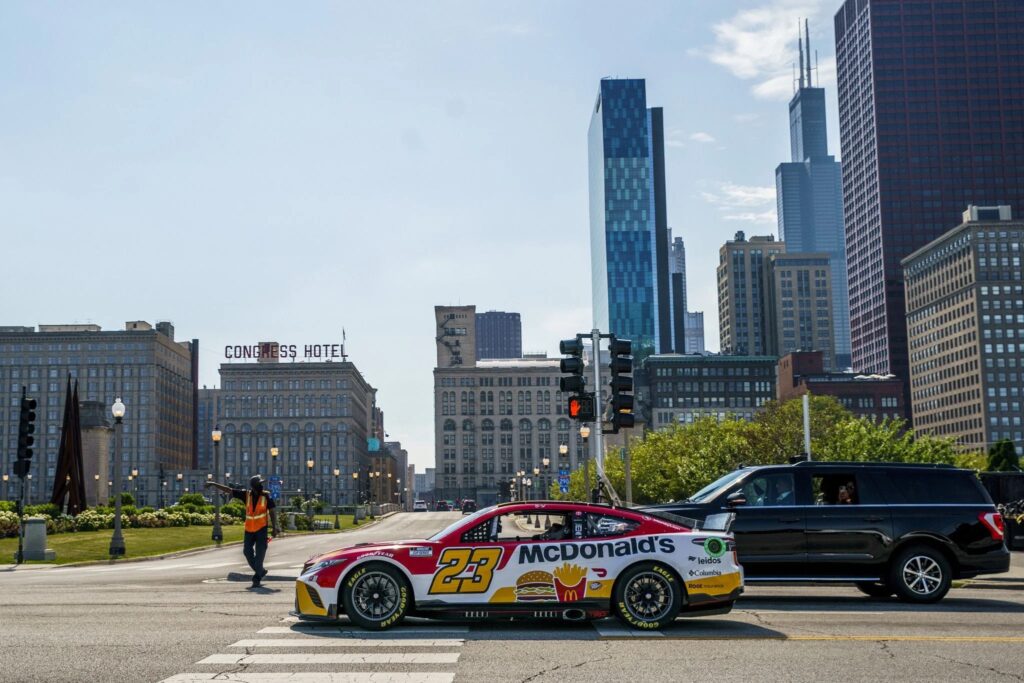 Photo courtesy of NBCChicago.com
For the first time in the history of NASCAR, they will hold a motor racing event inside a major metropolitan area. The "Windy City" will be hosting the NASCAR Cup Series Street Race in downtown Chicago; the NASCAR Chicago Street Race weekend will be held on July 1 & 2. The Cup Series Race is aptly named "Grant Park 220" and will be a 220-mile race with 100 laps, and the Xfinity Series Race is called "The Loop 121" will be a 121 mile with 55 laps. The course will take drivers onto the roads of Lake Shore Drive, Michigan Avenue, and Columbus Drive, driving them around Grant Park and all along Lake Michigan.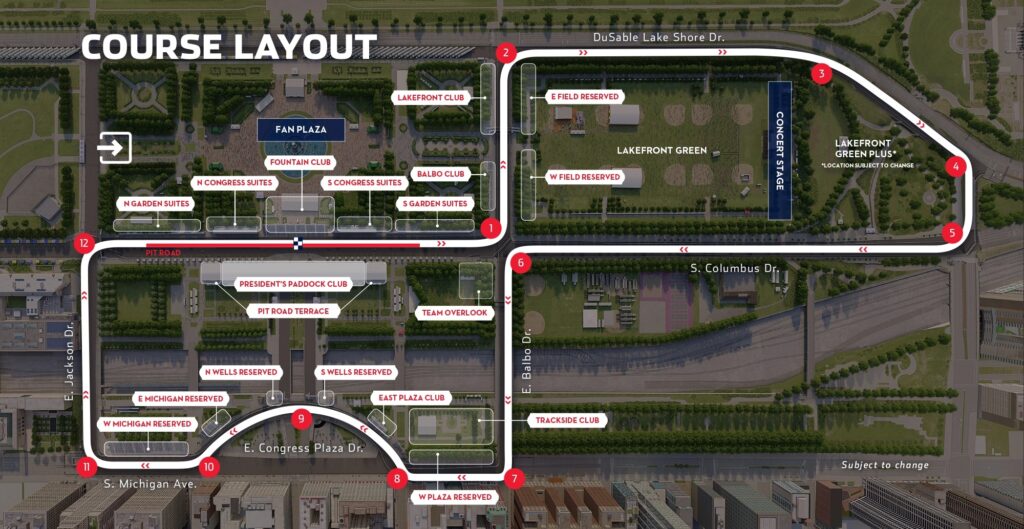 NASCAR course Layout; Photo courtesy of nascarchicago.com
The location of the event is driving up national excitement (pun intended), some have wondered why have the street race in Chicago? This isn't NASCAR's first rodeo in the Chicagoland area, according to NASCAR's website, racing in Chicago has been around since the 1950s and the sport grew to a more national spotlight since then.
Here are some of the major NASCAR visits to the Chicagoland area throughout the years.
Chicagoland Speedway – Joliet
The 1 ½ mile venue has hosted the most NASCAR events. From 2001 – 2019, the Cup and Xfinity series race was staged annually, they also hosted a Truck series race from 2010 – 2019. In 2011, NASCAR's "Chase for the Championship" was a first in Chicagoland Speedway with Tony Stewart becoming the Cup Champion, leading the way with three Cup series wins at the venue. While Kyle Busch has 11 victories at the venue (5 Truck series, 4 Xfinity series, and 2 Cup series victories). Currently, there are no scheduled races for the Chicagoland Speedway racecourse and it's future remains unknown.
Chicagoland Speedway. Photo courtesy of procuprace.com
Chicago Motor Speedway – Cicero
Chicago Motor Speedway was a 1.029-mile oval-shaped course, located in Cicero, Illinois. The racetrack had a short life span, opened in 1999 at the cost of $70 million by a group of owners led by Chip Ganassi. The Speedway hosted four CART races, two NASCAR Craftsman Truck Series, two Indy Lights, two ASA National Tour, and one NASCAR Midwest Series.
Hawthorne Race Course. Photo courtesy of Adrian Naves
Aside from motor racing, the racetrack also hosted several horse races, but the harsh surface made racing difficult and forced the races to be canceled, spurring the relocation to the nearby Hawthorne Race Course. Shortly after the track opened, International Speedway Corporation broke ground on a new racetrack in Joliet, Illinois, known as Chicagoland Speedway. The track closed in 2003 due to financial conditions. The city of Cicero purchased the track in 2003 and two years later began demolition, the venue completed demolition in 2009. Chicago Motor Speedway is gone, but not forgotten.
Aerial view of Chicago Motor Speedway near Hawthorne Race Course.
Soldier Field – Chicago
During the original structure of Soldier Field, the stadium hosted a few NASCAR events on a track created around the playing field. The racecourse had a half-mile track for a 200-lap race and hosted a Cup series in 1956, which was won by Hall of Famer driver Fireball Roberts. NASCAR also scheduled three races for its Convertible Division Series at Soldier Field – two in 1956 with one occurring in June and the other in September, another race was exhibited in June 1957. Soldier Field became a gathering place for up-and-coming racers and their friends. It was better and safer than racing in the streets.
Soldier Field entrance. Photo courtesy of Adrian Naves.
Photo courtesy of NASCAR.com
Santa Fe Speedway – Willow Springs
A well-known short racetrack in the Chicago area was the Santa Fe Speedway, a favorite for racing fanatics for decades. Located at 91st and Wolf Road in Willow Springs, was in operation from 1953 – 1995. The venue hosted a Cup series on July 10, 1954, with 200 laps on the half-mile oval dirt track. The race was won by Dick Rathman – adding to his 13 Cup wins during his racing career.
Dick Nelson with Lucky The Clown – July 4, 1973 (Vince Mayer Photo)
Santa Fe Speedway memorial boulder
NASCAR is set to make history this summer in Chicago as they rev-up their engines to their first-ever NASCAR Cup Series Street Race. This extraordinary event is aiming to drum-up enthusiasm and support going against the popularity of Formula 1 racing, with Chicago set as the backdrop at the venue. Both the Xfinity & Cup Series race on a 2.2-mile course in The Loop that starts and ends on Columbus Drive in front of Buckingham Fountain. The Chicago Street Race will also hold live concert performances by The Chainsmokers, Miranda Lambert, The Black Crowes, and more.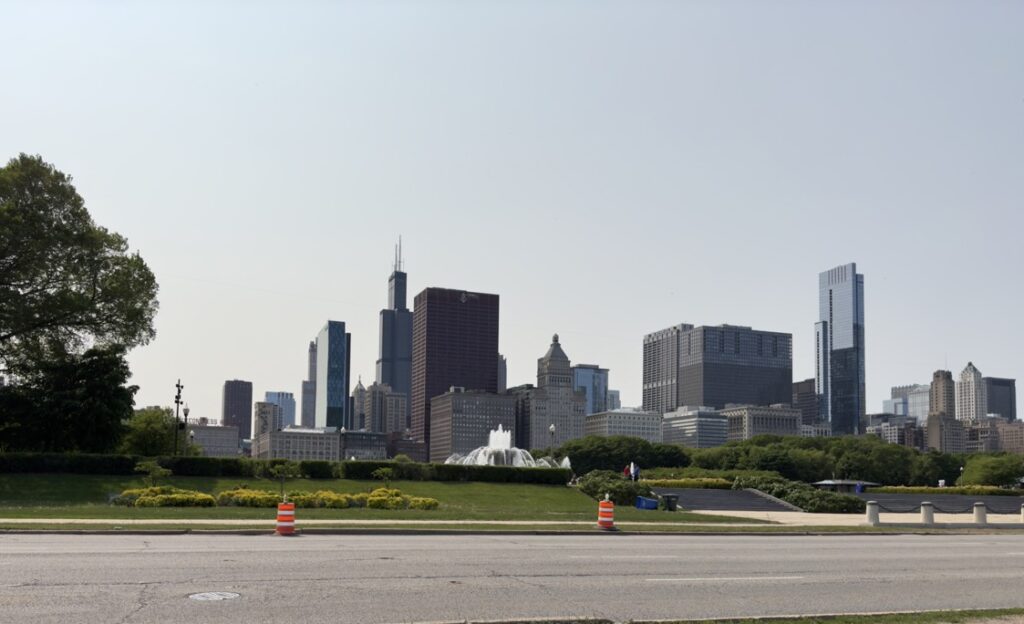 Buckingham Fountain, where course will be held in. Photo courtesy of Adrian Naves
The NASCAR Cup Series Street Race will take place on July 1 & 2 weekend, for tickets and more information about the event please visit Nascarchicago.com.