By Judy Carmack Bross
Scott and Nancy Santi, Marin Alsop, Alexandra Nichols, Karen Gray-Krehbiel and Fran Edwardson
Honoring trailblazing women in classical music, the Music Institute of Chicago welcomed 270 guests to its annual gala benefit recently at The Peninsula Chicago, raising more than $1 million by the end of the brilliantly orchestrated evening.  Rachel Barton Pine and her daughter Sylvia were among the extraordinary women performers and trailblazers who perfected their rare talent at the Music Institute and who electrified the audience that night.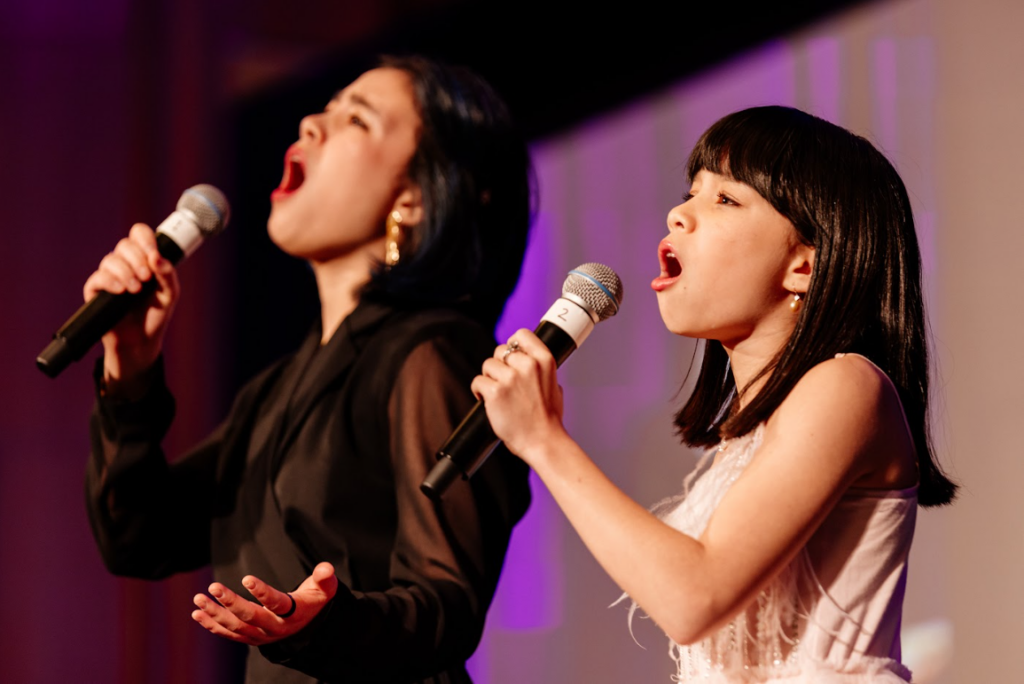 Jaiden and Evie Hsu, students at the Music Institute Community Music School, trailblazers to be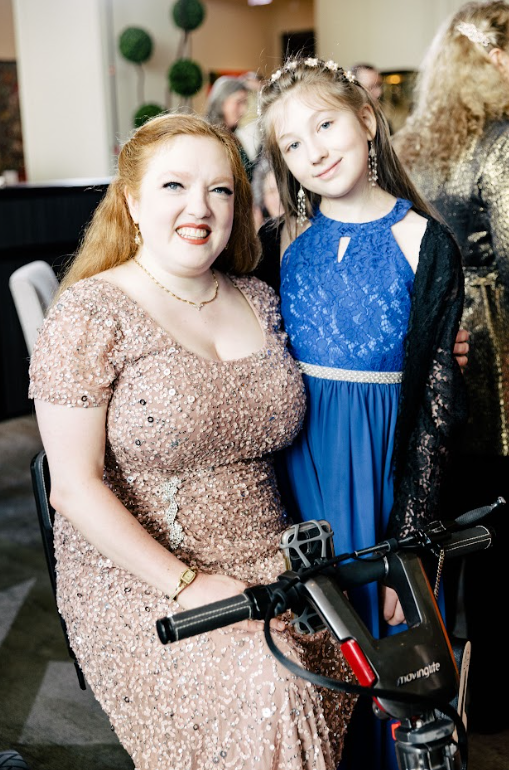 Music Institute alumna and Life Trustee Rachel Barton Pine and her daughter and current Music Institute violin student Sylvia Pine
Highlights included presentation of the Dushkin Award to Marin Alsop, the Cultural Visionary Award to Karen Gray-Krehbiel and John Krehbiel, Jr. and the Colburn Award for Teaching Excellence to Barbara Ann Martin. 
The Cultural Visionary Award recognizes individuals who make an indelible impact on the community through their philanthropy as well as civic and cultural leadership. The Dushkin Award, established more than 30 years ago and named for the Music Institute's founders Dorothy and David Dushkin, recognizes music luminaries from around the world.  Alsop is internationally recognized for her innovative approach to programming and audience development and is now in her fourth year as chief conductor of the ORF Vienna Radio Symphony Orchestra.  Martin is chair of the Music Institute's Voice Department and has been a featured soloist on several continents.  The Colburn Award was created in honor of the many musical endeavors of Richard D. Colburn.
Music Institute Trustee Renee Parquette with Colburn Award recipient Barbara Ann Martin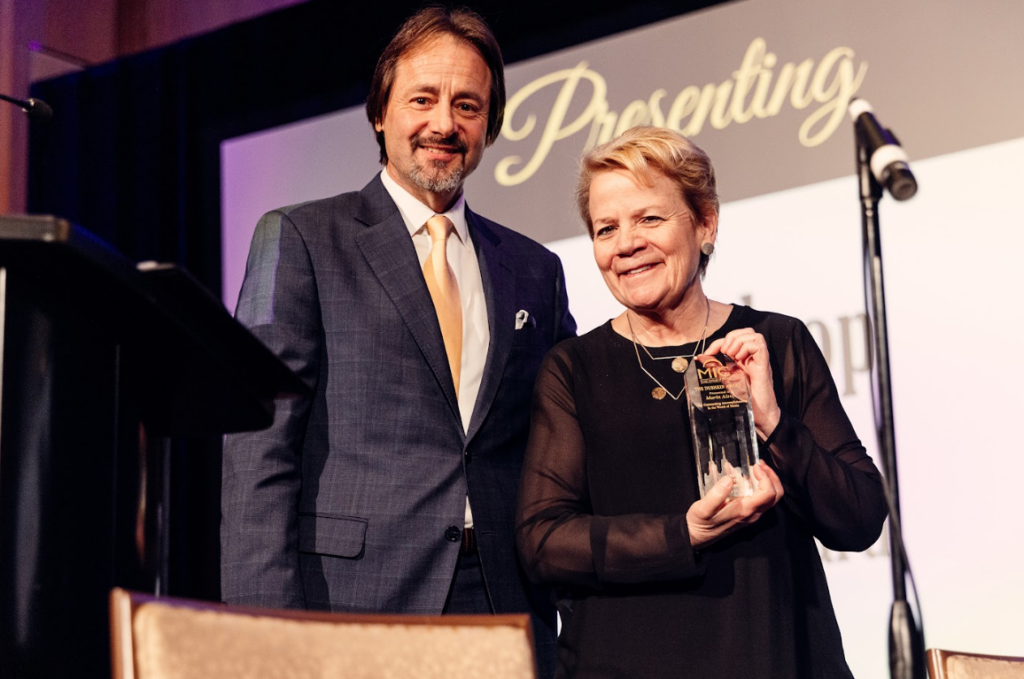 Mark George, Music Institute President and CEO, and Dushkin recipient Marin Alsop
Music Institute Academy violinist Sameer Agrawal (Chicago)
Music Institute Academy pianist Anna Knight (Highland Park)
With the support of Patron of the Arts Benefactors John D. Nichols and Chair Emerita Alexandra C. Nichols and Honorary Chairs Nancy and Scott Santi, Co-Chairs Carlos Cardenas, Dan and Yoo Mi Hahn, and Barbara Speer led the Gala filled with music throughout.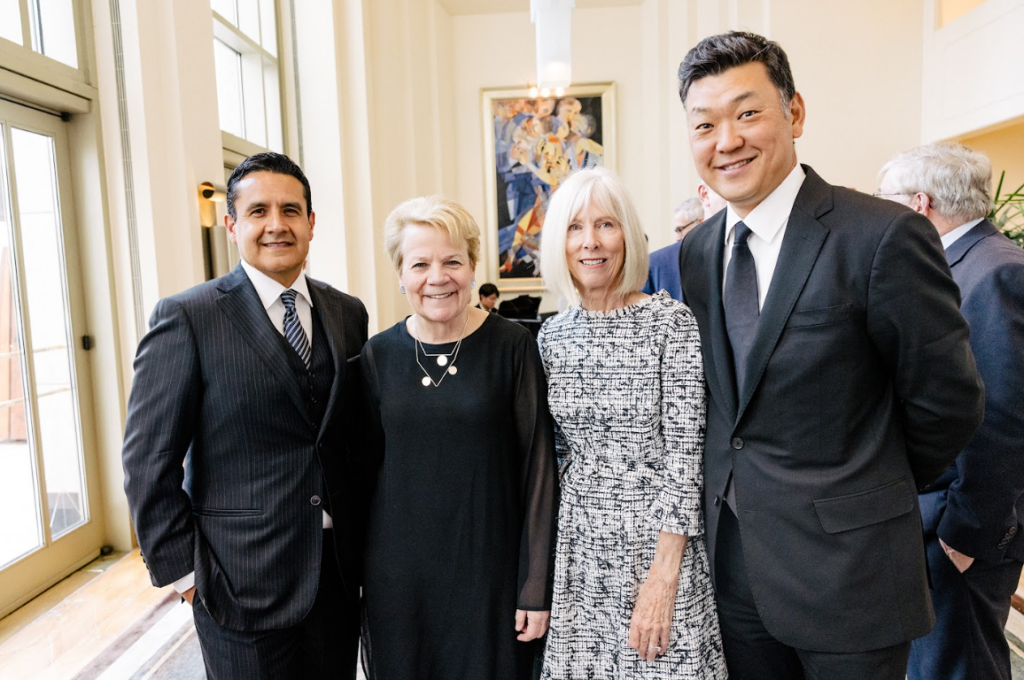 Gala Co-Chair and Trustee Carlos Cardenas, Dushkin award winner Marin Alsop, Gala Co-Chair Barbara Speer and Gala Co-Chair and Trustee Dan Hahn
Anne Kaplan, Mark George and Elizabeth Calihan
Proceeds from the annual benefit provide the single largest source of funds for financial aid and scholarships, tuition-free community engagement and school programming and neighborhood-based service activities.  Each year the Music Institute reaches thousands of individuals of all ages and backgrounds in nearly 100 Illinois communities and scores of Chicago neighborhoods.
Music Institute Academy's Pelios String Quartet, winner of the 2023 Gold Medal at the St. Paul String Quartet Competition and the Silver Medal at the 2023 Fischoff National Chamber Music Competition: violinist Ellen Zhou, violinist Clark Snavely, violinist/violist Tristan Zhu, and cellist Amelia Zitoun
Music Institute voice faculty and soprano Angela De Venuto (Orland Park) and 2023 Dushkin Award recipient Marin Alsop with Music Institute Academy Cello Ensemble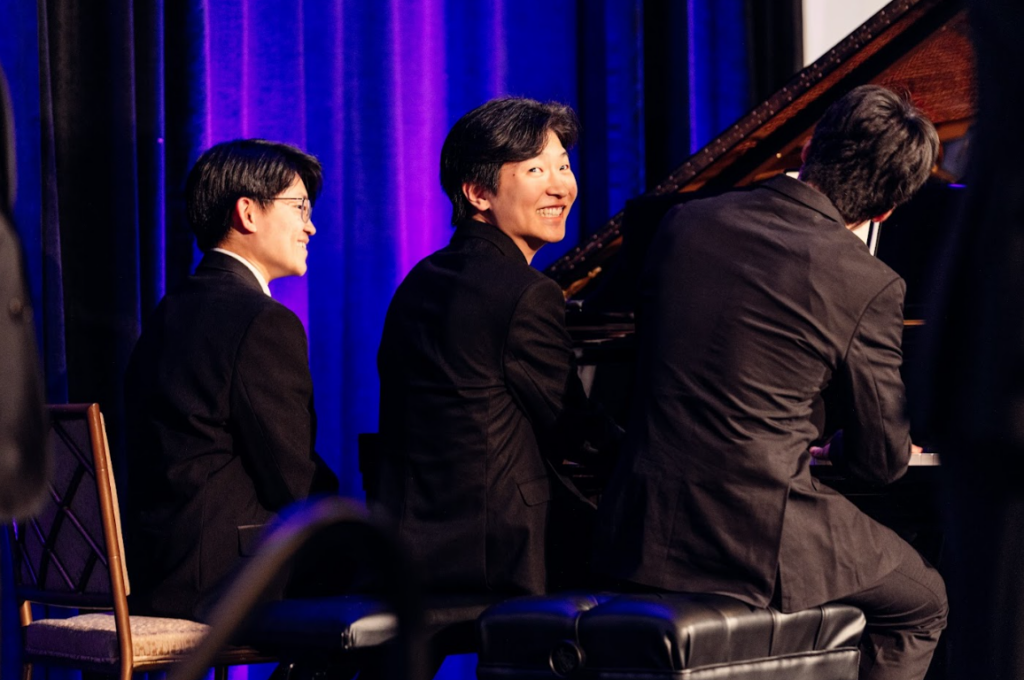 (L–R) Academy pianists Ethan Zheng (Lake Zurich), Noah Kim (Vernon Hills), and Zachary Guo (Deerfield)
Photos by Kyle Flubacker
For more information on the Music Institute, visit:  musicinst.org