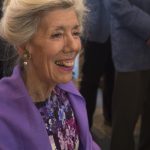 BY JUDY CARMACK BROSS
"When you hear a five-year-old child playing a violin so beautifully and realize that they might not have had the opportunity to develop their great gift without the Music Institute, that's when you know you have found your place," shares Linda Gantz, one of the two honorees of the Institute's 2021 Cultural Visionary Award, along with husband Bill Gantz, at the 90th Anniversary Virtual Gala taking place May 10.
The Music Institute of Chicago, which offers personalized musical training to 1500 students at eight locations across the Chicago area as well as performances, master classes, and special events, will also shine the evening's spotlight on conductor Zubin Mehta, recipient of this year's Dushkin Award. The award is bestowed upon individuals in the field who not only contribute to the art form but who have shown dedication to educating young, aspiring talent.
Music Institute President and CEO Mark George shares, "The Music Institute of Chicago is thrilled to have the opportunity to honor Zubin Mehta with our Dushkin Award. Maestro Mehta is a consummate musician, champion of music education, and passionate humanitarian. He is also a perfect complement to Cultural Visionary Award for Chicago honorees Bill and Linda Gantz, whose philanthropy in our region has been transformational. The Music Institute's 90th Anniversary Gala has so much to celebrate!"
The Gantzes have intentionally focused their volunteer and philanthropic efforts for many years on non-profits with improving children's opportunities as their mission. When we spoke recently about their 22 years of volunteer leadership at the Music Institute, the couple pointed to the children's recitals they have heard there through the years. "Our philanthropy is directed to children's education first and foremost," Linda explained. "We have been so grateful to Alexandra and John Nichols, the honorary chairs of the upcoming gala, who have encouraged our involvement in the Music Institute, none are more dedicated than the Nicholses."
They have served as past gala chairs and both feel that a virtual event works well: "I think we have learned to keep it short and to the point in the past 15 months," Bill added.
Residents of Chicago since 1975, the Gantzes embody the Cultural Visionary Award, recognizing a strong philanthropic spirit and commitment to Chicago's cultural and civic presence. Bill is president of PathoCapital LLC, an investor in healthcare companies, and previously held leadership positions with several biopharmaceutical companies. He is a trustee of The Field Museum of Natural History, having ended his term as board chair in March of this year. He has served on the boards of the Brain Research Foundation, Economic Club of Chicago, and Princeton University. Linda is well known for her influential philanthropic work on behalf of the Boys & Girls Clubs of Chicago, serving on its Corporate Board and Women's Board. The couple is active in supporting Holy Family Ministries in Chicago's North Lawndale neighborhood.
---
The Gantzes will be delighted to see performances by children in current Music Institute classes being offered on Zoom as well as a prerecorded performance by Music Institute alumna and past Dushkin awardee violinist Rachel Barton Pine during this month's event.
An international legend in the world of classical music, who once conducted the Lyric Opera of Chicago, Zubin Mehta has directed his focus in recent years to educating young people. Mehta is co-chairman of the Mehli Mehta Music Foundation in Bombay with his brother, Zarin, the 1998 Dushkin Awardee and former General Manager of the Ravinia Festival, and at the Buchmann-Mehta School of Music in Tel Aviv.
Mehta was Music Director of the Israeli Philharmonic Orchestra for 50 years, becoming conductor emeritus in 2019. He served as director of the New York Philharmonic for 13 years, the longest in the orchestra's history. He was also the music director of the Montreal Symphony Orchestra and the Los Angeles Philharmonic Orchestra, and has conducted for the Metropolitan Opera New York, Vienna State Opera, Royal Opera House Covent Garden, La Scala Milano, and the Lyric Opera.
In addition to honoring these luminaries of the philanthropic and music worlds, the evening will feature prerecorded messages from past Dushkin awardees, including jazz icon Wynton Marsalis and violinists Joshua Bell, Midori, and Pinchas Zukerman. Other highlights include performances by alumni from the Music Institute's renowned Academy for gifted pre-college musicians and current students from the Academy and the Music Institute's Community Music School. The Colburn Award for Teaching Excellence will be presented to Nina Wallenberg and Daniel Wallenberg.
Gala Co-Chairs are Scott and Areta Verschoor and Jeffrey and Christine Morse. Vice Chairs are Dr. Prema Abraham and Dr. Jim Buchanan, Dr. Sanjay and Rekha Jayaram, and Donna La Pietra and Bill Kurtis. Abbott, ITW, and KPMG are Gala Sponsors.
Since its founding in 1931, the Music Institute's commitment to innovation, access, and excellence has served as an important community resource and helps to ensure music is available to everyone. In addition, the Music Institute brings music education, arts curriculum integration, professional development, and music performance and engagement opportunities to thousands in the Chicago area and offers scholarship opportunities to students in its Community Music School and its Academy, a nationally recognized training center for highly gifted pre-college pianists and string players.
Attendance at the Gala is complimentary. For more information, visit musicinst.org/anniversary-gala.