Father and daughter actors Bruce and Laura Dern

By Megan McKinney
Readers may recall that when we began our series on the MacLeish family six segments ago, the dynasty patriarch, Andrew, was twice a widower before his marriage to the spectacular Martha. He and his second wife, Louise Little, produced but one child, a son in 1882, whom they named Bruce.
We see Bruce MacLeish, above, as he edged toward the end of the charmed life provided by a father who was one of the city's prominent self-made tycoons. In 1903, Bruce graduated from the University of Chicago, which his father had been an 1890 incorporator. Although he lived a few years in New York, it was more than tempting to return to Chicago and a job waiting at the family firm, Carson Pirie Scott & Co.
On paper, there may well have never been a better example of a man who spent nearly his entire adult life in "the son business."  Bruce began his Carson's career as a merchandise office assistant; then in 1913, moved up to the title partner, and, by 1939, vice president and secretary. At last, he surprised no one when he leapt forward, in 1946, to president; in 1952, to board chairman, and six years later, chairman of the executive committee. Yet, there was greater merit than it would appear to Bruce MacLeish's direct rise to the very summit of what was possibly the second greatest department store in State Street's long and rich retail history.  It seems that Bruce was in fact notably serious about his career and worked diligently throughout his time at Carson's. He also managed to squeeze in service during  both World Wars. Meanwhile, his wife the former Elizabeth Moore was active in North Shore charities, while raising a son, Hugh, and a daughter Jean.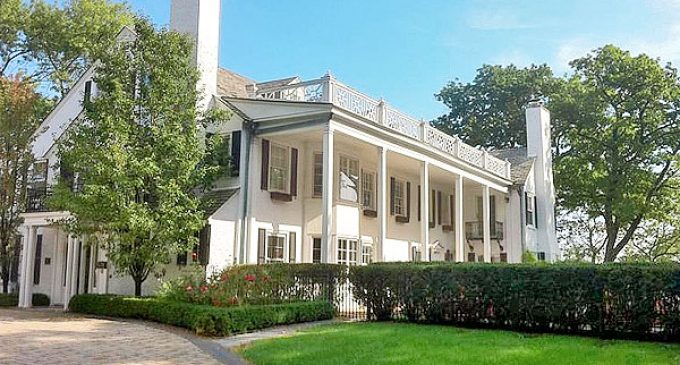 The little family lived well. The above house originated in the mid-19t'h century as a relatively modest farmhouse that just kept growing.
It was Jean who brought the name Dern into the dynasty in the early 1930's by marrying John

Dern, son of George Dern, 6th Governor of Utah and former U.S. Secretary of War under Franklin Delano Roosevelt. Lawyer John was a partner in Sidley & Austin and in June 1936 he and Jean produced a son, named for his paternal grandfather, Bruce. The golden boy's godparents were future Presidential candidate  Adlai E. Stevenson and Eleanor Roosevelt.  
Young Bruce was wholesome. He didn't drink (for which his parents' behavior more than compensated) and was a high school track star at New Trier. Then it was on to the University of
Pennsylvania and more track until a dramatic turn-around sent him to Actor's Studio and the training of Elia Kazan.
In 1960 he married producer, director, actress Diane Ladd, who is only slightly younger than Bruce; both are currently 82. Diane was born in Mississippi and like so many Southerners, it would seem, related to other notable Southerners—in her case playwright Tennesse Williams and poet Sidney Lanier. Their first child, Diane died at 18 months. When she drowned, the couple believed another child would repair the wound she left, but the tragedy had already destroyed  their marriage.
Instead, their second daughter grew up to be actress Laura Dern, whose talent has brought entertainment to millions.
Meanwhile her mother was nominated for the Academy's Best Actress in a Supporting Role for her role as Flo in the film 

Alice Doesn't Live Here

Anymore

. The ladies appeared together in the films Rambling Rose and Wild at Heart.

Although both Bruce and Diane remarried, Diane, currently to author and business leader Robert Charles Hunter, with her above, and before Robert to William Shea, Jr., the famed trio have managed to spend many happy times together.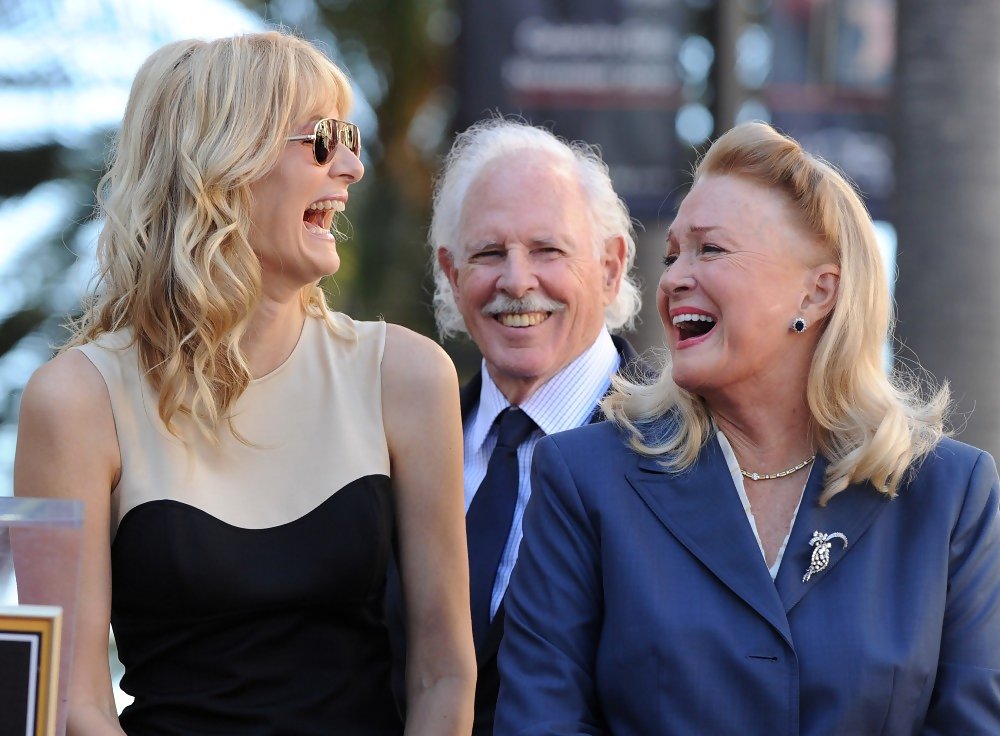 The family photos here were taken in November 2010.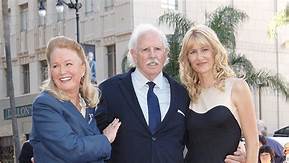 It was then that each was awarded a star in the Hollywood Walk of Fame.
It was the first time three in a family received side by side stars on Hollywood Boulevard.
This segment concludes Publisher Megan McKinney's six-part Classic Chicago Dynasties series on The MacLeishes of Chicago.