WGN Anchor Larry Potash Keeps Popular Show Humming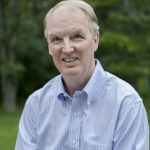 By David A. F. Sweet
After a comfortable morning in the television studio, WGN anchor Larry Potash wasn't expecting to soon be sitting outdoors at a Starbucks on a 41-degree day – much less to the sounds of an alarm blaring above him, fire trucks rumbling about a few yards away and no coffee to be had.
But the Lake Forest resident handled that false alarm as calmly and adroitly as the time the Kung Fu show actor David Carradine appeared on his set and chose not to channel his 1970s character as a monk.
"When he came out, I could tell something wasn't right," said Potash. "Out of the gate, he dropped the f-bomb. I apologized to the viewers and said we're done. It was my fastest interview ever."
Potash has anchored the WGN Morning News for more than a quarter century. In that time, he has captured 14 Emmys, and the ratings of the program today beat the other four competing stations combined and can be as much as three times higher than The Today Show on NBC.
"Our approach to TV is authentic," said Potash, explaining the reason behind his team's popularity while still dressed in his anchor suit. "Ninety-nine percent of our industry came from the anchor factory. That's where the newscaster chastises the weatherman because it's raining! God forbid in the context of news you just be a normal human being."
Potash occasionally incorporates "Larry's World" into the broadcast, where he picks a fun or offbeat item, such as vintage ads, to talk about. A more serious look at a topic can be found in "Backstory with Larry Potash," where the Lynn, Mass. native offers a contemporary lens on history. One example: A story about a Chicago hotel that housed a secret society.
"Growing up in the Boston area, we were surrounded by history," Potash explained. "There were multiple chapters – the witchcraft trials, the Revolutionary War. History is kind of ingrained in me."
Potash graduated from Emerson College in Boston, where he majored in mass communication and broadcast journalism. He covered Boston Celtics' practices for the school's small TV station.
"Robert Parrish was very friendly with us, even though on the court he looked like you didn't want to screw with him," recalled Potash, who noted that he wears two types of clothes: suits and Boston sports T-shirts. "The media luncheon with (legendary announcer) Johnny Most was an out-of-body experience. I'd be listening to him doing play by play about passing the rolls."
After college, Potash moved to Longview, Texas, where he earned $5 per hour at a TV station there.
"I looked at it as grad school," Potash said. "I was covering everything, from ribbon cuttings to armadillo races. It was a good way to start."
After stops elsewhere, including Tulsa, Potash arrived at WGN in 1994. His first week, when nobody in Chicago knew who he was, he went undercover to expose lax security at a children's hospital, where a patient had recently been assaulted. He wandered around freely for hours.
At the same time, he was stunned at the amount of news in his new city.
"I remember the first week in Chicago, every single story would have been the lead for three months in Tulsa," he said. "There's just so much going on here."
In 1995, he was tapped as a morning anchor. That means he is usually up by 3 a.m. to make the drive downtown – even during the pandemic.
"My co-worker and I were the only ones going in," Potash said. "It was like a ghost town in there. It was hard to time ad libs when you're talking with someone with Zoom."
In fact, with the power of social media today, Potash and his crew need to be a little more careful with their off-the-cuff remarks.
"In the old days, if you said something stupid or wrong, it ended up in space. Now, it's on YouTube," he said. "It's hard when people are so easily offended. We want our show to be unpredictable, but sometimes you step in a pothole."
As the chat ended, Potash walked inside the back-to-normal Starbucks to finally buy a decaf espresso. Then it was time for a nap. Before long, he would be back on the air, must-watch TV in tens of thousands of Chicago-area households.
"It's a lot of work and a lot of moving parts," he said. "It's like the mail – it never stops coming. But I definitely enjoy what I'm doing."
Unsung Gems columnist David A. F. Sweet is the author of Three Seconds in Munich. You can reach him at dafsweet@aol.com