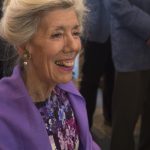 BY JUDY CARMACK BROSS
Why go to Paris since Paris has come to Chicago? —From an 1888 edition of The Chicago Daily Tribune, after paintings by Impressionists, including Claude Monet, first appeared at a Chicago gallery.
A Parisian visit may not be possible now, but we would once again ask that over-a-century-old question, having learned more from Gloria Groom, Chair and David and Mary Winton Green Curator Painting and Sculpture of Europe, about the Monet and Chicago exhibition opening at the Art Institute of Chicago September 5. Monet and Chicago brings together the Art Institutes consummate collection with rarely or never seen Monets on loan from private Chicago collectors. While COVID-19 restrictions limit the number of visitors in the galleries at any time and advanced tickets are required, the exhibition will be up until January 18, 2021.
Midway through the two-week installation of the over 70 paintings in the exhibition and presentation of new historical research and scientific study of the artist's materials and techniques, Groom told us about being back in the Art Institute again: "It is wonderful walking through the galleries, saying hello to the guards—we have all missed one another. Monet and Chicago occupies the same space that the Andy Warhol exhibition used. That ended in February, and we all had to leave the museum on Friday, March 13. The exhibition was to have opened May 6."
In 1891, Bertha and Potter Palmer acquired some 20 paintings by Monet, including several from the Stack of Wheat series, and launched our city's long-lasting love of the artist. That year Martin A. Ryerson, who served as a trustee and eventual vice-president of the Art Institute, bought his first of many paintings by the artist. Annie Swan Coburn was one of the early collectors and Monet donors as well.
The Palmers, who had seen Monet's exhibition of the stacks of wheat at Durand-Ruel's gallery in Paris in May 1891, only met the artist the following spring when they attended a Renoir exhibition at the same gallery.
Historian Ernest Poole described Bertha Palmer as "beautiful, dashing, quick and smart," adjectives that also apply to Groom, with their shared gift at public speaking strengthening the comparison. As President of the Board of Lady Managers at the World's Columbian Exposition and chair of the Woman's Building, Palmer spoke frequently to large groups of guests both at the World's Fair and at her Gold Coast mansion, known in the day as "The Castle," where she loved showing their collection.
We asked Groom, who shares Bertha Palmer's great love of Paris, what she might have liked—if given the benefit of time travels—to ask Bertha Palmer. "There are several questions I would ask including: What made you take a chance on Claude Monet? She also was obviously interested in collecting a series of his work, such as the stacks of wheat, which really wasn't done at the time. You see with Warhol the use of multiples. I would ask her about this as well," she says.
"Although there were paintings by Monet shown at the World's Fair, they weren't Bertha's," Groom continues. "I would ask her why she didn't show Monets from her own collection. I imagine it was because she wanted her home to always be such a showplace and she and her husband loved inviting people to see their collections. They were what really started the Gold Coast as we know it today."
As Groom continues to present Monet and Chicago to non-profits and other groups, the Palmers shared their knowledge and their collection. The intrepid Woman's Board of Northwestern Memorial Hospital, founded in 1897, held their first fundraiser—a theater performance and art sale—at the Castle in 1900, raising almost $2,500, which allowed them to build out operating rooms. They were only one of many charities that benefitted from the Palmers' generosity.
"The Palmers led by example," Groom explains. "They were one of the most philanthropic families and really did what was good and what should be done. They made it less scary to collect something as avant-garde as the Impressionists were at the time. The collectors also had the determination to bolster Chicago's cultural standing in the world."
Groom shares that because of the pandemic, most visitors to the exhibition will most likely be local, creating an opportunity to rethink and re-appreciate the museum's storied collection: "With 33 Monet paintings and 13 drawings, the Art Institute has the largest collection of the artist's works outside of Paris. It was the first American museum to purchase a Monet. This exhibition is really an opportunity to shuffle the deck in terms of visitors' thoughts on Monet and to see not only the Art Institute's collection but also the magnificent works from private local collectors: 35 paintings and two works on paper," she says.
In one gallery, 11-foot high screens will surround visitors with a totally immersive experience. Spanning Monet's long career, the exhibition combines beloved major works with rarely seen still lifes, landscapes, early caricatures, Giverny water lily ponds, and more and more beauty. One of the paintings included is one that even Groom had not seen before, a lovely outdoor family scene at Giverny, which, she says, definitely deserves its place of honor.
She describes the road to such discoveries, a deeper look into the works, and the exhibition itself: "In 2014, the Art Institute launched an online, scholarly catalogue, which has truly been an innovation. It shows the results of x-ray, infrared, and other technical images to look more closely at paintings online. In the Monet exhibition, visitors can take the time to view some of our recent discoveries of what is beneath the surface. You see what he struggled with and a different Monet. What we're offering is a deep (and breathtaking) dive into the historical significance and reception of an artist we think we know. Here I want to make sure to mention the important assistance of Katie Kreminitzer, Research Associate in our department, who authored the illustrated chronology in the catalogue."
In addition to her virtual lectures and tours—be assured that transferring her lectures from in-person to virtual during the pandemic haven't lessened her abilities to entrance audiences—Groom is excited about her collaboration with Peter Vrotsos of the Garfield Park Conservatory on water lilies, then and now. A new lily pond will replicate Monet's lily ponds in Giverny and others such as sunflowers and dahlias that Monet loved to paint will be on display. In addition to the water lily ponds, the Conservatory's Flowers of Monet garden will be open until late October.
For more information on Monet and Chicago, visit artic.edu/monet.