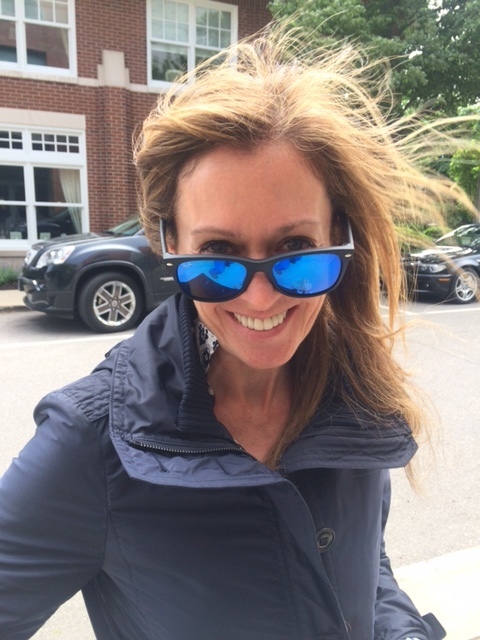 By Wendy Wood-Prince
Having good friends is one of the things in life I am the most grateful for. That appreciation grew stronger when my wonderful friend Pam invited myself and her friend, Carolyn (who I am now grateful to call a friend as well) to join her at Miraval Resort and Spa in Tucson Arizona for five days of R&R. Always game for a trip, I went thinking I would get a massage and drink margaritas in the hot tub, but I ended up going on an unexpected spiritual journey. Everyday life, filled with work, chores and obligations can lead to a need for a change of energy and being as human as the next, I looked forward to a break.
Enjoying the view with my friends Pamela and Carolyn.
It was a crisp and cold but stunningly sunny day when we checked into our beautiful villa. We were gently told that Miraval was a device free zone and cell phones, lap tops and iPads have designated areas where they are to be used, otherwise to be kept away. They even provided us with "cell phone sleeping bags" for us to put our phones in as a reminder to "Unplug" and "Be Present".
Labyrinth contemplation.
Once we settled into our villa we sat on the veranda, lit a fire and took in the spectacular vista of the Santa Catalina Mountains. We chatted and caught up. It was so refreshing to just relax!!!
Floating meditation looks a little weird from the outside.
The grounds and buildings of Miraval seem to have been born straight from the earth. Walking through sepia pathways, tiny leaves from spindly mesquite trees float down like confetti. Sparkling water features bubble and flow under the impossibly blue sky and the bright sunshine makes you squint as you walk between shadows. It is impossible not to feel a strong connection to the earth here and that earth connection is a recurring theme throughout.
Gentle reminders along the way.
The entire staff is genuinely friendly and attentive and they are as aware of the impact of their surroundings as those who have just arrived. Every treatment, class, and experience was special in a unique way. The amazing nail tech, Paula asked if I had seen the female owl outside the spa waiting room looking for a place to nest, and she added that the owl would hoot at me if I went outside and found her. Sure enough I went outside in search of the owl and the most beautiful Great Horned Owl was sitting in a tree just feet from where I stood and as if on cue, gave me a few hoots. Little experiences like this happened over and over, and created a heightened sense of awareness in me.
The soothing sounds of water.
All of the treatments I tried were exceptional but the one that had the most impact on me was a traditional Ayurvedic treatment called Brahmi Charan. The National Ayurvedic Medical Association describes Ayurveda as "a Sanskrit term that translates to "knowledge of life", and the principles of this ancient wisdom remind us that the entire web of life is intricately interwoven". The Brahmi Charan treatment at Miraval is described as an herbal Brahmi Ghee foot massage combining the warm sensations of an herbal compress to relieve tension in the feet and stimulate a clearing of energy channels. Whatever you want to call it, it was an amazing experience!! The treatment took place in a tented treatment room outside on a blustery day which created movement in the canvas walls. The practitioner was named Najeh and she started the treatment with a chant in a language I did not understand but her voice reverberated through my torso as the wind blew and music played deep flutes, native drumming and waves in the background. As she kneaded and worked my feet my mind could not help but go to some faraway place as I imagined ancient burial grounds and wondered about the history of this place at the base of the Santa Catalina Mountains. Admittedly I felt a little crazy as I am not really a crunchy, hippy type at all, although the experience totally took me there!!
Mountain hiking.
As each day passed I felt more and more in tune with the earth and even a simple Outback Hike with our mountain guides, Justin and TJ describing the topography, flora and fauna put me into a semi meditative state of feeling the earth. I have since learned that Arizona is full of spiritual energy vortexes, which I had never even heard of until I returned home after this trip. These areas (which are located in various places around the globe) are said to be located at the intersection of ley lines from earth's electromagnetic field. Places like Stonehenge and the Pyramids of Giza are in other energy vortex areas. I don't care what it is called but I definitely felt it!!!
TJ and Justin at ease in their surroundings.
Miraval took me to a place of introspection and discovery and connected me to the earth and all that is in it in a way I had not previously experienced…… and we still had plenty of time in the hot tub with our margaritas.