BY LENORE MACDONALD
The Millicent Rogers Museum in Taos, nestled on a rise just north of the Taos Plaza, is a gem of a museum, celebrating the arts and culture of the Southwest as well as the creative work of the museum's namesake.
Taos teems with fascinating people, past and present. One of the most fascinating of all was Millicent Rogers. Born in 1902 to the son of Standard Oil co-founder, H.H. Rogers, the New York, and later international, press called her "The Standard Oil Heiress" and followed her relentlessly.
Rogers was set to live a life of luxury and privilege. However, she became gravely ill with rheumatic fever as a young child. Though she recovered, she was left with lifelong heart and lung complications along with physical disabilities. "Knowing that she would inevitably die young, Millicent Rogers had an insatiable lust for life and defied the advice of her doctors, family, and friends when it came to her health," explains the museum's Collections Curator, Carmela Quinto."She was told to not have children—she had three. She was advised against physical exertion to protect her heart and lungs from further damage. She traveled the world and was an avid skier. She married three times."
After being jilted by Clark Gable (yes, that Clark Gable), she spent the final five years of her life—1948-1953—in Taos, upon the recommendation of friends, actress Janet Gaynor and Hollywood costume designer Adrian. Rogers's fascinating life could fill countless Classic Chicago columns.
The MRM, founded by her son, Paul Peralta-Ramos, shortly after her death, has always exhibited some of Rogers's own artwork and their personal collections of Native American, Hispanic, and Anglo artworks. But in an effort to better understand Millicent Rogers the person, Quinto organized a temporary exhibition, Millicent Rogers: Icon, American Style, exploring the development and evolution of Rogers's creative genius vis-à-vis her physical challenges in relation to her searching for happiness and meaning during her short life.
After your visit, you will better understand her not only as an daughter, wife, mother, artists, media figure, fashion icon, and Charles James's muse, client, and collaborator but also as a transformed person.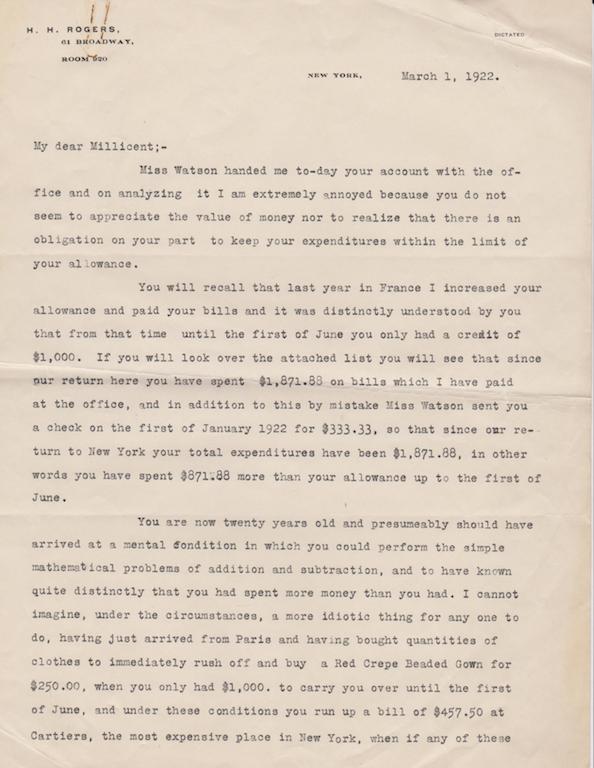 There are compelling items in the exhibition including a letter from her father admonishing her to live within her means, an article from American Weekly that really drives home what Rogers was up against regarding the salacious and insatiable press and public, a stunning display of vintage Vogue magazines featuring Rogers (and also reminding us just how different our lives are today), one of her Taos Charles James ensembles, and, most interestingly, artwork and jewelry designed and produced by her. Importantly, she created art her entire life and saw herself as an artist.
The jewelry's preliminary design sketches and drawings provide insight into Rogers's strong creative capabilities and drive to create. Her imaginative watercolors, done as a teen during one of her many bouts with illness, leave no doubt about her talent. To the exhibition's visitor, she is no longer just a consumer, a poor little rich girl, press fodder and shallow socialite, but a highly sophisticated collaborator and an accomplished artist and designer in her own right. There you will also witness the extraordinary metamorphosis of a vulnerable human being.
It is frequently said that Taos does not call to everyone, but those who hear the call will remain forever or return frequently. Taos loudly and clearly called Rogers.
"Taos," in her granddaughter Christina Lucia Peralta-Ramos's words, "transformed my grandmother from a woman with a lonely, privileged existence into a spiritual woman. In the end, she was at peace with herself and the world around her." Peralta-Ramos explained how hard it is for most of us to truly comprehend how difficult it was for Rogers to be the healthy, happy person she wanted to be given the physical challenges she faced: "She was challenged her whole life in ways that nobody could understand, but she eventually found her home and her self among the people in Taos."
Her metamorphosis is best illustrated in a letter to her son, Paul, towards the end of her life:
Darling Paulie,
Did I ever tell you about the feeling I had a little while ago? Suddenly passing Taos Mountain I felt that I was part of the Earth, so that I felt the Sun on my Surface and the rain. I felt the Stars and the growth of the Moon, under me, rivers ran. … Being part of the Earth one was never alone. And all fear went out of me—with a great, good stillness and strength.
If anything should happen to me now, ever, just remember all this. I want to be buried in Taos with the wide sky– Life has been marvelous, all the experiences good and bad I have enjoyed, even pain and illness because out of it so many things were discovered. 
Life is absolutely beautiful if one will disassociate oneself from noise and talk and live it according to one's inner light. Don't fool yourself more than you can help. Do what you want—do what you want knowingly. Anger is a curtain that people pull down over life so that they only see through it dimly—missing all the savor, the instincts—the delight—they feel safe only when they can down someone. And if one does that they end by being to many, more than one person, and life is dimmed—blotted and blurred!—I've had a most lovely life to myself—I've enjoyed it as thoroughly as it could be enjoyed. And when my time comes, no one is to feel that I have lost anything of it—or be too sorry—I've been in all of you—and will go on Being. So remember it peacefully—take all the good things that your life put there in your eyes—and they, your family, children, will see through your eyes. My love to all of you.
Courtesy of Paul Peralta-Ramos and her descendants. All rights reserved.
Millicent went to Taos to nurse a broken heart. Little did she know that she would also nurse her soul and inspire future generations to follow her example.
She never left and is buried with a view of her beloved, mystical, and magnificent Taos mountains.
 © 2019 Lenore Macdonald All rights reserved.
The Millicent Rogers Museum is located at 1504 Millicent Rogers Road, Taos (El Prado), New Mexico. For more information, call 575-758-2462 or visit millicentrogers.org. Millicent Rogers: Icon, American Style closes April 30, 2020.
All images courtesy of the Millicent Rogers Museum, used with permission.