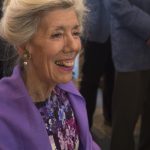 BY JUDY CARMACK BROSS
MetroSquash delivers a powerful serve to Chicago, and the returns from its student players are enormous.
The organization, founded in 2005, has become one of the most compelling non-profits in town for young professionals passionate about empowering students to reach their potential. College, character development, and lifelong wellness are among the goals for its inner city student participants.
Khadijah Muhammad, a graduate of the program and now a staff member, related, "Thinking about my journey in the MetroSquash program brings me back to middle school memories of healthy competition and endless possibilities. It's not everyday that you find a program that not only inspires young minds but also follows them through their post-secondary journey. From being on the squash court and traveling globally to play to achieving my academic goals in the classroom, I can truly say that the values I've learned have transcended to other avenues of my life."
MetroSquash CEO David Kay tells us of the organization's mission to help students make their mark, rallying participants from across the city to not only win the game but also excel in academics. Tutoring by skilled teachers as well as mentoring by our city's most vibrant leaders connects two seemingly different worlds—that of squash and the inner city.
"Squash may not be a traditional sport, but it encourages people to try something different. It is equally accessible to boys and girls, and all you need is a racquet and a ball and you are ready to go. It is both an individual and a team sport—being able to find a game is never a problem. Our students can stay in the program for up to 12 years even through college. They are building and finding great relationships," Kay shares.
"It is a great sport to learn conflict resolution. You are sharing the same space while you are playing and, therefore, you must respect another's space," he continues. "It is a great individual sport as well, and you can play on your own or in college be part of a team."
We caught up with Board Chair Brian Sedlak, who has just returned from Japan where he climbed Mt. Fuji with Kay. He told us about his involvement with MetroSquash: "One of the main reasons David and I chose Mt. Fuji for our climb was the opportunity to visit one of our alumni now stationed at the Yokaka Air Force Base in Tokyo. She said that it was her experience in MetroSquash that encouraged her to explore Asia and take college classes while in the Air Force, something that no one in her Chicago neighborhood had done. Our alumni program is expanding all the time."
Growing up in Albany Park and attending Chicago Public Schools, Sedlak says he came to squash relatively late—not until his thirties. He began by started taking classes at the University Club with the pro Conor O'Malley who was hoping to start an urban squash program similar to one in New York in which he had participated.
"As a CPS graduate this idea really appealed to me. I wanted to give students in Woodlawn an opportunity they wouldn't have otherwise to be tutored by people from the University of Chicago, be coached by pros, and be mentored by highly skilled men and women who were lawyers, private equity leaders, and the like," Sedlak explains.
Sedlak credits U of C with the foundation and subsequent growth of MetroSquash—the organization began in the university's field house and expanded programming into the University Church just across the street. He says, "With the program's popularity, we soon realized that we had to expand. It was through the generosity of the squash community from the Onwentsia Club, the Racquet Club of Chicago, and the University Club that we were able to build our current Woodlawn facility."
Dan Dolan, MetroSquash board vice chair and one of the organization's most talented fundraisers, put it this way: "I think that MetroSquash saves lives. Through the game of squash, you are able to get to the at-risk kids in our inner-city schools and teach not only the game but healthy living, nutrition, and the importance of education for the whole family. These kids have never played squash before but become motivated. The great thing about squash is that you can pick up the game all over the world. It is a very respectable sport, and if you are a respectful person, it is the game for you."
"I called upon one of our city's most well known philanthropists about a donation to our program, and he immediately said that squash was an elitist sport—why would he give to that?" relates Dolan. "I told him that children who have never had a chance are now getting a great education thanks to squash, and he became our donor."
Dolan will co-chair the MetroSquash 15th anniversary benefit next year—October 22, 2020—at the Field Museum, told us that his close friend, the late, beloved John Fornengo, whom he had known for 34 years since college days, always gave of his time as auctioneer for past galas and raised large amounts for the organization through such efforts.
And such fundraising efforts have helped build MetroSquash's incredible eight-court facility in Woodlawn that has become a second home for students and parents and an additional center in Evanston, with hopes for a future West Side satellite location. What began as one class of fifth graders now benefits over 400 students yearly, learning the game from professional squash players. The organization also has a full-time fitness director, and there is a continuing emphasis on good health for a lifetime.
Begun in 1996 as SquashBusters in Boston, the concept soon expanded to New York, in Harlem and the Bronx, with these independent non-profits making a nationwide impact, sending motivated students to colleges around the country. MetroSquash is the first program outside of the East Coast to run with and expand on this idea.
Volunteers are crucial to operations at the organization and do far more than just play squash with students—they also dedicate their time to tutoring and mentoring participants. Hudson Linn, who just started his freshman year at the University of Chicago Laboratory School, shared this about his recent volunteer experience at MetroSquash: "It was a great experience volunteering this summer because I got to do what I love to do—play squash—while working with younger campers on their reading and writing. I was able to give squash tips to those learning to play the game and realized that I enjoy teaching others to play. It was great playing squash with campers and counselors at all levels, and I made great friends. The team is dedicated and enthusiastic—they care for the wellbeing of each student and know how to have fun."
Aside from Linn's summer volunteer experience, he has gotten to know MetroSquash kids from attending squash camps and local tournaments with them. They cheer each other on at tournaments, text one another when they are off court, and keep in touch, all realizing the importance of knowing students from other neighborhoods and other schools.
Genevieve Nielsen hardly misses a MetroSquash opportunity despite an active social service career: "As a member of the MetroSquash Auxiliary Board, I find it so exciting to see so many different parts of Chicago come together through MetroSquash. I have loved meeting other young professionals and watching the students flourish through squash. A highlight of the year for me is attending the annual MetroSquash Cup at the beautiful center in Woodlawn and cheering on all of students and players competing for MetroSquash."
Kay explained how students are chosen to participate in the MetroSquash model: "All our students try out, but we are not looking for the best athlete or student, we are seeking students with great attitudes, demonstrative effort, and good attendance records. Students first come in early fall and are officially welcomed into the program in November and December. We continue to work with our students while they are in college, also offering college internships. We have an active graduate alumni network."
Kay, who grew up in Canada where squash is quite popular and then played on the Princeton University team, told us the squash is among the most popular sports today: "Around the world, people are scrambling to build enough courts to meet the demand. There's a debate as to how it started—some say it began at the Harrow School, and others say that it was first played by those incarcerated at a debtors who passed the time by hitting a ball off a back wall. It spread throughout the British Empire and the United States picked it up, and it is very popular in Egypt."
MetroSquash takes students to play in tournaments throughout the United States, including college campuses such as Bates and Denison, and as far away as Columbia where one of the organization's members has a house. "As they play on the college campuses they are seeing places they quite possibly would not have seen and learn to picture themselves there," says Sedlak.
"You are truly never forgotten at MetroSquash, from seeing familiar faces in my high school and college graduation to now working at this program, current students and alumni are reminded of all of the staff that have made a difference in our lives," Muhammad shares. "MetroSquash helped me get into the Chicago High School for the Arts, where I was a piano major, and attend Denison University. These milestones have not only been important to me because of my hard work but because there was always someone at MetroSquash that nurtured and supported my talents and success. And for that, I am forever grateful."
For more information, visit metrosquash.org.