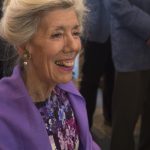 BY JUDY CARMACK BROSS
If you feel your four walls are closing in on you, why not wallpaper them? That's the advice of two savvy entrepreneurs, Mindy Turitz from Winnetka and Erin McCarthy of Wilmette, who are creating and customizing fabrics, papers, and more; meeting deadlines; and raising spirits at Merinda Studios, the company they founded just a year ago.
Inspired by McCarthy's nature photographs and benefitting from Turitz's marketing and management career with Chanel, Ralph Lauren, and others, the team's artisanal textiles, wall coverings, and home décor are bringing the outdoors inside and making those four walls a delight again. Friends and business partners, they are passionate examples of how small businesses can survive and even thrive during the pandemic.
"Our biggest challenge, since our launch almost a year ago, by far has been COVID-19, and I am very proud of how we have still moved forward," Turitz says. "We are small businesses working together. We had just launched our spring line when the virus struck, but we were all caught up in 2-4 weeks."
McCarthy grew up in Southern California where the beaches, mountains, and deserts were her playground. "I moved to Chicago with my husband 17 years ago and although I worked in the corporate world, I always went back to my artistic pursuits," she shares.
With a Kellogg degree and a background in fashion and home décor with major corporations, Turitz was looking for an opportunity to be the captain of her own ship. Early family trips to national parks inspired the Kansas native's love of nature.
A North Shore paddle tennis team they co-captained sparked a friendship. Turitz invited McCarthy to photograph her children, part of McCarthy's career at the time. The friendship grew and a business plan emerged. Living ten minutes from one another they social distance daily.
McCarthy admits, "I used to feel good design was stuffy and definitely not affordable." But the two are able to create something visually appealing and curated at the right price. And nothing can create instant impact or provide an immediate lift or sense of drama to a room than wallpaper, providing texture and a sense of depth.
"And they have come a long way," McCarthy says. "You used to practically chisel it off. And they are definitely family friendly now. Ours are totally wipeable. We left a droplet of water on one paper for nine hours and it still wiped it off totally."
In addition to being owner-friendly, the duo insists on making wall coverings that are environmentally-friendly as well, using eco-responsible printers, doing what they can for water conservation, and reducing their carbon footprint. Their wallpapers are also produced locally, printed in Chicago.
While the demand for sustainability is on the rise, so are requests for bespoke designs: "Clients are demanding accessibility and greater customization. It used to be that if you were to be able to customize it meant a hefty price tag and a long waiting period," Turitz explains. But now designers can customize Merinda offerings with the same limited wait of 2-4 weeks they would expect for items "off the rack."
And creating your own sense of sanctuary has never been more important. "Your home should be a place for reflection and refuge. It's hard sometimes now, but you need to love where you live. Sometime just adding new pillows can really help as you are nesting in. New wall art can do the same thing," Turitz says.
Color accents can also go a long way. "It's so important to design, whether you go bright and bold or neutral. We have lots of bold and beautiful as well as soothing," McCarthy shares. "Injecting color is good advice, she says, suggesting things like pillows, draperies, and backboards as great vehicles for bringing in color.
Bringing the outdoors in can be another way to inject life into a room, including the popular wall hangings featuring McCarthy's nature photographs that are part of the line. "I had studied interior design and wanted to combine it with my art. I use the basics of nature: a branch, a butterfly, a flower, a shell," she describes.
Inspiration often comes from nature walks with her children where each brings back a leaf, a single flower, feather, or a branch. She shoots photos of these in her studio and they often become part of her designs. "The images are shrunk or repeated, often appearing as if they came through a kaleidoscope," she explains. "The designs are not too obvious—more suggestive, we think."
For those wanted to kick start not just their spaces but new projects or endeavors, we asked the entrepreneurs how they would advise others to get started. Turitz shares, " For me, the road to entrepreneurship had a lot of twists and turns. I've always loved the retail industry, so that constant helped me navigate my career path. I started in fashion in New York City and shifted to home décor in Chicago. Along the way, I earned an MBA and had three kids, so my career needed to evolve along with my lifestyle. That meant changing jobs, moving, working for smaller or bigger companies, going part-time or consulting—whatever it took to stick with my love of retail. When Erin and I started discussing Merinda, the timing was fortuitous. I was so ready to start a retail business on my own and I loved her ideas. I knew it was the right time to go for it."
McCarthy echoes, "I think it is so important to follow your passion in life. I believe we are each given unique gifts and talents and, for me personally, as much as I tried to work in non-creative fields, I was always pulled back to my creativity. It simply didn't feel like a choice to me and despite having a busy life and two children, I have made the time to hone my craft."
She adds, "I am often staying up all night or getting up long before my kids to work. I am a big believer in Malcolm Gladwell's concept of 10,000 hours. In his book Outliers he suggests that only after 10,000 hours of practicing your craft can you achieve a certain level of expertise. He says, 'Practice isn't the thing you do once you're good. It's the thing you do that makes you good.' This thought has certainly worked, and still works, for me."
And it doesn't hurt to have a beautiful space to practice in.
To learn more, visit merindastudio.com.