Building Sand Valley Golf Course Was Just the Beginning for Michael Keiser Jr.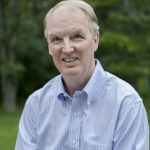 By David A. F. Sweet
When golf course developer Michael Keiser Jr. was asked to assess the potential of land in central Wisconsin, he agreed to drive to Nekoosa, a town of about 2,500 people that sits hours away from any major city.
He found beautiful terrain covered by red pines – but, as he knew beforehand, no ocean bordered it. He wondered: Would golfers come to a seasonal spot without an ocean? His father's immensely popular creation, Bandon Dunes Golf Resort in Oregon, sat right on the Pacific. Even Whistling Straits in southeast Wisconsin featured holes on Lake Michigan.
Michael Keiser Sr. suggested a team from the Field Museum in Chicago survey the Wisconsin site to see what it could become, since golf seemed to be out of the question. Amazingly, the Field Museum crew found an ocean – of sand.
"They said if we restored it to its native habitat and removed the pine tree plantation, a sand landscape would emerge that would compete with any ocean," Michael Keiser Jr. recalled. "They sent us copies of Aldo Leopold's 'A Sand County Almanac' to show us what the ocean would be. That sold us."
Once inspired by the endless sand dunes, Keiser worked with architects Ben Crenshaw and Bill Coore to build 18 holes based on another inspiration: Pine Valley, the private New Jersey club whose course is regularly voted the best in the country.
"There, pure sand sits in a pine forest away from the ocean," Keiser explained. "Pine Valley shaped our understanding of the site."
Five years after Sand Valley opened to incredible reviews – Golf Digest named the layout its best new course of the year – Keiser continues to shape the 13,000-acre property, which he co-owns with his brother Chris. Having already developed Mammoth Dunes (which opened in 2018 and received Golf Magazine's honor of best new course) and The Sandbox, whose longest hole is 140 yards,  the former Chicago resident is immersed in other undertakings that are poised to make Sand Valley one of the grandest golf destinations in the country.
When we spoke by phone recently as he headed home to Madison after leaving the resort, Keiser explained he had just been walking Sedge Valley – set to open in 2024 – with noted golf architect Tom Doak, who approved the first batch of greens for irrigation. At the same time, a 10-acre putting course – complete with three 18-hole routings a day – is being constructed. Keiser said the routings will change daily.
"We'll design really interesting shapes," he said. "Putting courses are the best way to be introduced to the game."
But perhaps the piece de resistance is the re-creation of famous architect Charles Blair Macdonald's lost course on Long Island – The Lido. With its shared fairways, The Lido was compared to St. Andrews, and it once was said to be the second-best golf course in the country, behind only Pine Valley. The Golf Channel calls The Lido "the greatest course you'll never play."
Torn apart by the Navy when it needed a military base during World War II, The Lido – opened in 1917 – suffered a short run. But just north of Sand Valley, Keiser hopes to furbish a new Lido in exact detail – down to the inch. Set to open in full in 2023, it will be a private club that allows public play during certain days of the week for guests of the Sand Valley Golf Resort.
"I grew up hearing about The Lido," said Keiser. "We will sell housing lots that will restore 1,000 acres of land. We made a common area where everyone can hike on."
Keiser didn't play golf much as a kid because it frustrated him, but he did help his father work on The Dunes Club, a nine-hole Pine Valley lookalike in Michigan.  Once he visited northern Scotland as a teenager and played Royal Dornoch, he fell in love with the game. While attending Santa Clara University in California, he worked in outdoor services and caddied at Bandon Dunes.
It's hard to think of more successful golf-course developers in the 21st century than this pair. The younger Keiser points to his dad as a large influence on what he's developed.
"Our foundation as a golf resort is inspired by what he's taught us: golf first, second and third," Keiser began. "We don't sacrifice the golf for any convenience — for the restaurants or anything else.
"On the hospitality side, treat the guest like you would a family member – don't gouge them. Keep things simple, natural and comfortable. Let's listen to our customers at the first tee and see what they want. That's the core he set."
Like Bandon, caddies are an essential part of the golf experience.
"If we attract great caddies, we make an enormous impression on our guests," said Keiser, who added that 13 caddies at his resort are Evans Scholars, a merit-based program for college run by the Western Golf Association in Glenview. "I'd say about a third of our letters are about the caddies. We have guests who get Christmas cards from their caddies."
There will be one point of differentiation at Sand Valley compared to the courses created by Michael Keiser Sr. In 2023, a court tennis court – one of only a dozen or so in the country – will open. Keiser loves the indoor game and has successfully played the ancient sport – started during the Middle Ages and featuring netted galleries and hand-sewn balls — in Chicago.
"I expected my brother to shoot the idea down immediately. He liked it," said Keiser, whose venue also features more than a dozen grass tennis courts. "The more I talked with people about the game, the more exited the community became.
"I like doing things that other resorts can't or won't. There's some appeal that it's so different."
Unlike Erin Hills, another splendid golf course in the middle of Wisconsin, Keiser said Sand Valley will never host a U.S. Open. That wasn't the goal of its creation (though it will host the 121st Wisconsin Amateur Championship this summer).
"These courses are designed for you and me," Keiser explained, "not for Justin Thomas."
Though a golf major isn't in play, Keiser does look forward to welcoming one key aspect of his vision to Sand Valley: community.
"Our final phase – I hope it takes 50 years to develop – is that Sand Valley isn't seen as a golf resort but a place," he said. "When you walk outside, you'll see a neighbor. I've always thought the town of St. Andrews helps make the whole experience at the Old Course so spectacular."


The Sporting Life columnist David A. F. Sweet is the author of Three Seconds in Munich. He can be reached at dafsweet@aol.com.