BY JUDY CARMACK BROSS
Fred Rogers, Burr Tillstrom (with his friends Kukla Fran and Ollie), plus thousands of children since 1921 would have cause to toss hats in the air if they could be present at the Peninsula Hotel's Junior League of Chicago's upcoming gala. What they share in common has been a visit and a reading revelation from the Mad Hatters, whose 100th birthday will be celebrated that night at the sold-out March 5 event that includes a display of archived hats from early performances.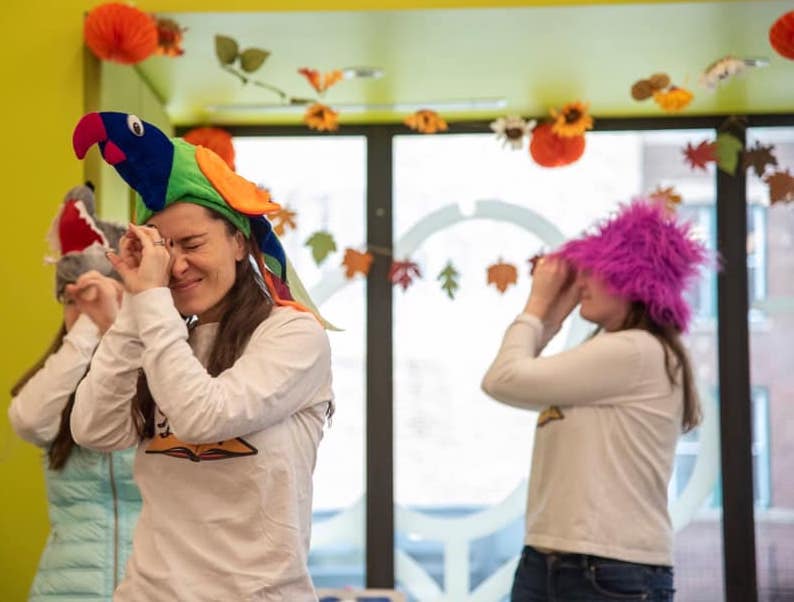 Melissa Schumacher, who will complete her two-year term as Junior League President in June, serves as Director of Corporate Catering at the Peninsula, which she proudly reports was named the "number one hotel in the United States" by The US News and World Report. She has participated in several volunteer assignments at the Chicago League, part of the international Association of Junior Leagues: "I love the hands-on events where volunteers are reading to kids, packing backpacks, answering phones for hotlines. We work hard at mentoring, and many of our 900 members share their career and life skills with others."
Schumacher describes the Mad Hatters, the charismatic, hardworking group that shares their talents across the city and beyond: "These shows feature children's books, poems, and songs that demonstrate how much fun reading can be while encouraging parents to read to their children at home. They work closely with librarians in selecting the books for story time and frequently do modern-day takes on old favorites. The overall goal of setting children up for success and a lifelong love of reading is made merrier with lots of socializing. Mad Hatters typically give more than 60 performances a year, reaching 800 children and families."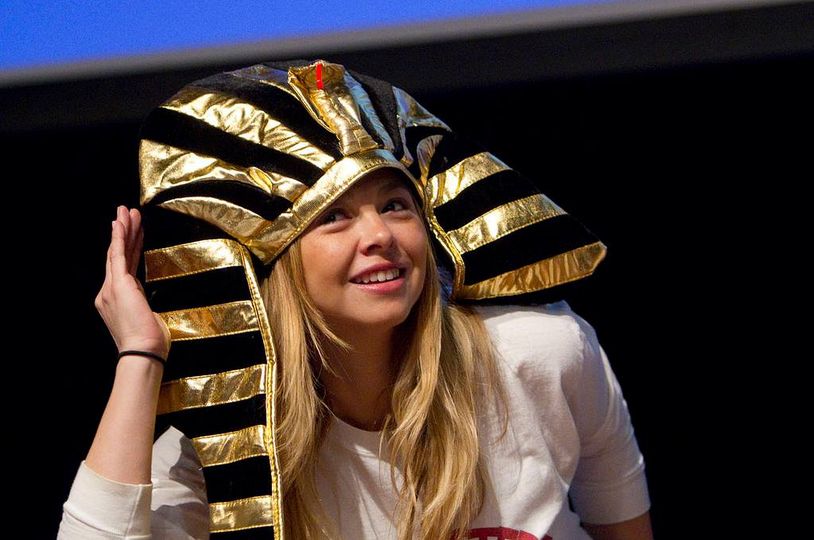 What began in children's theater in the 1920s, transferred to radio shows, such as Tillstrom's here and Rogers in Pennsylvania, the movement started by Chicago's League swept through the country. In the 1930s the Mad Hatters performed in every elementary school in the city and took their show to the Enchanted Island, the center for children's activities for the Century of Progress World's Fair of 1933-34. Today they appear at Chicago Public Library locations across the city, providing high-energy, interactive storytelling geared for children ages three to nine (and their equally rapt parents!).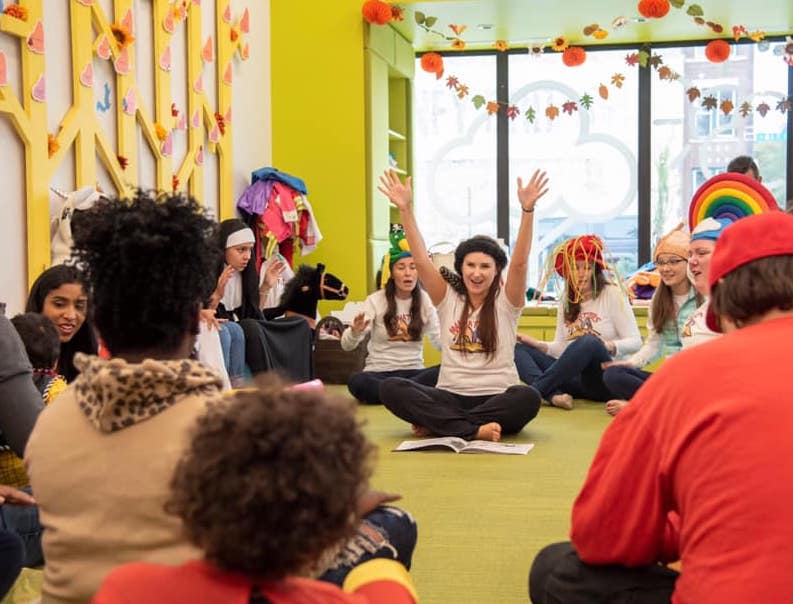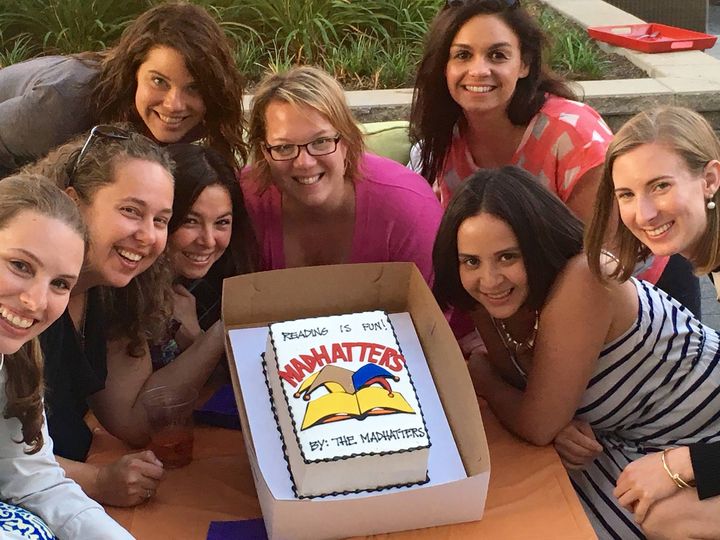 Their committee of around 25-30 provides interactive performances that welcome any and all ages, partnering with not only the Chicago Public Library but also troupe outside of the city to the suburbs and Gary, Indiana. They also partner with Big Shoulders Fund, the JLC's own Logan Square Neighborhood Association (LSNA) committee, and bookstores around the city.
Mad Hatters Chair Katrina Dembinski describes what a typical reading might look like: "All story times showcase four books acted out, three songs, and a poem. Of course, we have plenty of hats to showcase as well, involving the kids by having them shout, 'Change your hats!' between each book, song, or poem. At the end of a performance, each child is given a book, bookmark, and sticker to take home to encourage reading every day!"
The history behind the hat? With an investment of $22,000 in 1921, Junior Leaguers Alice Gerstenberg and Annette Washburne founded the JLC's Theatre for Children, based on the idea that early exposure to the arts and literacy would be an educational and beneficial experience. In March 1921, the Junior League's Children's Theatre began acting out children's books, going from hospital to hospital performing for children. Early on, members put on the "Junior League Follies," featuring many song and dance numbers that packed local theaters to raise funds for community activities.
A Chicago reporter wrote, "The Chicago Junior League has done a bigger thing than it has any idea of." By 1929, children's theater became an art form and national movement.
The first JLC Children's Theatre production was a play adaptation of Carroll's Alice in Wonderland written by Alice Gerstenberg. Many of the early productions were based on fairy tales, but soon Junior League members began creating their own plays. In less than a decade, The Children's Theatre of Chicago was producing Broadway-quality shows. In 1926 the Junior League of Chicago hosted the first National Children's Theatre conference. Out of the conference came a national Junior League production of The Blue Bird by Maurice Maeterlinck, seen by over 35,000 children on a 15-city tour.
The costumes and scenery, created by the Junior League of Chicago, traveled from city to city with local women taking the parts under local directors. The program became a community service movement, introducing children to live theater.
In 1928 Elizabeth Fuller Goodspeed wrote The Junior League Plays: The Wizard of Oz: Play in Three Acts, adapted from "The Wonderful Wizard of Oz" by L. Frank Baum. "Bobsy," as she was known among her JLC acquaintances, as well as her close friend Gertrude Stein, had her Junior League script published by the Samuel French company. Royalties from The Wizard of Oz for decades afterward supported Junior League theater activities.
As Chicago prepared for the 1933 World's Fair, Junior League of Chicago wrote a detailed proposal for a special children's area at the fair that would include playgrounds, a museum, and a theater. The JLC named the five-acre lagoon Enchanted Island, now known as Northerly Island.
The late Peggy Carr, a member of the World's Fair troupe, several years ago recalled for Classic Chicago her performances in Peter Pan: "I was just out of Sarah Lawrence College when I had seen Katherine Cornell and the Lunts on Broadway, and I had a desire to be on stage. The Junior League was the only organization asked to produce children's theater at the Fair because of their success in staging plays in the Loop. I volunteered right away. My role was of Nana, the dog, and Mary Lingle made my costume out of old cedar dust mops. I definitely looked just like a shaggy dog."
"Although my dialogue consisted of 'aarf,' I said it in many compelling ways. I had a warning 'aarf' when Peter Pan arrived, a sad 'aarf' when Mr. Darling banished me outside, and busybody 'aarf' when babysitting," she chuckled.
Also, in 1933, JLC began performances in every elementary school in the city. Soon many children's theater groups in almost 100 leagues moved into radio and television. In the 1940s, Burr Tillstrom hosted the puppet show Kukla, Fran & Ollie with the Junior League of Chicago members. In Pennsylvania during the 1950s, Fred Rodgers, with a local Junior League, helped develop a one-hour program called Children's Corner, later Mister Rogers' Neighborhood.  
In the 1970s, the JLC  adopted the signature style that the League celebrates today. With many congratulations to the Junior League and its many generations of Mad Hatters.
To learn more about the Junior League of Chicago and its volunteer opportunities, visit jlchicago.org.