By Judy Carmack Bross
Actress and author Jill Kargman, star of the brash Bravo comedy Odd Mom Out which is based on her bestseller Momzillas, headlined the Lynn Sage Cancer Research Foundation's Pink Ribbon Awards luncheon recently at the at the Hilton Chicago. It drew 1000 guests and raised over $975,000 for cancer research, fellowships, and educational programs at Northwestern Medicine and the Robert H. Lurie Comprehensive Cancer Center of Northwestern University.
Fall Benefit Co-Chair Sheri Whitko, LSCRF Chair Hollis Hanover, and Fall Benefit Co-Chair Wendy Heltzer.
Vibrant Chicagoan and co-host committee member Julia Van Nice, Jill's close friend from New York days and now her manager, conducted a spirited interview with Jill, who executes satirical sendups of wealthy moms of the Manhattan elite patterned on her own life as mom to Sadie, Ivy, and Fletch. She most recently authored Sprinkle Glitter on My Grave: Observations, Rants, and Other Uplifting Thoughts About Life and appeared in the movie A Bad Moms Christmas. Amazingly versatile as a writer, actress, and humorist, Jill made her Café Carlyle debut last year with her sold-out show, singing heavy metal songs in cabaret style.
Second City Chicago writer, actress, comedian, and producer Maggie Smith served as Mistress of Ceremonies. This Annual Fall Benefit Luncheon, co-chaired by Wendy Heltzer and Sheri Whitko, began with the PURSE-SUE THE CURE™ purse auction sponsored by Luxury Garage Sale which featured more than 200 new, collectible, and kids' handbags from prominent retailers, upscale boutiques, and private collections.
Lisa Aggarwal, Sheri Whitko, and Stacy Schwarz.
LSCRF Fall Benefit Luncheon took place at the Hilton Chicago Grand Ballroom.
Pink Ribbon Awards were presented to two-time breast cancer survivor, Elizabeth Kirk, who received the "Warrior" award; Nora M. Hansen, MD, Chief of Breast Surgery of Northwestern Memorial Hospital was given the "Hero" award; the film Grace won Best Documentary Short Film. Breast cancer survivors in attendance were honored with the "Survivor" award, and the founders of the LSCRF were bestowed the "Founders" award. During her interview with Julia, Jill revealed that she had undergone a double mastectomy due to the presence of the CHEK2 gene.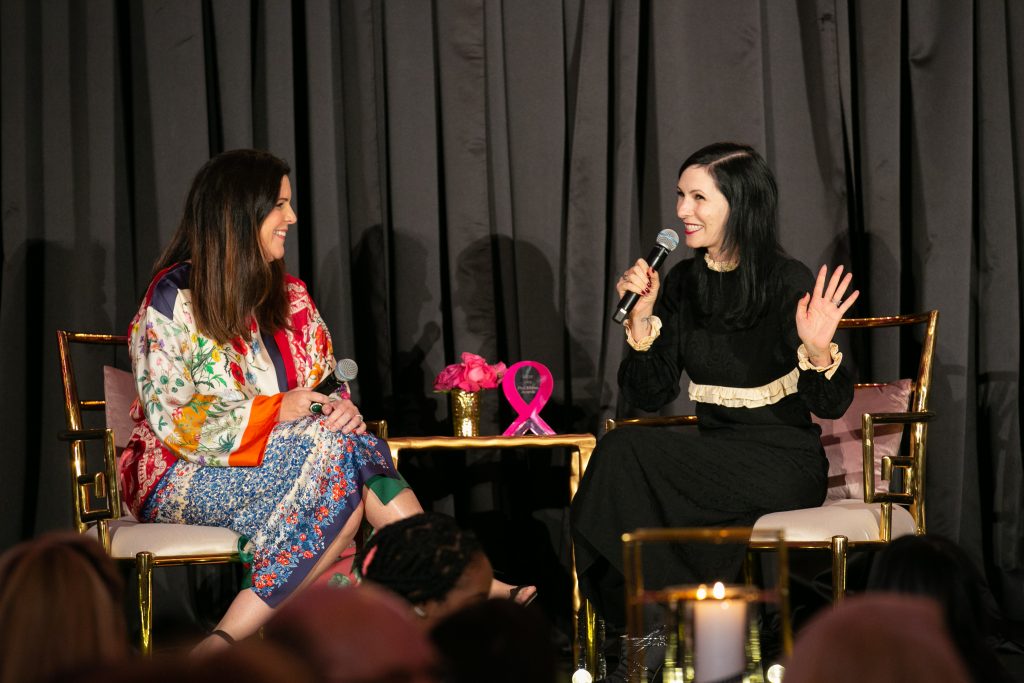 Julia Van Nice presents Q&A with guest speaker Jill Kargman.
Since its inception in 1985, LSCRF has raised over $34 million toward advancing the understanding of breast cancer. For the last 27 years, LSCRF has been affiliated with Northwestern Medicine, helping to fund pivotal research at the Robert H. Lurie Comprehensive Cancer Center of Northwestern University at Northwestern Memorial Hospital. Research initiatives focus on novel treatments, education, and early detection of breast cancer. LSCRF also funds fellowships in breast surgery, breast imaging, pathology, and hematology/oncology to ensure that more patients have access to professionals with advanced training in the treatment of breast cancer. 
Wendy and Jason Heltzer.
Allison Zisook Goldstein and Lili Ann Zisook.
For more information about the Lynn Sage Cancer Research Foundation, visit lynnsage.org
Photo credit: Sheri Whitko Photography