New Head of Lake Forest Open Lands Is a Hands-On Veteran of the Non-Profit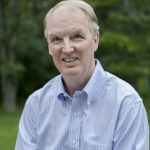 By David A. F. Sweet
Growing up in Lake Bluff, one of Ryan London's earliest memories involved nature – an appropriate recollection for the new head of Lake Forest Open Lands (LFOLA).
"My neighbor growing up had a native garden before anyone knew what they were. I remember transplanting trilliums and jack-in-the-pulpits there, and she'd tell me all about the spring wildflowers" said London, a graduate of Lake Forest High School.
Unlike the four previous Lake Forest Open Lands' presidents, London not only grew up in the area; he has spent his whole career with the non-profit. After starting as an intern in 1999, he joined full-time in 2002 after a stint as an arborist. The past seven years, he has been highly engaged with the biggest restoration and infrastructure project in LFOLA history: the Jean and John Greene Nature Preserve at McCormick Ravine.
This 61-acre strip that begins off of Sheridan Road and ends at Lake Michigan abuts the Fort Sheridan Forest Preserve. LFOLA has spent millions of dollars to construct bridges, create trails and more across the space, a large part of which is encompassed by several ravines.
London helped guide an Army Corps restoration to connect the ravine and its stream to Lake Michigan in 2015. Pipes and invasive species were removed, along with more than 1,000 dead ash trees. About 100,000 plants were added on the slopes of the preserve, which is scheduled to open this fall.
At the same time, London — the preserve's chief project manager — helped design a trail system. Aside from a 60-foot stairway that leads to Lake Michigan, the main trails are fully accessible to the disabled.
"The value of nature is so important for physical and mental health that we want everyone to have access," he said.  London noted an initiative this fall to procure an electric wheelchair that can go anywhere on the LFOLA trails.
The new president – who lives in Lake Forest with his wife, Jill — is looking forward to the fall's big fundraiser, Bagpipes & Bonfire, which is scheduled to occur on Sunday, Sept. 25 in the Middlefork Farm Nature Preserve.
"I can't think of a better way to spend a fall afternoon to see how beautiful these preserves are," London said. "Last year was a guessing game with the state whether we'd be allowed to get together. This year we'll continue the theme of making it more accessible and bringing back the classic entertainment and the family favorites."
Events like Bagpipes & Bonfire are crucial to allow the 55-year-old Lake Forest Open Lands to purchase, restore and maintain land — as well as remove relentless invasive species such as buckthorn — since it receives no local tax dollars. Aside from the fall bash – which features everything from highland dancers to men of brawn who attempt to flip 25-foot logs – LFOLA counts more than 1,100 members who pay a minimum of $65 annually to support its preserves, which aside from walking trails and cross-country ski trails include prairies and savannas, which host prairie blazing stars and bobolinks.
One of London's priorities is to expand the community's commitment to land conservation.
"We're going to look at how we engage with folks," he said. "Gregory Bateson famously said, 'The major problems of the world are the result of the difference between how nature works and the way people think.'  That summarizes an opportunity for conservation groups to deliver that message.
"A big challenge now is there are a lot of new residents who moved into our community over the last three years. We need to let them know who we are, what we do and why we do it. Communication and engagement is something we're always working on."
As he reflected on his role, London shared a story that emphasizes the impact of LFOLA in our community.
"I had somebody reach out to me a couple of weeks into my transition to this role who is undergoing cancer treatment and wanted to tell us how much she appreciated having that open space to relax to take her mind off challenges she was facing.
"It's pretty incredible to think about. We always talk about the scientific aspects of what we do, but the capacity for healing and renewal for someone at such a challenging time gets me excited to come the office every day."
Unsung Gems columnist David A. F. Sweet is the author of Three Seconds in Munich. He can be reached at dafsweet@aol.com. This piece first appeared at Lake Forest Love.