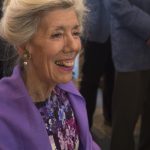 BY JUDY CARMACK BROSS
The impact of a single candle lit in darkness to the sound of one beautiful voice singing "This Little Light of Mine," sparking the flames of over 500 guests, all contributing their voices to song, embodied the powerful message of the evening: Light the path to breakthroughs in cancer research.
Hosted by the University of Chicago Cancer Research Foundation (UCCRF) Women's Board, this year's Breakthrough Ball, now in its 53rd year, was fittingly entitled Light the Path. And in charge of this not-to-be topped moment of how to effectively deliver your mission to your guests were Beth Eugenio and Elizabeth Luttig, the evening's inventive chairs. Diane Reilly serves as President of the Board that raised more than $2.2 million for cancer research that night.
The Gentlemen of Leisure created a pathway to the dance floor with their always-addictive merriment in the HMR-designed Four Seasons ballroom, festive in tones of navy and chartreuse. Always the venue to see the most glorious of evening gowns, the guests, many of whom chose holiday-ready red, didn't let us down.
The Gala honored Margaret Benjamin, president of the UCCRF Board of Trustees and her husband, Larry Benjamin, and Verdura, the iconic jeweler retailer, with the "Honoring Partners in Discovery" award for their dedication to cancer research.
Since 1966, the Women's Board has hosted this hallmark event to help advance cancer prevention, care and treatment, fueling innovative discoveries and chart new paths for better care and outcomes for patients at the University of Chicago Medicine Comprehensive Cancer Center. The gala has supported more than 80 research projects and 200 cancer scientists at the Comprehensive Cancer Center, recognized by the National Cancer Institute for its excellence in research and innovative treatment. The board has allocated more than $19 million in support of cancer research at the center.
For additional information about the Women's Board or to make a donation to support cancer research, click here.
Photo credit: fig media