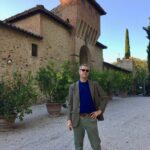 By Francesco Bianchini
Returning home from the Sarlat market with strawberries – the Charlotte variety whose strong perfumed scent the wrapping preserved – I thought back to La Placette Haute, our first property in Périgord. It was located in a less travelled corner of Dordogne, more bucolic, and was bordered by several commercial strawberry farms. As we discovered, this production – a quarter of the national yield – is an important part of the local agricultural economy, along with black truffles, walnuts, and foie gras. We learned to distinguish the Garriguette, brightly colored, aromatic and acidic, from the irregularly shaped and very fragrant Mara des Bois, getting them straight from the fields, at the right point of ripeness from mid-April to late October.
The rolling hills of Périgord from La Placette Haute
The term ferme ornée, or ornamented farm, describes a country estate laid out partly according to aesthetic principles and partly for farming, following the classical view of the twin aims of poetry inherited from Horace, 'to instruct and to delight'. Palladio paved the way in the sixteenth century, designing his villas both for the pleasure of country life and for the practicalities of rural activities. La Placette Haute could not have seemed further from this ideal when Dan and I first saw it on a damp January morning more than ten years ago. The woods were infested with brambles, the walls covered in creepers, and all manners of invasive species had taken over what had once been open space. It was hard to give our imagination any defined course.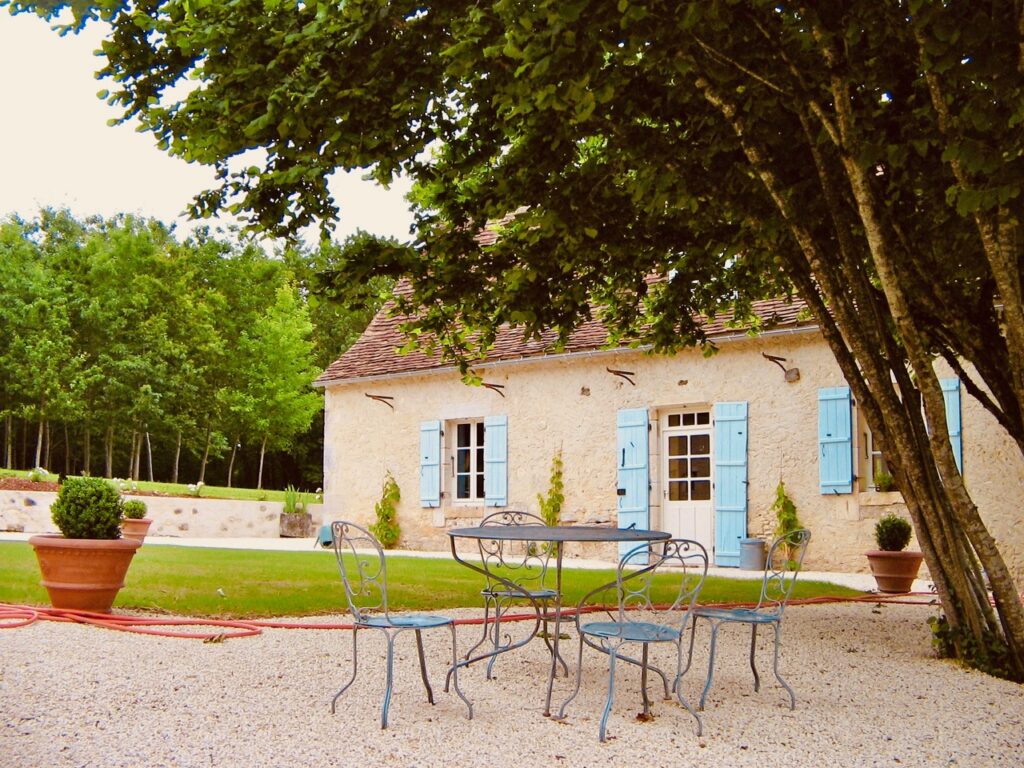 Our ferme ornée
We found ourselves the owners of quite a bit of land, thirty-two acres, more than we could handle. We wanted a garden and the examples we had fresh in our minds hardly fit: a rich palette like Giverny? Rigor, symmetry, and perspective as at Vaux-le-Vicomte? A romantic layout such as Nohant? The green geometry of Italian gardens like Villa Torrigiani? We agreed on one point: we didn't want too many colors, but neither did we want a dominant green-on-green texture. This led to a balanced combination of white, ivory, lavender, and blue. But much was in the way! Not just brambles; ranks of pine obstructed our view to the south that we knew could be open and delightfully pastoral. There were also banks of wild plum trees forming an unsightly barrier. We needed to be radical. 
A lumber company offered with perfect timing to cull our pines by one third. We gained a beautiful view but ended up with land defaced by rows of stumps, covered with piles of cut branches. We had to be even more extreme: a terracing job if we were able to absorb the prohibitive costs. We bit the bullet; a mechanical shovel extracted the stumps, collected the logs, and piled them in a towering heap that burned incessantly for three days, and whose ashes had to be buried in a deep hole. On the fourth day, a wide arc of at least an acre was leveled and prepared for spring planting; a prairie of wild flowers. Simultaneously other huge machines were rumbling around the yard, and within a few more days what had been a sad courtyard of weeds and unsightly troughs was transformed into a delicately designed central lawn, à la francaise, edged by walks of cream-colored gravel. No more time was needed to turn a nightmare of several months' duration into the beginning of something only nurtured in our mind's eye. The stone well topped by its nice wrought-iron arch stood out above the neat line of the southern terrace, and the two hazelnut trees could shade our summer lunches comfortably seated at a table and chairs on level, graveled ground. Vines we planted were already scaling the facade to their simple iron arbor for which they were intended. And the espaliered pear trees, newly planted along the facing wall, would provide a rustic counterpoint to the formality of the central parterre.
Summer kept its promise.
The restoration of La Placette Haute was the metamorphosis of an ugly duckling, a bittersweet act of love towards a property that had hitherto been mistreated and neglected, and which reciprocated with an unexpected burst of vitality. In the initial frenzy of uprooting to enhance space, light, and views, we hadn't paid much attention to the fruit trees. Once pruned, some nearly by half, they began to produce with irrepressible abundance. There were five apple varieties; a cherry tree – unrecognizable at first under an asphyxiating shroud of ivy – a spindly peach tree with the best white peaches we have ever eaten; a walnut tree; several chestnuts on the edge of the woods; a fig tree that – though thinned to its bare essentials – continued to bear more fruit than we could eat; a pear tree in the middle of a clearing, regularly visited by deer that maddeningly took bites out of each and every fruit; those ungainly plums that we couldn't bring ourselves to cut, so sweet and juicy were their berries, and the two spreading hazelnuts that rained kernels with such ferocity that we were forced to pick them up daily to clear our immaculate terrace.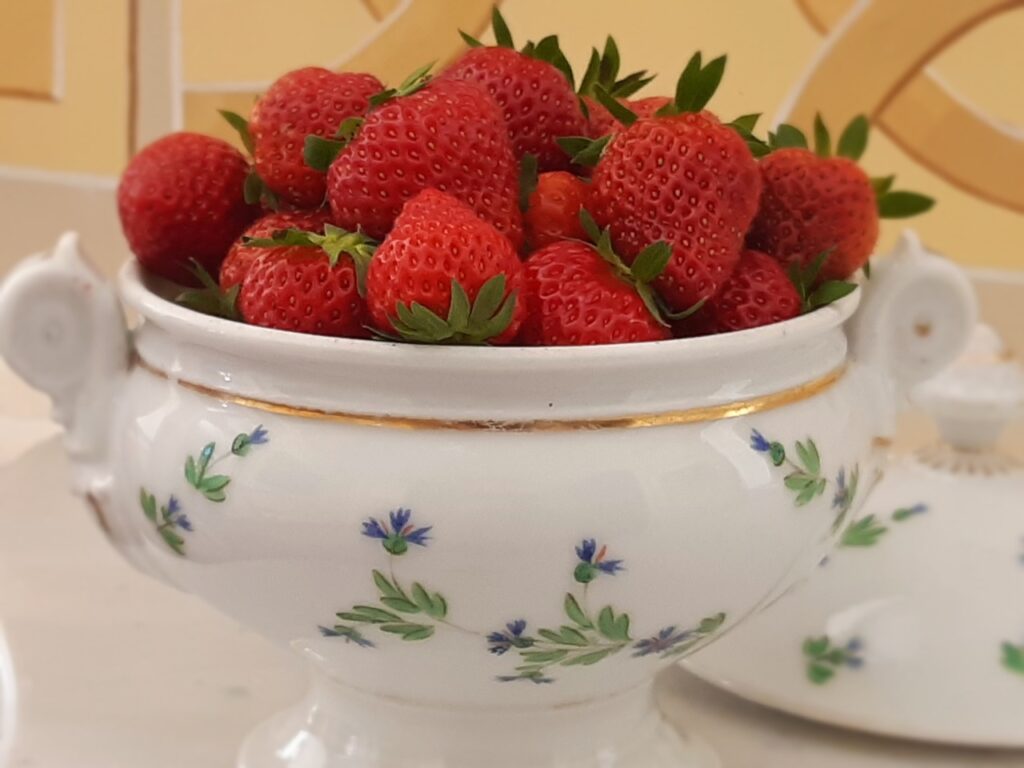 Life is just a bowl of strawberries
We would soon have grapes from the new pergola, and more pears from the espaliered plants. In short, much more fruit than two people could reasonably dispose of. It was a shame to let it rot on the tree or on the ground. We did what we could. We filled two 25-pound bags with hazelnuts and sold them to a confiseur at a local market. Dan began making and baking tarts that we ate as snacks, or distributed to friends and to the men working with us. But by far the most delicious thing – and the one that conjures perfectly, with its sweet and sour taste, our time of great energy and hard work – was fig chutney which he bottled by the dozens.
Dan preparing his fig chutney