Most 16-year-old drivers venture out by heading uptown. Then there's Winnetka's Bryce Aron.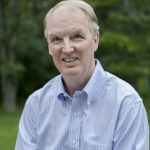 By David A. F. Sweet
His driving style is aggressive. He loves speed.
Don't worry. That's not how Winnetka's Bryce Aron – who earned his driver's license in September — drives down Green Bay Road when he hops in his sister's Jeep. It's how the youngest competitor in the Formula Race Promotions F1600 Championship Series last year — all of 15, in fact, when that season began — manages his open-wheel machine against other competitors on the track.
"When some people find out I race open-wheel cars, they are shocked to hear of someone my age behind the wheel," said Aron, a sophomore at New Trier High School.
But competitors on the circuit are not shocked at all, because they've seen his racing prowess. Aron finished third in the 2019 F1600 Championship Series, which ranks performance through an entire U.S. season. He competed in 21 races, including three at Watkins Glen International in New York, one of the most venerable tracks in the country.  In his final race at Summit Point in West Virginia, the teenager led in the last turn before facing a photo finish.
"I asked my mechanic while I was in the car, 'Who won it?'" Aron said. "To hear him say, 'You did really good, but …' Your heart really sinks in that moment." Aron lost by 0.01 second.
His father, Jordan, said it's what his son does after races — including the toughest ones — that truly distinguishes him from the pack.
"When he comes off track, he works harder than anyone," Jordan said. "He immediately seeks out the engineer and coach to study data and video from his session.  He wants to find every inch of track where he can improve his lap time.  Bryce is working literally every minute he is at the track."
Regarding the teenager's love of cars, let's just say it started early. "I see cars" were the first words out of his mouth. His grandfather, Allen, and Jordan have forged careers selling Jaguars – both in Wilmette at a now-closed location and at Imperial Motors Jaguar of Lake Bluff, where the race-car prodigy worked in the parts department last summer.
As a boy, Aron decided he'd like to become a professional go-kart driver. Most who reach the circuit start karting at 3 or 4, making Aron — then 11 — rather late to the game. He begged his parents to let him race.
"My Mom and Dad weren't excited about me doing something dangerous," Aron recalled. "We got a go-kart, and it wasn't even the right type. We didn't know what we were doing."
After driving practice laps in southern Illinois, he entered competitions and struggled. But he wouldn't give up. He raced primarily in Wisconsin and by 2017 even set a Badger Kart Club track record. Eventually, he competed at Daytona — where the go-karts zoomed forward on a 0.7-mile sprint track under the turns of the famous speedway.
"You'd be looking up at the guys flying by on the track," recalled Aron. "That was cool."
Today, the respectful and well-spoken teenager — a phrase many might consider an oxymoron — has been practicing on a simulator in his bedroom at home rather than on tracks, given the invasion of the coronavirus. But he's excited about his next step: competing in the Formula Ford in the United Kingdom, where he will be part of the Cliff Dempsey Racing team this year. Aron earned a license from the Federation Internationale de l'Automobile, the governing body of motorsport, to vie for victories abroad.
On the highly competitive Formula Ford circuit, his bold method of racing is likely to succeed.
 
"I like to maximize the slip angle of my tire, meaning sometimes I slide and make the car dance," said Aron, who was picked as one of the most promising drivers of 2020 by the United Kingdom's Motorsport News  "By nature, I also like to brake late to maximize the entry phase of each corner."
Aron hopes his first race will take place in July, and the compressed schedule during the summer may help the student with a 4.0 GPA tackle his schoolwork in the fall. Though in the United States he could leave on Thursday nights for races, that's not true for the Formula Ford. With the time change in England and the mandatory two days of practice before the weekend races, he would miss nearly a whole week of school each time he competes, though he'd enjoy countless hours on the flights to finish homework.
Aron knows this from experience. He said his most memorable event in 2019 took place across the pond, at the Formula Ford Festival in Kent, England. In the biggest race of its kind in the world, Aron was the youngest and least experienced entrant. Not only had he never driven the U.K-specification Formula Ford car, he had never seen the track at Brands Hatch. Despite those obstacles, he qualified 10th in his heat – the fastest of all heats.
"Racing in Europe was amazing," said Aron, who hopes to become an IndyCar racer down the line. "The strength of the competition and the amount of competitors (73) was absolutely ridiculous."
Along with NAPA Auto Parts, a sponsor whom he praises for having seen his potential, Aron credits his mother Alyson and Jordan for their encouragement and patience as he pursues his dream.
"My Mom is the best. She's always there for me," he said. "It's amazing the hours my Dad spends helping me even with his full-time job. I don't know how to repay them."
The Sporting Life columnist David A. F. Sweet can be followed on Twitter @davidafsweet. E-mail him at dafsweet@aol.com.