BY JUDY CARMACK BROSS
Legendary Chicago host, designer Todd Schwebel, says "let them eat al fresco" this summer! He believes it is more important than ever to celebrate daily meals and gatherings with style and panache as an anecdote to the disturbing chaos we are all living through this Summer. He says God is in the colorful details "and the BBQ sauce" when it comes to a successful summer meal!
We asked him to share some of his favorite images, and those from a few friends, of inspirational summer tablescapes.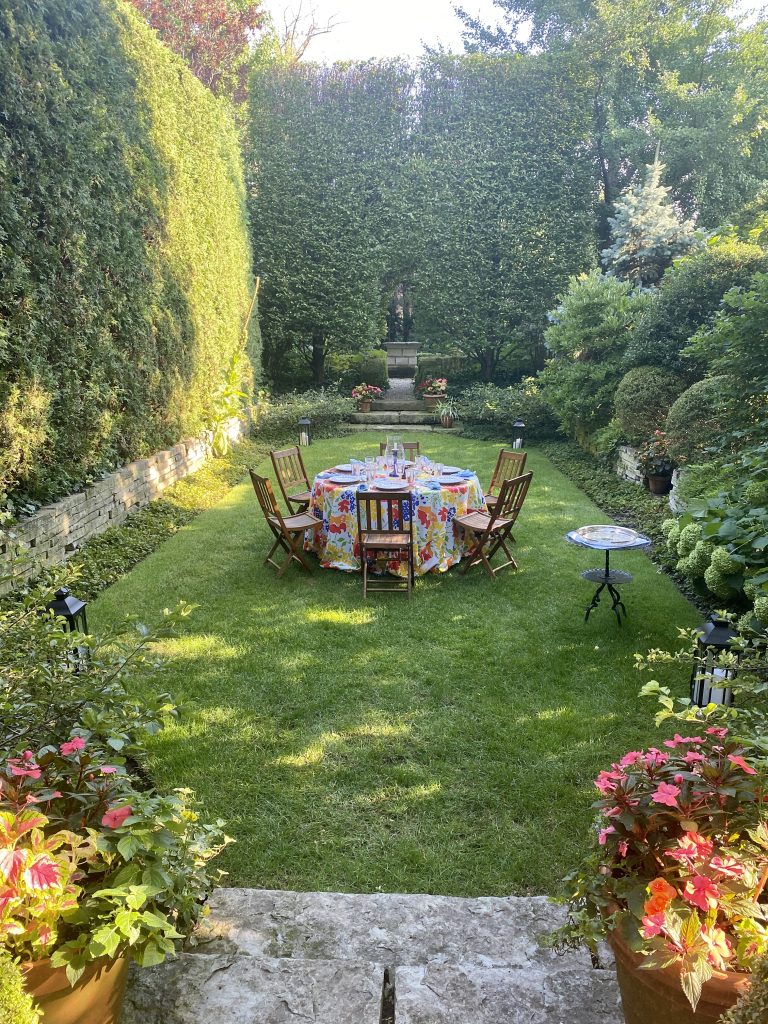 Whether you're dining or dancing, Todd's extraordinary Hyde Park garden is a magic setting!
Todd mixes and matches antique, vintage and modern for his signature "high-low" couture look! Here, in a closeup of the same table, heirloom 19th century American coin silver pairs with newly imported rattan placemats and a spectacular vintage 1970's floral tablecloth Todd recently found on EBay.
Just because you can't travel to the quintessential patriotic summer haunts of Nantucket, the Hamptons or Mackinac Island doesn't mean you can't fly the flag and put out the lanterns even if it's just you and yours celebrating a Summer evening in the city!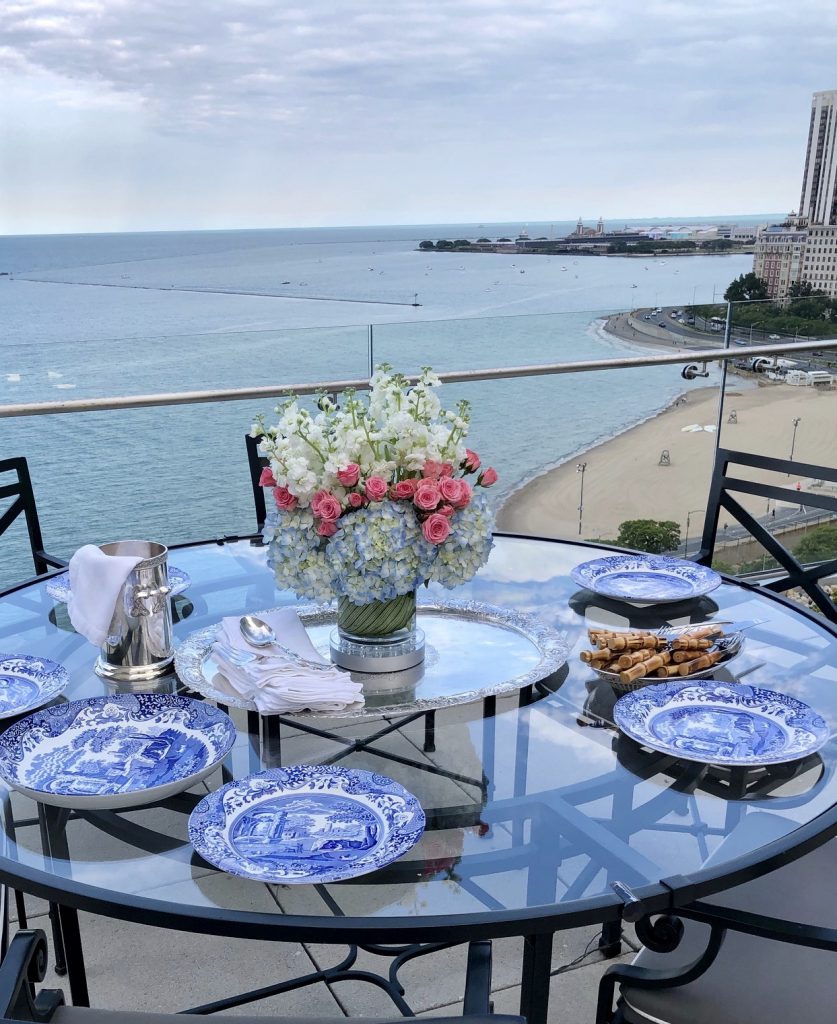 No one sets a prettier patrician table than Brian White and Jim Kinney! Their stunning lakefront terrace is a coveted place to dine complete with antique blue and white Staffordshire plates, heirloom silver and Brian's perfect summer bouquet!
Who says a small socially distanced tete-a-tete lunch on the deck can't be a glamorous affair? Just ask celebrated Murray Bay hostess Kathy Sloane, who is about to serve her cook, Louise's, famous cheese soufflé on these stylish green and white Staffordshire plates!
Todd ordered this custom-made mosaic tile-topped garden table while on a visit to Fez, in Morocco, from where the Nagy Family ships Todd's designs to Schwebel Company clients near and far. Paired with hand-woven Murray Bay placemats, English "Florence" pattern Spode and antique American julep cups this is a haute bohemians dream!
Here's a fun idea: we think the Art Institute should consider sponsoring a Table Top exhibit. Ask uber-stylish Textile Curator Melinda Watt to partner with equally engaging Decorative Arts Curator, Liz McGoey, and open up their vaults to Chicago designers to mix and match textiles and objects, with their guidance, for a culturally and period-diverse display of their visions, like this one of Todd's. Here he's mixing antique English "Buttercup" pattern Spode with a rare vintage hand-blocked Italian chintz tablecloth from the 1970's along with famed Chicago hostess, and Antiquarian, Peggy Carr's, silver bread and butter plates, a treasured gift he received from her before she died.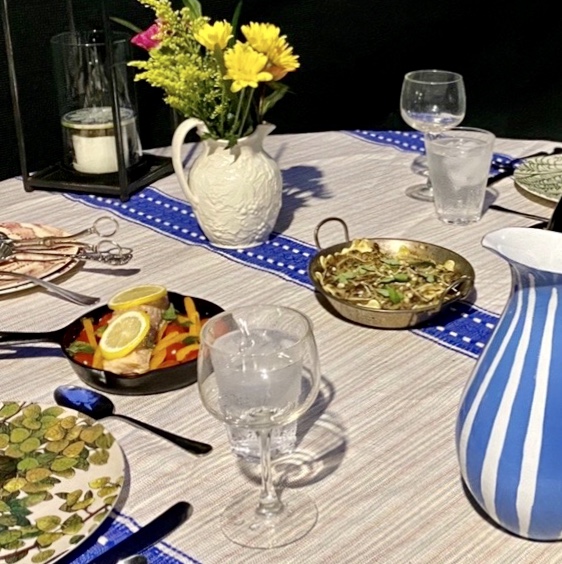 Carlyle Kelly Madden (as in the Shipwreck and Brenda Fraser Kelly's) is famous for her annual Kentucky Derby party in Chicago! Well that party, like all others, was cancelled. Never daunted, she's been busy instead this summer hosting intimate al fresco dinner parties that look like a Manet still-life! Don't you wish you were on her Christmas list for one of these handsome tablecloths she brings home from her frequent trips to San Miguel! 
Lunch on the veranda at Vertefeuille, Todd's summer house in Murray Bay, is always a chic blue and white affair!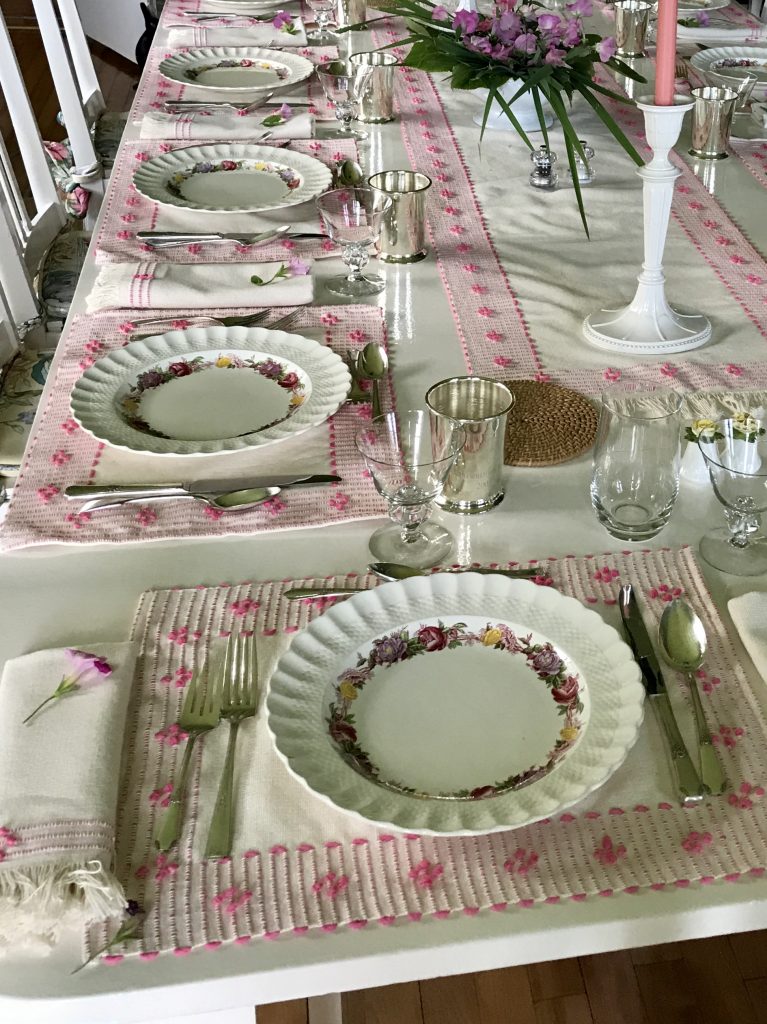 Of course, we are all more than eager to return to entertaining at large dinner parties and other gatherings! In the meantime, here's a memory from a High Summer dinner party Todd and Marc de Montebello gave in honor of Gloria Groom on her visit to Murray Bay last summer.  Todd had the napkins and placemats hand-woven to match his antique "Rose Briar" pattern Spode. 
"Host with the most", designer Todd Schwebel with his housekeeper, Madame Simone's glorious deviled eggs!