Classic Chicago Woman December 2018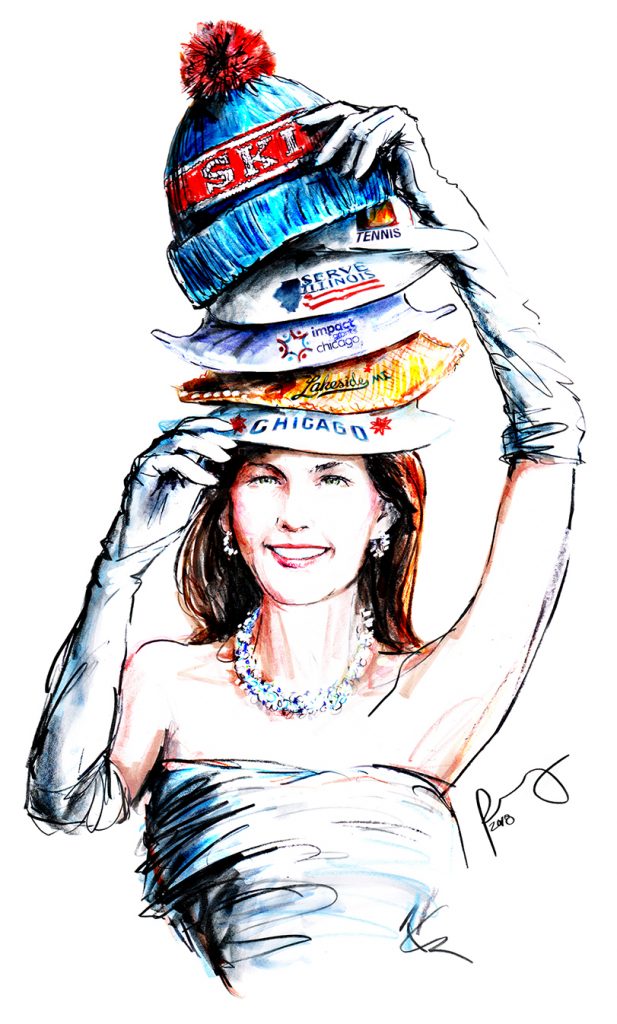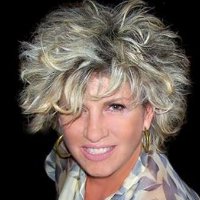 Illustrated by Rosemary Fanti
Written by Megan McKinney
Laura Davis: An extraordinarily lovely woman in every sense . . . a strong positive force and a woman of "many hats" . . . intensely engaged in active sports . . . competitive in a healthy sense . . . committed to volunteerism, with a balance of devotion to family, outdoor activities and public service that is exceptional.
Once: Born in Chicago—family moved to Niles, MI, when she was less than a year old . . . "I look back on my childhood growing up in a small town in the Midwest with great fondness. I filled my red wagon with dolls and stuffed animals and walked down the street to my best friend's house to play. It was idyllic."
"I marvel now that Tony and I are raising real city kids. They navigate public transit and the city biking trails with an ease I didn't gain until much later in life. They are true urban kids, and that is its own gift. They will grow up remembering frequent visits to museums and the Lincoln Park Zoo instead."
Then: Attended The Hotchkiss School in Lakeville, CT, where she followed her father and brothers. "I absolutely loved my time out East. Taking the train into New York City for dinner and a show or hopping on a bus to Vermont to go skiing—such a variety of activities were so accessible." Next to Northwestern University . . . worked in financial services after graduation. "I was working at AON when I went back to school to earn my MBA at Kellogg in the evening program. It was a busy time, traveling for work and going to graduate school at night."
Now: She and husband Tony Davis recently celebrated 21 years of marriage. "We met in an environmental law class at Northwestern and ran into each other at Mia Francesca's on Clark Street a few years out of school. The rest, as they say, is history."
Tony is the President of Linden Capital Partners and on the boards of the Museum of Science and Industry, the Commercial Club and Northwestern Memorial Foundation. He is also active in the Jewish community President of AIPAC (American Israel Public Affairs Committee) Illinois and recently received the AJC Humanitarian Award.
The Davises live in a 100+-year-old landmarked row house in Lakeview with two teenagers, Michael, 18, and Hannah, 16. "They will both be lifers at the Latin School of Chicago, where my father and older brother attended school. It has been a privilege to dedicate the last 18 years of my life to my family, and raising these two healthy, engaged kids."
Current Focus: Summers are in Lakeside, MI. "Playing lots of tennis and enjoying the beach. It's been a great joy to do the same with our children, with my parents living in Lakeside year-round, and both of my brothers and their kids next door."
FUN FACT—Laura's parents' house in Lakeside was owned by the Jerome family. Jennie Jerome, Winston Churchill's American mother, was a relation, and family lore has it that Churchill stayed at the house during one of his stateside tours.
"Our time in Lakeside is a great mix of extended family and multi-generational friendships, and it is where the competitive side of me really took hold. Our family enjoyed all kinds of competition, whether tennis, cards, backgammon or croquet. Nothing was more fun than an intense afternoon of heated competition against close friends. Sweat it out on the courts and shake hands and hit the beach afterwards."
Other Interests: "I still thrive on competition and relish my time on the tennis or paddle tennis courts. When I don't have a racquet in my hand, I love to be on the slopes. As a family, we are avid skiers and enjoy our place in Jackson Hole in the winters. The kids are beautiful skiers, and as they have grown up with the sport, we find ourselves going backcountry or heli-skiing to find new challenges. In the summertime, we can't get enough of hiking, biking and fishing in the Teton Mountains. Scaling Grand Teton, the highest peak in the Teton Range, is on our family bucket list this summer!"
Both children have celiac disease, "so we are strictly gluten-free in our house, and we are proud to support the University of Chicago Celiac Disease Center in their efforts to find a vaccine."
For the Public Good: "I value my work on The Woman's Board of Northwestern Memorial Hospital, where I have been a member for over 18 years. My grandmother, Betty Sims, was a board member as well. I recently joined Impact Grants Chicago and enjoyed participating in their grant-making process for nonprofits in Chicago."
In more recent years, Laura has developed an interest in creating a year of national service for our youth. "As a Commissioner with Serve Illinois, the state organization dedicated to promoting volunteerism and community service throughout Illinois, I am one of 40 who help administer the AmeriCorps programs and award grants to organizations having a meaningful impact in their communities. It is my hope that in the next 10 years national service will be a cultural expectation for kids across America."
Classic Connections: Her great-grandfather, Edwin Sims, was United States District Attorney in Chicago from 1909–1911. "He was the first president of the Chicago Crime Commission and the author of the White Slave Trade law, which made it illegal to transport any woman or girl for the purpose of prostitution or debauchery. He was a trusted advisor of President Teddy Roosevelt and served as his solicitor in the Department of Commerce and Labor. Perhaps most famously, he led the government's antitrust case against John D. Rockefeller's Standard Oil."
On Chairmanship of the 2018 Passavant Cotillion: "I am delighted to be chairing the Passavant Cotillion this December, and it gives me great pleasure to know that my grandmother did the same almost 60 years ago. I am so honored to be carrying on this beautiful Chicago tradition in its 70th year. I made such meaningful and lasting friendships myself through the experience; I feel a debt of gratitude to the Board and to the Hospital for bringing us together with such purpose. Today, the Cotillion provides a wonderful opportunity for the young woman to meet with and learn from female leaders in healthcare and in philanthropy while expanding their own networks, all while supporting the many important programs at Northwestern Medicine. Our most recent commitment is a $7,000,000 pledge over 10 years to study collaborative mental health care in Northwestern's existing clinics to improve access to mental health care in our community."
Edited by Amanda K. O'Brien
For previous editions of Classic Chicago Woman, click https://classicchicagomagazine.com/category/classic-chicago-woman/