By Melissa Ann Quidang
Have you ever looked at a beautiful building that was the epitome of tourist and historical attraction and thought, "A woman created that?" The question probably never crossed your mind, and a majority of people will say no. But those who are interested in immersing themselves in knowing these wonderful and intellectual women can learn about it at an upcoming virtual event  "Women Who Built Illinois"  presented by Landmarks Illinois on September 22.
Celebrating 100 years since women achieved their right to vote, Landmarks Illinois introduces a new initiative recognizing women architects and architecture.  The nonprofit organization that was founded in 1971 promotes historic preservation. Landmarks Illinois works hard to save and maintain historic buildings and places that are important to neighborhoods. "Older places give character to our cities and neighborhoods," says Lisa DiChiera, the Director of Advocacy for Landmarks Illinois since 2003 and one of the speakers for the event. "Historic preservation crosses over many disciplines and life paths, representing culture through buildings, which is why everyone wants their community to be the best that they could be."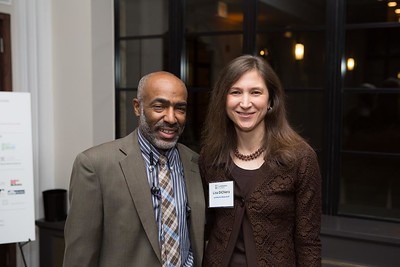 John Gay and Landmarks Illinois Director of Advocacy Lisa DiChiera. Credit: JM Photo Chicago.
The main speaker for the "Women Who Built Illinois" initiative is Erica Ruggiero, a member of the Landmarks Illinois Skyline Council and chair of its service subcommittee. She is a principal at McGuire Igleski & Associates, architects ad specialists in historic preservation, located in Evanston.
(left to right) Landmarks Illinois Skyline Council members Erika Fabisch (chair) and Erica Ruggiero Photo credit: Diane Alexander White Photography
We spoke with DiChiera about the upcoming "Women Who Built Illinois" lecture. For her, "architecture has a sense of place and quality of life in place, which has always been my area of interest." Her passion for saving and preserving historical buildings not only reveals itself through her words but through her work as well. "Chicago is known for its remarkable architecture, where it is the center of the tourist industry and has significant real estate and design advancements."
Currently, DiChiera and Landmarks Illinois are hoping to preserve the Thompson Center in Downtown Chicago.
In 1995, Landmarks Illinois created its most endangered list called Landmarks Illinois Most Endangered Historic Places. The list is publishes an annual list every year of the top threatened places. In 2017, Landmarks Illinois included the Rotunda Building located in O'Hare International Airport on its annual list of the most endangered historic places. The building itself was structured to house a restaurant and other spaces for people to gather while waiting for their flights. Gertrude Kerbis designed it in 1961, a woman who worked for the architecture firm formerly known as C.F. Murphy. The building was viewed as quite vulnerable because of the changes occurring at O'Hare, such as the terminal and runway expansions. The expansions threatened the beautiful building, especially with the new control tower currently blocking its grandeur.
Gertrude Kerbis Credit: Chris Deford
As DiChiera researched more about the Rotunda Building, she realized that there is not one woman- designed building that is landmarked in Chicago's entire city.
"From the standpoint of gender equity," she says, "We really need to not only protect buildings designed by women but also recognize these women in the first place!" In late 2017 DiChiera spoke with young female professionals including Ruggiero from the Skyline Council, encouraging them to work with Landmarks Illinois on this new project. Together, they discussed researching other women who had a critical impact on Illinois' environment, then inventory and document the buildings they designed.
The process of landmarking any of the existing places goes to the local governments. Landmarks Illinois and its team are researching, documenting, and photographing these buildings or sites by women to determine if they are eligible for landmarking or listing in the National Register of Historic Places. The Rotunda was determined eligible for listing in the National Register of Historic Places, but it is not protected from demolition. A building listed in the National Register gives it the recognition and opportunity for specific tax incentives to occur for the rehabilitation.
O'Hare Rotunda Historic photo. Credit: Jahn

O'Hare Rotunda Credit: Eric Keune
In the upcoming lecture, Ruggiero will speak of at least ten "diligent and steadfast women". Some of the women who will be "unearthed," as DiChiera describes it, will be Mary Ann Elizabeth Crawford, who designed the Lindberg Engineering Company building in Chicago. Another woman, Georgia Louise Harris Brown, who was an African American, became an expert in structural calculations for taller buildings and was responsible for being part of a design team for significant buildings. Lastly, undergoing further research is another African American Beverly Lorain Greene, the first African American woman to graduate with a degree in architectural engineering from the University of Illinois.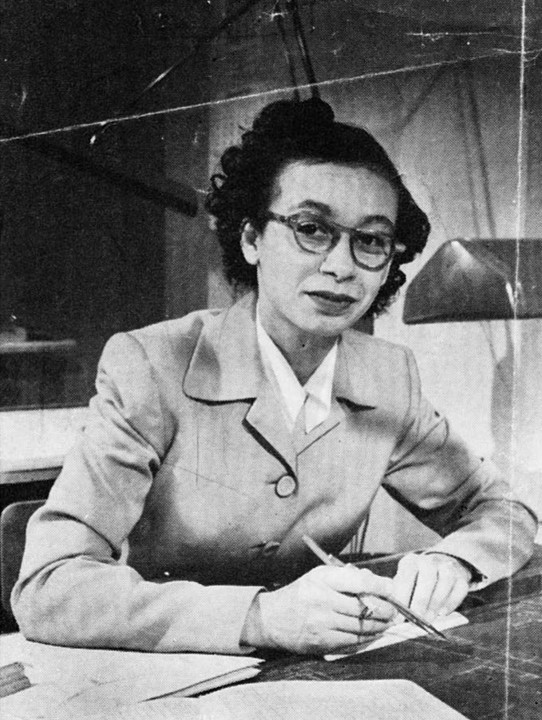 Georgia Louise Harris Brown Photo from Ebony Magazine
These women, including the women in the upcoming lecture, were working with more prominent firms but their names were not put forward as key architects. They were lost in the history of these beautiful buildings that they designed. "Our initiative is to document these places and finally give the recognition these women deserve and help protect as well," continues DiChiera.
 Ultimately, the goal for Landmarks Illinois is to create a database on their website by year-end and make it a public resource. It will be an opportunity for anyone to access and research this data on women, with the hope of discovering other unknown women.  According to DiChiera, it will be a "living and breathing" database.
The upcoming lecture will not restrict itself to women architects but also include women engineers, landscapers, and developers. If it were not for women and their talent, intuition, and perseverance, Illinois architectural history would be not as rich.
To learn more about Landmarks Illinois, visit  http://www.landmarks.org/
Resources:
Sign up for the "Women Who Built Illinois" lecture at https://interland3.donorperfect.net/weblink/weblink.aspx?name=E5249&id=27 and to learn more about "Women Who Built Illinois," visit http://www.landmarks.org/resources/preservation-news/women-who-built-illinois/