By Daniel Bender
After two years of pandemic lockdown I was finally able to make it back to beautiful Lake Atitlan in Guatemala. Many of you have read about the beauty of this lake or have visited it and the surrounding Mayan speaking villages of the area, each with its unique charm and artisan works. Well, I am happy to report that the lake and villages are as beautiful as ever and that thanks to the contributions from many kind souls, the people have been able to work and maintain their families throughout the pandemic.
| | |
| --- | --- |
| Vista of Lake Atitlan. | Volcanoes Agua and Fuego. Fuego is in eruption |
Lake Atitlan with cloud covered volcano Agua
In 2013 Harris Whitbeck began a renewal of the lakeside village of Santa Catarina by starting "Pintando Santa Catarina". This rehabilitation project was based on a successful self-help project in the favelas of Rio de Janeiro, Brazil. In Rio, it was found that painting and maintaining the houses in the favelas resulted in greater community involvement and pride, the lowering of crime, and the decline of gangs. The focus at Lake Atitlan was to encourage community, provide jobs, and make people in the area more self-reliant and independent. The project provided a latticework for the village inhabitants to paint and maintain their house, to raise awareness of the environment and begin recycling, and to encourage schooling and education among its families. A council of local indigenous leaders was formed that worked with the original two Dutch artists who had been involved in the Brazil project, to select colors, designs, and a plan that reflected who they were as indigenous Mayan speakers of Santa Catarina. After many discussions, the leaders decided on a pallet of colors and designs based on the Mayan huipils (woven blouses) of their village.
| | |
| --- | --- |
| Office of "Pintando Sta. Catarina" | Painting and Stencil Plan for houses |
A project office was set up in the village where families could see and discuss getting involved with the project. The paint would be provided as well as a professional painter to instruct the families on the color, stencils, and maintenance of their home. Families must commit to painting and maintaining their homes, beginning a recycling program, and to sending their children to school in order to qualify for the program.
The results have been spectacular and the village has a new sense of communal identity and purpose. Tourism to the village has increased and is providing the extra income needed to families so that their children can stay in school. During the Covid shutdown, "Pintando Santa Catarina" employed 10-12 full-time villagers to keep the project moving forward and help the village throughout the crisis. "Pintando Santa Catarina" has been a wonderful success thanks to the work of so many people and the generosity of so many donors. More can be seen on their Facebook page @pintandosantacatarinapalopo.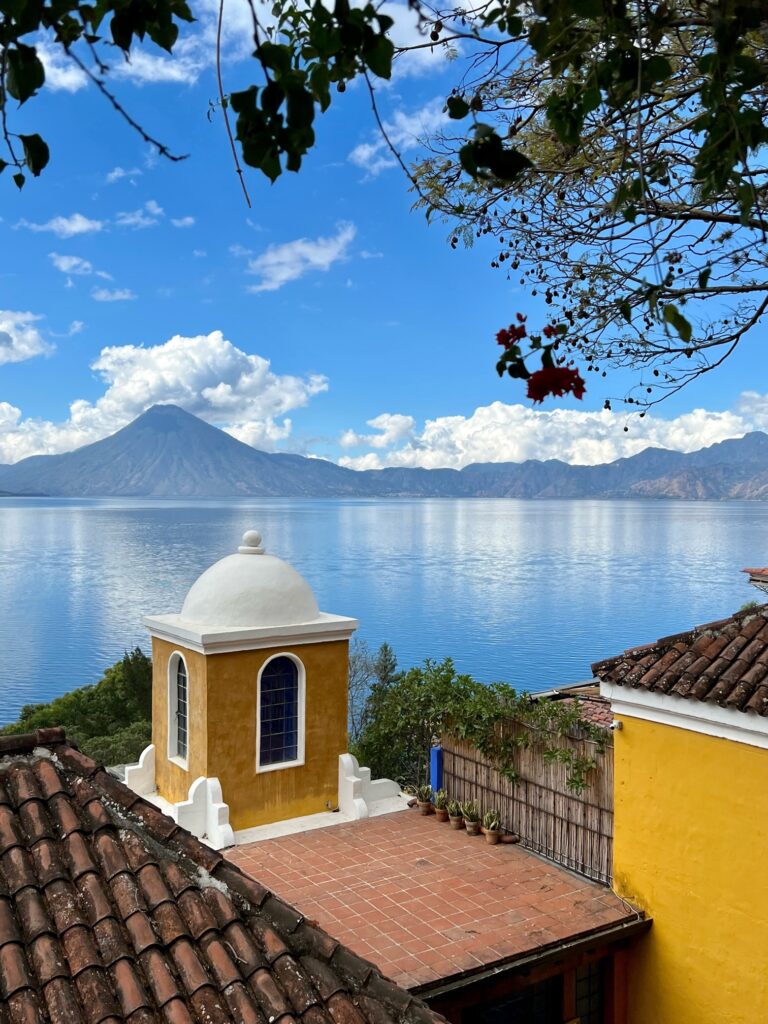 Adios Lake Atitlan until my next visit.