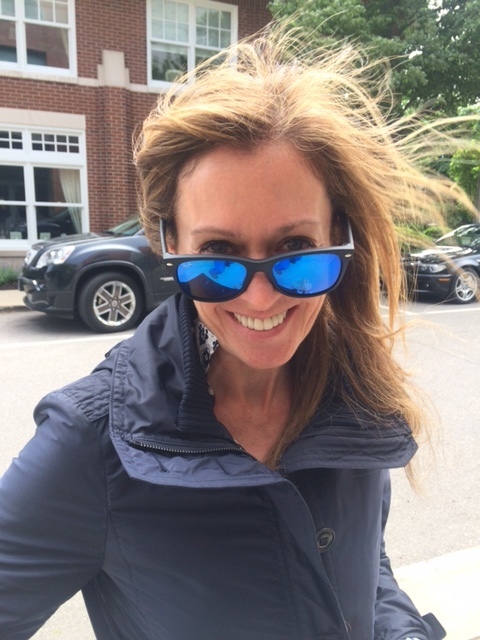 By Wendy Wood-Prince
Kenyan Lion surveying the landscape, as iconic as it gets.
Anyone who has been to Kenya understands that mere words and photos never do justice to the experience. Kenya is a total sensory happening of sights, sounds and smells accompanied by goose bumps of wonder and excitement at every encounter of stark nature.
Waking up at Giraffe Manor after some fairly arduous flights is to wake up in a foggy utopia.  Encountering a Giraffe's huge and gentle presence looking for Giraffe snacks with their long eyelashes and enormous size on your way to breakfast is a sample of the unique encounters ahead. Your stomach lurches when they lean down towards you as you gingerly offer a Giraffe treat under the watchful eyes of their keepers. It just blows your mind. This boutique hotel is as beautiful and historical as the Rothschild giraffes that roam the property. Unique in the world.
My brother, Ted, and sister-in-law, Dara, at Giraffe Manor.
Once a decent night sleep is under your belt it's time to head out to Shaba National Reserve for a few days of wonder with our guide, Sean Dundas from The Original Ker & Downey Safaris. The thought of "roughing it" in tents out in the wild might not appeal to some but the reality is amazing. The tents are outfitted with full beds, attached "bathrooms", tables, battery lanterns and even porch chairs. At first light, the tent attendant arrives with hot tea or coffee and biscuits on a beautiful tray and while you wake up, he fills your outside basin with hot water. Washing up while animals of all kinds are waking and heading to watering holes, continuing their migration alongside the camp is quite an experience.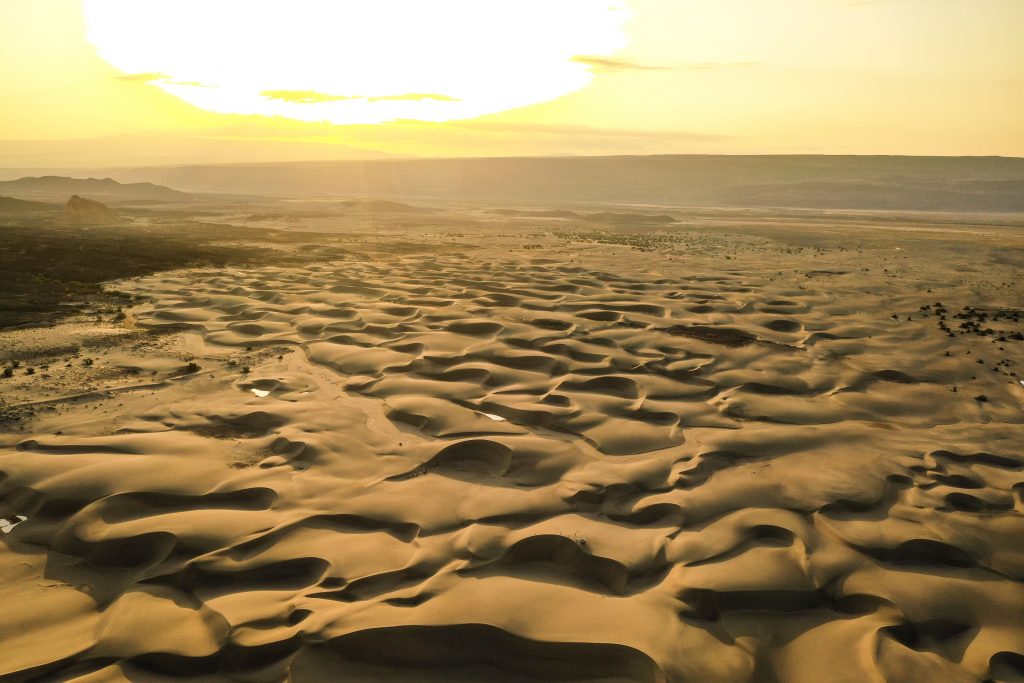 Look closely for clues to the vastness of the landscape.
Back to Shaba, Shaba served as the setting for the films Out Of Africa and Born Free. It is speckled with grasslands, forest and watering holes. This protected area in northern Kenya is home to large prides of lions, elephants, hyena, and endangered Grevy's zebra. Sleeping in a tented camp in the midst of it is amazing. The sounds alone touch a primal portion of your brain as you digest insect noises, lions grunting, birds' endless variety of chirps and elephants rumbling their low guttural communications. Visually, the sky is overwhelming in size and for a brief minute the world seems vast and enormous and you feel very tiny.
Looking out for predators in the grasslands of Shaba.
Born and raised in Kenya, our intrepid guide Sean is extremely familiar with the terrain and the flora and fauna. Along with being an accomplished photographer he is always looking for new ways to see, and show guests, the awesomeness of Kenya. His newest offering are air tours in a helicopter. For a small (wink, wink) up charge, a helicopter and pilot can be added to the safari. This allows for guests to experience places and see things that almost no other humans have access to. The helicopter rides make for breathtaking experiences and photos!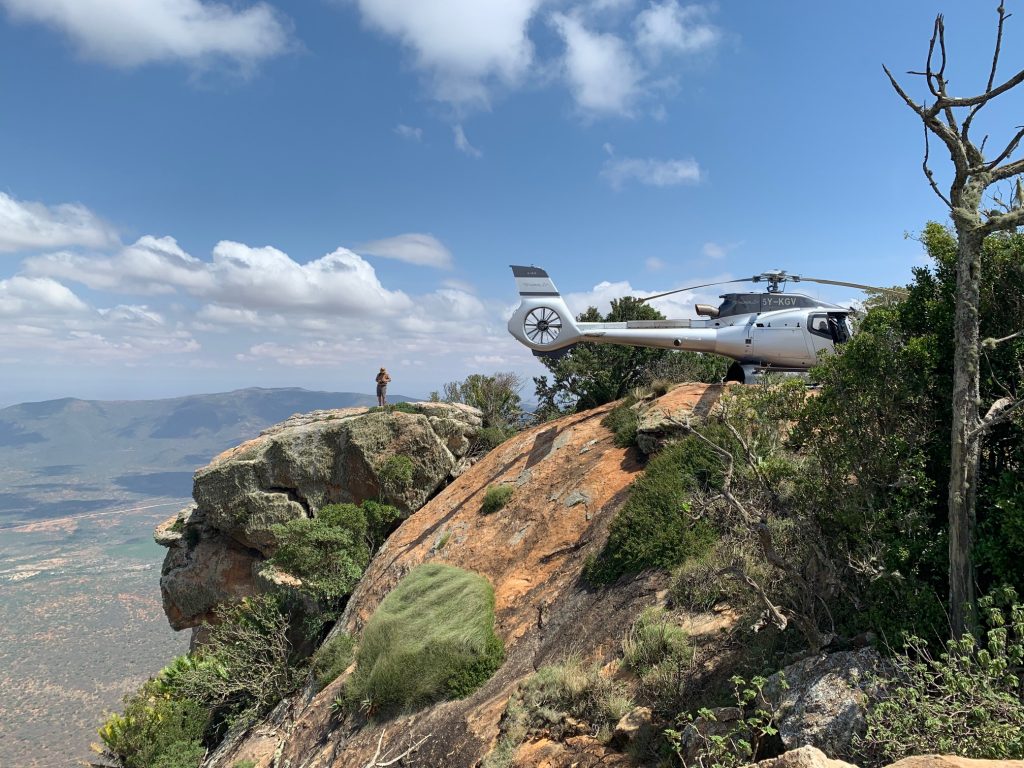 The access a helicopter can provide is amazing.
After some helicopter action, it's time for a little R&R and the perfect place for that is at Sasaab in Northern Kenya. This Morrocan style lodge boasts 9 generous rooms, each with amazing views and individual plunge pools that help stave off the heat of the day.  The main swimming pool overlooks the river and guests can lounge at the pool's edge and watch as herds of elephant, antelope, and zebra come to drink from the river. True luxury with amazing staff Sasaab is close to both the Samburu National Reserve and the Buffalo Springs Reserve in northern Kenya. It is an experience of a lifetime.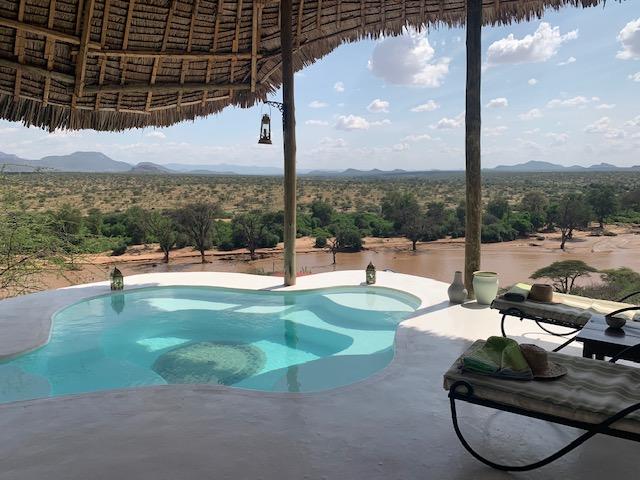 Sasaab Lodge in northern Kenya.
With a few more days in tented camps, another luxury lodge or three, ten days just fly by! There is nothing like a safari in Africa to remind us of how very little we are in the grand scheme of things on this planet. Like a time machine, being in the bush under the stars, feels as though you are back in time, way before civilization crept in.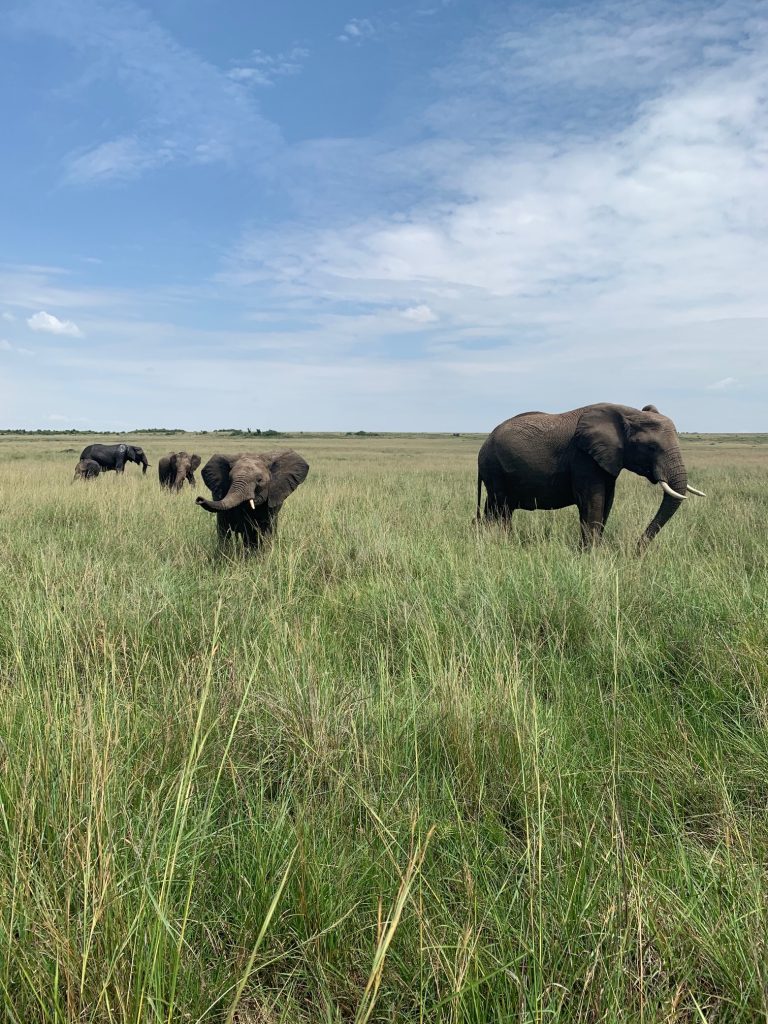 In Kenya, safari is the name of the game and The Original Ker & Downey Safaris and specifically Sean Dundas and his father, Nigel before him, have been guiding our family for four generations. We have become close family friends in the process, celebrating weddings and births and collectively mourning each other's losses.
Sunset in Nairobi.