By Judy Carmack Bross
In the fast-paced world of luxury real estate, Julie Harron stands out as a driving force, seamlessly balancing elegance and determination. Whether found in her Chicago, Palm Beach, or Miami offices, or en route to a philanthropic event in New York, Harron's salutation is always a genuine, "how are you?" exuding warmth and a sincere interest in the well-being of everyone she encounters. Inevitably elegant with a Grace Kelly demeanor, Harron can't wait to share what's new and fun in whatever location you've caught her in that week.  And she really cares: "how are you"?
Julie re: figure skating years: A competitive figure skater, who trained in Colorado as a child.
A former competitive figure skater hailing from Northbrook, Harron attributes her innate drive to her skating days. "My skating upbringing instilled goal-oriented determination, fostering self-discipline, time management, and an unwavering commitment to persistence " she said when we met recently at the classic Michigan Avenue club where she once served as President. "It drove the need to be disciplined from within, and taught me the importance of managing time well and the value of persistence. I adopted my mantra back then: Stay Focused and Dream Big."
Julie keeping her healthy lifestyle – Walking around the neighborhoods of Boca Raton
Harron has earned her position as a top luxury residential broker with Jameson Sotheby's International Realty with sales in excess of a quarter of a billion dollars. She founded her brand, JH Real Estate Group, with a growth mindset and now has offices in Chicago, Palm Beach and Miami. With her trusted accomplice, Michelle Kubala at her side, the two women shared tips on wide ranging topics including using social media in an authentic way to "artfully uniting extraordinary properties with extraordinary lives."
We couldn't wait to ask about Harron's daily routine that keeps her focused and makes her great enthusiasm for life possible.
"Nutrition/hydration, daily exercise, vitamins and supplements – and my special Green Juice concoction: cucumber, celery, and intense ginger is vital for vitality. Sleep is also a priority and having the correct mattress makes all the difference. I am petite so it is good to have one that is not too hard, with some cushioning. In addition, great friends, new experiences and community involvement create a life filled with positive energy. I also strongly believe in staying physically and mentally active: do new things, surround myself with interesting and bright people and connect them with one another."
Julie and Michelle doing their every morning routine – Pilates! Does not stop… Chicago, Palm Beach, Miami, etc – Always find a studio!
That day Harron and Kubala were preparing for a trip to their Florida offices where they have a new affiliation with Cervera Real Estate, one of the largest and oldest independently owned real estate brokerages in South Florida. I asked about Harron's expansion to Florida and how she lives differently there.
"I love South Florida. It continues to attract some of the most interesting people from around the world. Everyday there is a wide range of cultural and outdoor lifestyle activities to choose from, especially on the East Coast. The growth is not stopping, but I have become a bit of an East Coast expert and I can honestly say if you want to move to Florida, there is a home and a community for everyone. We may have offices in Palm Beach and Miami, but those locations span out miles to the North and the West, with a broad number of choices for even the most specific buyer. There continue to be a number of exciting opportunities up and down the East Coast, From Jupiter, to Palm Beach Gardens, West Palm, Delray, Gulfstream,  Boca Raton and of course all around Miami. The area is bursting with great architecture and thoughtful projects. I live more on the go in South Florida, as I am always moving between locations showing my clients the incredible range of possibilities. It is fun to watch someone you have known for thirty years in the City explore the splendors of a Florida lifestyle. I, personally, love the outdoor activities that are year round, and I never tire of walking on the beach with the sounds of the Atlantic."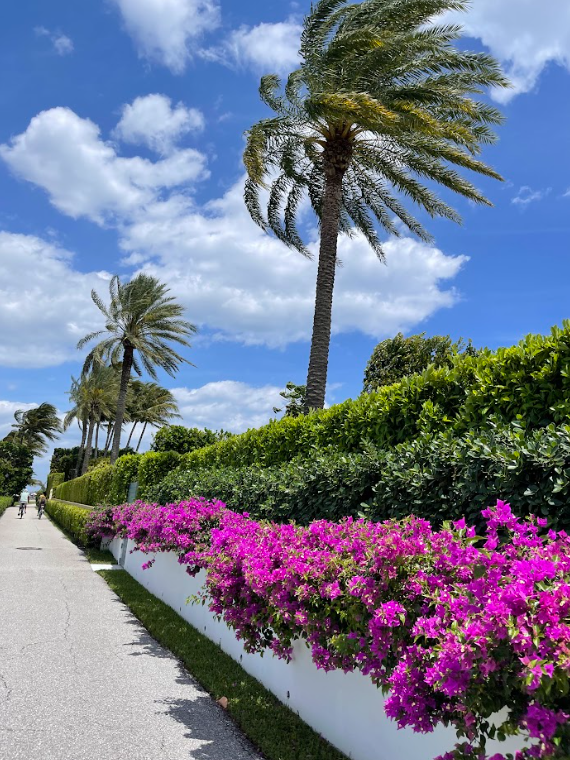 Beautiful lake trail on the intercoastal
Harron added that all three of her office locations encourage a range of lifestyles as well as opportunities for involvement in wide-ranging cultural and community events. Her clients are diverse with broad interests and accomplishments. Many see Harron as a trusted advisor. "Finding my clients the right home in a location that offers the lifestyle they are looking for is just the beginning: helping them become a part of that community and 'feel at home' is my goal. Many of my clients have become great friends. In fact, I am now helping their children find the right home," she said.
We then asked Michelle Kubala to share her tips on creating an authentic and highly popular social media platform 
"Creating a successful and authentic social media platform involves a combination of strategic planning, user-centric design, and effective marketing. You need to identify your niche/ your target audience. Focusing on a niche helps you tailor your platform to meet the specific needs and interests of your users. Prioritize user experience and design. Make your platform intuitive, easy to navigate, and visually appealing. Also, prioritize user privacy. Users are more likely to trust and engage with a platform that takes their privacy seriously. Encourage high-quality and engaging content – This could involve implementing a positive and supportive community.
"Content that adds value to users' lives is more likely to be shared and contribute to your platform's popularity. You also want to focus on building a strong and supportive community. Engage! Create opportunities for users to connect with each other and share their experiences. A vibrant community is key to the success of a social media platform. Authenticity/Being transparent builds trust with users. Always be on top of trends and be open to learning how to elevate your game! Remember that the success of a social media platform often depends on the relationships and interactions fostered within the community. Building a genuine and supportive environment is essential for long-term success."
Harron told us how important Kubala is to the company's great success:
"Michelle is just a gift.  She saw my intensity and she fell in the fold….She is absolutely amazing. She juggles my ever-changing schedule, coordinates an extensive network of those that support our clients' listings and moves, and is amazingly responsive in addressing our clients' predictable and not-so-predictable needs and concerns. My clients trust and love her."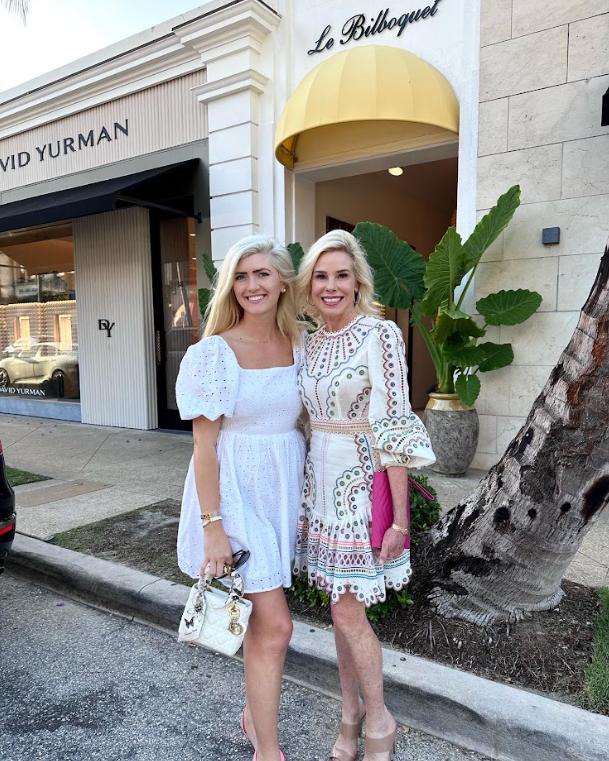 Julie and Michelle outside of their favorite, Le Bilboquet!
Julie and Michelle on their night out in Palm Beach!
Michelle Kubala and Julie Harron enjoying their Green juice and smoothie from Celis Juice Bar (a favorite at Royal Poinciana Plaza in Palm Beach!)
 "Several years ago, when I began expanding to South Florida, I was surprised how easily people talked about a desire to leave the winter up north, but most said they had but had no idea how to start. My overview is always between Palm Beach and Miami, because Palm Beach offers the best of everything – it's no longer just a winter mecca but a thriving year-round community. Schools are plentiful, financial firms continue to snap up office space in West Palm and the food scene is amazing. Moving South to Miami I can honestly say it is truly unequaled for its cultural diversity and range of fun things to do. Miami has become a 'global capital' as it attracts successful people from all over the world because of its energy and exploding business community. Its work/lifestyle balance is unparalleled!"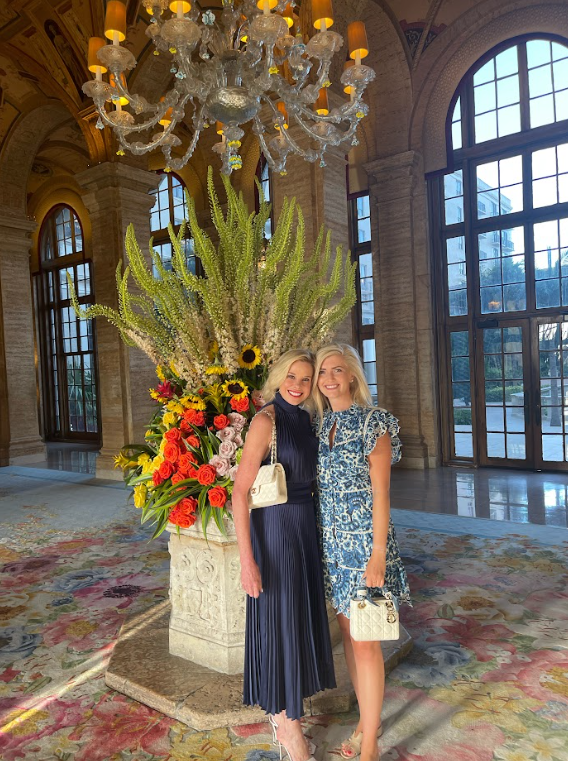 Julie and Michelle at The Breakers!
Annie's Dock – North end of Palm Beach Island – favorite spot to walk to from the intercoastal lake trail to see the beautiful blue water, homes, and fish!
 "With so many of my friends and their colleagues transitioning from Chicago and the Northeast to Florida, I needed to build an experienced team in South Florida. Cervera has brought in transformational change for my team. They are a South Florida based family owned and operated real estate company. For nearly a half-century they have been transforming the South Florida landscape learning that personalized customer service ensures satisfaction, a mantra of mine. A far reaching and unrivaled international network and decades on the ground have cultivated unique and long-lasting relationships with developers, architects, investors, and real estate firms. All of this is crucial to the success of our clients and partners. No other real estate firm in South Florida has this level of transformational impact, marketing reach, and decades of proven sales. Michelle and I have become very close with their whole team."
Michelle easily adds, "We aim to address the unique needs and interests of each of our clients in order to help them create the lifestyle they and their family desire in South Florida. We love sharing great restaurants and current events via our social media so they can "see" themselves in South Florida, a vision board of what the future might hold!"
We asked Harron what she tells clients to look for in Florida properties.
"I always ask and try to understand what lifestyle my clients want, what their priorities are and how they prefer to work with my team. The Cervera Family has decades of experience and insights into the various communities that make up Miami. Their emphasis on building long-term client relationships truly sets them apart. Their local market knowledge and contacts are truly impressive allowing us the ability to confidently guide and connect those new to South Florida. In Miami, the Cervera family is equivalent to what "Rubloff" was in Chicago.
"I continue to be all about creating the best team – local market knowledge, responsiveness, flexibility, contacts, confidentiality and trust – are the important ingredients! A client's price range is important, of course, but we know we have the ability to find something for everyone at every stage of life. But, more importantly, everyone deserves the best! The level of service and attention to detail for every client we help must be highest and best therefore we truly are 'solutions orientated. To that end, I've added Andrea Lamadrid from the Cervera family to my team in South Florida. She is truly one of a kind and a great asset to our operations there."
JH Group – Chicago team: from left to right (Laura Mitchell, Lynne McDonough, Julie Harron and Michelle Kubala)
We asked Harron what advice she has for young people getting into real estate and how the business changed in the past few years.
"Oh my…. The business is changing dramatically! Zillow and online search capabilities allow clients to navigate with search activities. But the best real estate professionals offer so much more – market insights, a total understanding of client desires, personal experience within the community and understanding of all it has to offer, responsiveness to changing client needs and concerns, insight into pricing trends, savvy negotiation skills and tactics, and, often overlooked, contacts – whether it is with designers, decorators, electricians, plumbers and HVAC folks, landscapers, support staff, as well as within schools, civic and social organizations. Most importantly, a personal interest in each client's decision. I love real estate because my profession and my personal life have become one. My clients and support team become my friends and long-term relationships.
"A bigger change is that it is increasingly difficult for those trying to do it part-time or without an experienced support team. It requires years of local market experience, an attentive and responsive team who are accessible 24/ 7 in order to do it right – to thoughtfully assist clients with one of the most important personal investment and lifestyle decisions they will ever make. We have begun seeing some leave the industry because of the changes."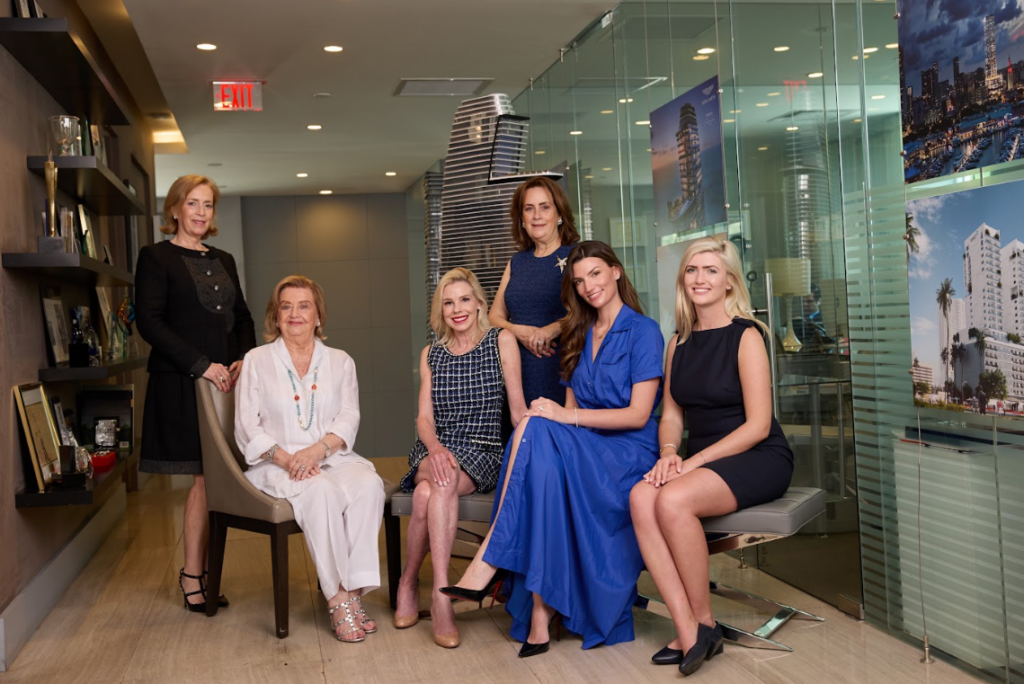 JH Group + Cervera Real Estate (Miami Team) from left to right: Alicia Cervera Lamadrid, Alicia Cervera, Julie Harron, Veronica Cervera Goeseke, Andrea Yurko Lamadrid, Michelle Kubala
Alicia Cervera (Founder of Cervera).Over four decades ago, she has crowned the Queen of Brickell; today, with a street named after her, "Alicia Cervera Way" and thriving new neighborhoods to her credit Alicia Cervera, Sr. has rightfully earned her title as the Grand Dame of real estate. Ms. Cervera founded the preeminent Cervera Real Estate, Miami's leading real estate firm. Over the course of 53 years, Ms. Cervera has been responsible for breathing life into new communities and revitalizing existing ones, such as the once-dormant Brickell area, the cosmopolitan South of Fifth neighborhood in Miami Beach, the vibrant Downtown Miami, and the new urban East Edgewater. At The Real Deal's South Florida Forum 2023  this month with Julie Harron
Another change in the real estate business is the growing number of videos for agent websites. We had heard that Harron might be working with an improv expert to hone in on this skill.  We asked her to tell us more:
"Funny—I love showing property in person! I am so engaged in connecting "in person"! I love spotting things that clients overlook. Doing videos is not my thing.  I can hire out for that – stay tuned on that!"
Julie Harron and Miami Partner, Andrea Yurko Lamadrid, showing off-market homes in Coral Gables
We ended our conversation by revisiting her mantra: stay focused and dream big.
"It is a reminder to always challenge myself and never underestimate my capabilities. This advice has driven me to push my limits and work hard to turn my dreams into reality."
Julie sharing a toast with a monkey in Palm Beach
"Throughout my journey I've been fortunate to have many mentors and supporters who have played a crucial role in my personal and professional development. One of my most trusted advisors and supporters is my second cousin, Scott. He has reinforced the importance of staying focused on my dreams and has provided me with wisdom and insight that have been instrumental in my decision-making. 
"The core principle that I've adopted from my upbringing and continue to apply in my life is the value of nurturing relationships. Treating others how I want to be treated, being kind, and offering solutions. I firmly believe that strong relationships are the foundation of happiness and success."