For Better or Worse
   
By Lucia Adams
Julian Fellowes ruled the television airwaves for several years with the luminous Downton Abbey and a gusto for publicity.  The big screen films he has written, adapted or directed, have however been less well received, rather a mixed bag, some good, some decidedly not.
Gosford Park gossip.
His first Hollywood screenwriting job was Gosford Park in 2001. While acting in Monarch of the Glen he collaborated on a project with producer Bob Balaban who introduced him to Robert Altman. He was seeking a screenwriter for an Agatha Christie style country house mystery and Tom Stoppard had just turned him down; Fellowes noted, "they couldn't find an established writer who'd say yes. To this day, I don't know why not because it was clearly going to be Altman's only English film"
No writer knew the territory better than he and with true alchemy with a brilliant director like Altman created a masterpiece of black comedy. Spending six months writing the script he was wisely given free rein to draw upon his experience of life of  aristocratic stately homes (here, the neo Palladian Wrotham Park, Hertfordshire). Lord and Lady Stockbridge host a weekend house party with the inevitable pheasant shooting on the moors in a devastating satire, a class snobathon of servants, tradesmen, middle classes and noblemen. It all turns deadly with the double murder of the vile host who preyed on servant girls for generations.
Lady Constance Trentham, the redoubtable Maggie Smith.
From Lady Trentham, (Maggie Smith on a dry run for Violet Crawley, "Bought marmalade. I find that very feeble.") to Helen Mirren's Mrs. Wilson the housekeeper, ("I'm the perfect servant; I have no life.") the perfectly cast 65 characters with 32 interlocking plot lines have acid aphoristic tongues, "Do you think he's the murderer?" "It's worse than that — he's an actor!". A crisp humorous screenplay, not a word or gesture wasted, that no one else could have written but Julian Fellowes, Gosford Park received nine British Academy Film Awards nomination and won Hollywood's Oscar for best screenplay.
Fellowes revisited Agatha Christie in 2017 with Crooked House,  heading up the team of three screenwriters for a lavishly financed murder mystery with a labyrinthine storyline, cartoonishly parodic characters, all uniformly vicious, (Glenn Close constantly shooting moles in the garden quickly palls), and some dreaded anachronisms such as a dancing /rave club in Fifties London.
Television launched his well-documented career. "Three days after I'd won the Oscar for 'Gosford,' I started writing 'Downton Abbey.'… it's dominated my life for seven years really and it's been a success at a level that most people never know, so it certainly will not be repeated".  BBC executive producer Gareth Neame said, "I hadn't seen the world of the English manor house depicted in such an authentic way before." and suggested Fellowes "revisit that territory as an episodic television show."
Visit of the King and Queen, Downton Abbey, the film.
Originally intended as a spinoff of Gosford the charming fairytale with its sympathetic portrayal of the aristocracy, its glorious National Trust sentimentality is surely not Gosfordian, its lords and ladies unfailingly pleasant, approachable, and kindly to the servants. Not even remotely historically accurate despite references to everything from the Titanic to Lloyd George, the lovely fantasia was co-produced by Fellowes under whose hawk eye and that of etiquette watchdog Alastair Bruce's countless directors labored.  In 2011 it received an Emmy for best drama series, and Fellowes received an Emmy for his writing. The upcoming seventh series is predicted to re-catapult him into the limelight
He wrote the 2019 screenplay for the feature film Downton Abbey checking in on the characters as they prepared for a visit of King George V and Queen Mary. ("God is a monarchist!" exclaims Lady Mary when the weather improved to receive them). Upstairs and downstairs are in a proper tizzy, the script loaded with silly subplots like the servants' revolt against the king's kitchen staff. The self-referential screenplay under the direction of Michael Ensler, who had directed four TV episodes, trudges along, ticking off all the individual character plotlines, till the inevitable end.
Gareth Naeme with Fellowes and Michelle Dockery.
In 2004 Fellowes published a novel Snobs, an international bestseller which I instantly loved (make a mental note of this chap!); in the same year he was hired to rewrite —and try to rescue — the meandering film adaptation of Thackeray's Vanity Fair directed by Mira Nair. With a huge ensemble cast, the over- the- top millions of dollars production, groaned with muddled characterizations…and worse. An Indian theme with Reese Witherspoon's unconvincing English accent, her Becky Sharp (Crawley!!!!) was more "likeable" for the modern movie goer to relate to (Fellowes thought this a good idea and even had her journeying to India.)  One wag noted the effort "begins to reek of its director's determination to stamp her heritage upon her film wherever possible".  Fellowes was called in far too late in the day to reverse the damage inherent in this gorgeous yet absurd production of the riotous unruly classic. Better to have given it another title.
In 2005, he made his directorial debut and was the sole screenwriter for Separate Lies an adaptation of a 1951 novel, a tragedy of an upper middle-class marriage, its liberal tolerance in the face of affairs and deadly accidents. Not about solving a whodunit it concentrates on the ethics of taking responsibility for a crime —more Simenon than Christie.  Very moving, a treat for the eyes and mind, the direction was however a tad too ponderous with pregnant pauses and big close-ups to catch fire. Tom Wilkinson and Emily Watson were perfect as the troubled married couple but the aristocratic character a somnolent Rupert Everett was dreadfully wrong, Fellowes no doubt at the mercy again of  Hollywood casting directors.
My favorite of all his scripted movies, appearing in  2009, is The Young Victoria produced by Graham King, Martin Scorsese and, yes, that Sarah Ferguson, with Princess Beatrice in a prominent non-speaking cameo.  Directed by Jean-Marc Vallée with an artist's eye it stars Emily Blunt' s spikey young queen at the center of a mighty struggle with her mother's lover and her husband Prince Albert (swoonworthy Rupert Friend). The film is fast paced and elegant, light as a feather and suave
Fellowes sought to make it historically accurate with settings in famous landmarks, and not ending with Albert's death, wary of "the horror of biopics". The fleshed out well developed character of Victoria is the heart of the film which mercifully did not have other writers interfering. The auteur Fellowes banned anachronisms, (using the convention liberally in other films,) as when actor Jim Broadbent's King William ad-libbed to the Duke of Wellington "Enjoy the meal".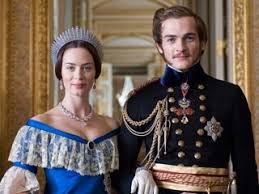 The Young Victoria, Emily Blunt and Rupert Friend.
The next year 2010 in The Tourist, Fellowes was hired to be a repairman, to "polish" up the screenplay of director Florian Henckel von Donnersmarck and Christopher McQuarrie,in  a sumptuous $100 million dollar "Hitchcockian" thriller set in a  beautiful posh Venice. Starring hamfisted designer-dressed Angelina Jolie (so tempted to say "and her lips") so woefully lacking chemistry with sloppy schleppy Johnny Depp,  it is  marred by a plot is dizzyingly impossible to follow forcing one to shut down half way through, the whole affair "a colossal hodgepodge of wasted opportunity."
Fellowes' adaptation of Romeo and Juliet with dutiful director Carlo Carlei appeared in 2013 decidedly less charming than Baz Luhrmann's 1990s version. Following the general plot and using some of Shakespeare's dialogue it took mammoth liberties with the original text. In an interview with Fellowes, one critic concluded," With tongue presumably in cheek or perhaps just a foot deep in mouth, he added that he could do this kind of heavy interpretive lifting 'because I had a very expensive education — I went to Cambridge.'  Oh dear. Needn't have said that. Anyway the young lovers are constantly being hurtled into each other's arms aggressively locking lips in "a   kissy smack-a-thon". What was he thinking?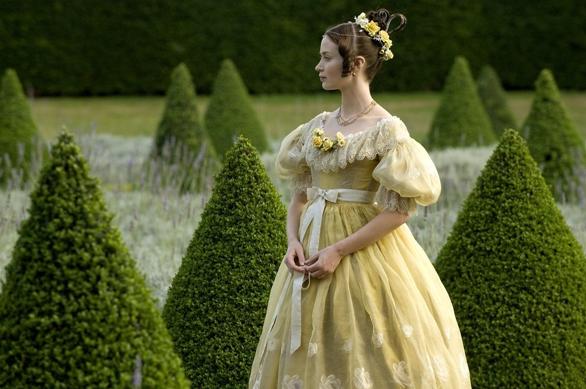 Emily Blunt as The Young Victoria
Finally, the film (later on PBS) The Chaperone, directed yet again by Michael Engler, with a screenplay by Fellowes, is an adaptation of a 1950s novel. Though set in the 20s it has a 2018 ethos in the statutory Fellowes' women- centered script, (Hark Hark — his audience) the fair sex always dominating his moral universe across the decades.  Even in The English Game telly series men kick the ball but women drive the storyline. "You look for the most interesting emotional journey." in this case one of the customary "self-discovery." Too bad the clunky Becky Sharp retread, the Louise Brooks character, was very irritating in her terminal perkiness. Elizabeth McGovern's chaperone had thankfully the moving shadow of Cora Crawley's quivering vulnerability.