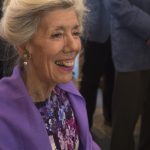 By Judy Carmack Bross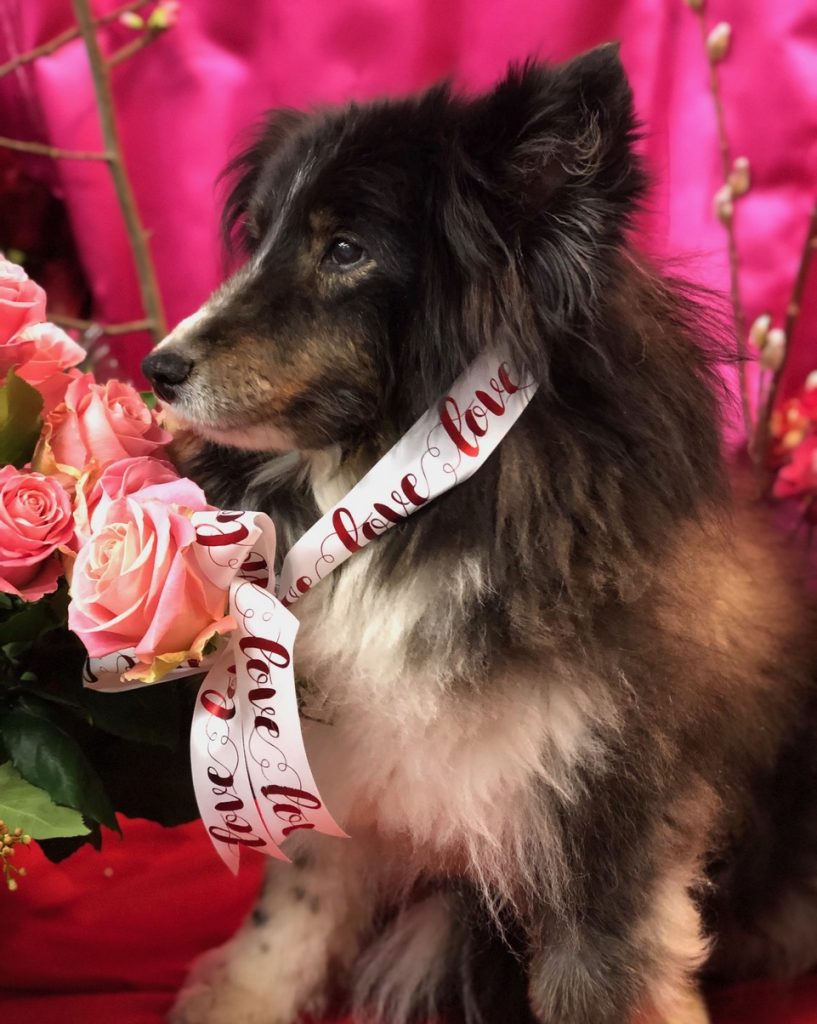 Jody Elting and her dog Magic wish you a flower-filled Valentine's Day
Joyous Jody Elting, founder and owner of Designs by Jody on the North Shore knows how to make Valentine's Day bloom. We asked Jody to send our readers bouquets of virtual Valentine's and to help us examine why bouquets of beauty can make all the difference during the pandemic.  As gardening became a number one preoccupation last summer and fall, and now people are embracing and caring for their houseplants like children, nature is what we embrace more and more even in the cold and ice of this weekend.
For 38 years a consistent winner of prizes in her field, the effervescent designer is known for transformative events celebrating people, non-profits and corporations.  She awaits the return of parties post-pandemic, focusing now on the  happy look on a person's face when they open the door to receive a flower delivery.
"We all want to be on someone's mind," she said.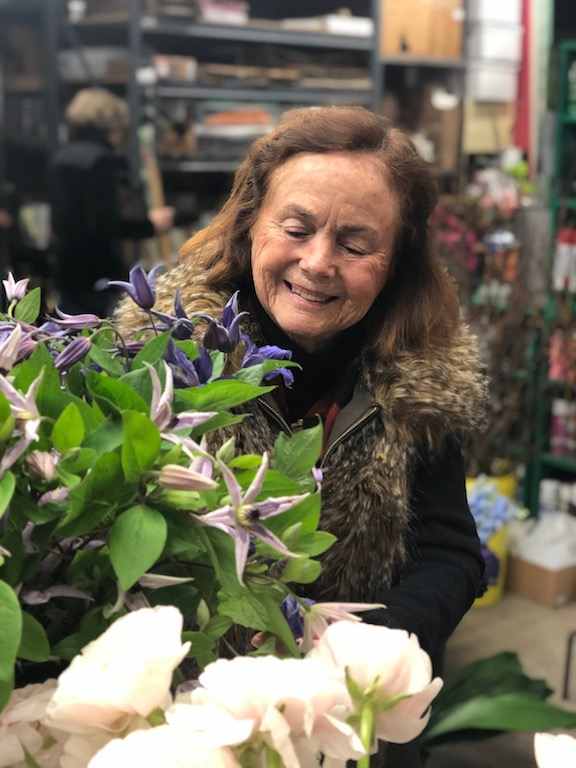 Here's what Elting told us about Valentine's Day 2021.  She set the stage with a little history:
"Flowers symbolize fertility in love, marriage and romance.  The holiday began the Roman festival of Lupercalia and included fertility rites and pairing off with men and women by lottery.  Later it was replaced by St. Valentine's Day."
 We added that King Charles II of Sweden started the giving of flowers in the late 17th century.  During a visit to Persia, he learned the secret art of communicating through flowers, how to say it all by presenting to one's love a certain flower, and not saying a word.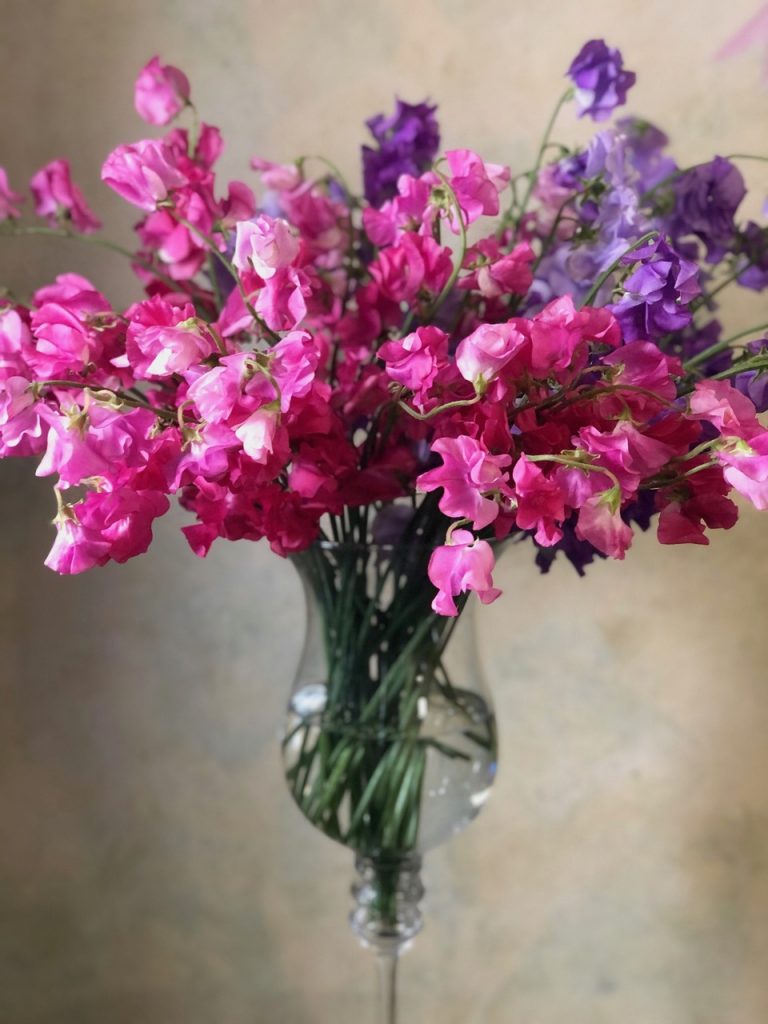 Sweet peas – the new red roses?
Elting works out of her combination office, greenhouse and warehouse in Lake Bluff, close to the highway to facilitate trips to the Chicago flower markets. She shared that this year's favored Valentine's flower could be the sweet pea rather than the red rose, traditionally the symbol of Valentine's Day.
" They are so fragrant and when you look at how delicate they are you rejoice that they have survived in this winter season. They are a lovely compliment to a big vase. They just say happily that it is Spring somewhere.  Our sweet peas come from Japan."
The eye is drawn to the tiny orchids in this arrangement
"Next to Mother's Day and possibly Easter, Valentine's Day is one of a florist's most popular days and one has to be ready for last minute orders.
"Mixed bouquets of pretty flowers such as ranunculus, lilies, hydrangeas, and lisianthus. I love using orchids.  The eye searches deeper into their faces.  A little cluster really gets intriguing.  It is good to use orchids at eye level."
  CCM: You are famous for your fabulous parties for all sorts of happy occasions.  Do you remember a Valentine's party that you planned that you would share with us?
Elting:  "I had clients who had gotten engaged on Valentine's Day and was still very much into it. They had the celebration in the Racquet Club ballroom that I decorated with fabric filled with hearts and I used red peonies. I stayed red though out. It was very romantic."
CCM: If someone were planning to make their own arrangement and had access to simple flowers what would you recommend?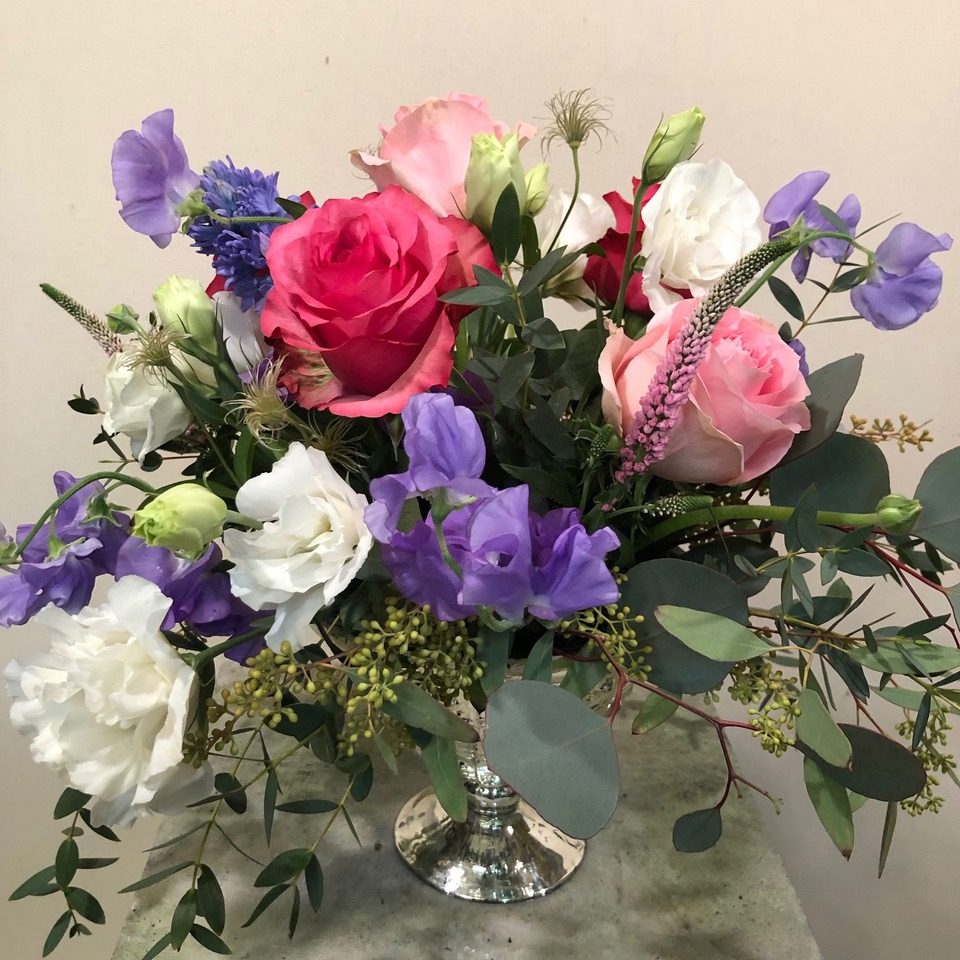 A bouquet from Jody Elting
Elting:  "Start with fresh water and cut the stems of the flowers. You are looking for balance: if you put one flower on one side, do the same on the other.  I like to hold the bouquet in my hands as I make it and turn and tie it before putting it in the water and cutting the ribbon or string. It's easy and fun. Use loose greens but make sure leaves aren't in water.  I recommend not using the floral foam oasis, it dries out the flowers too much."
CCM: What's it like for florists and designers to get flowers during the pandemic?
Elting: "Growers are in trouble, often with their staff lost or cut.  Suppliers are not growing what they used to grow.  I thought it necessary to order my Valentine's peonies way ahead of time.  Airplane shipping is tough as well, there are fewer planes going to our sources. The price of a flower has doubled from two years ago, and consequently florists are not carrying as much.  Sadly, some growers have gone out of business."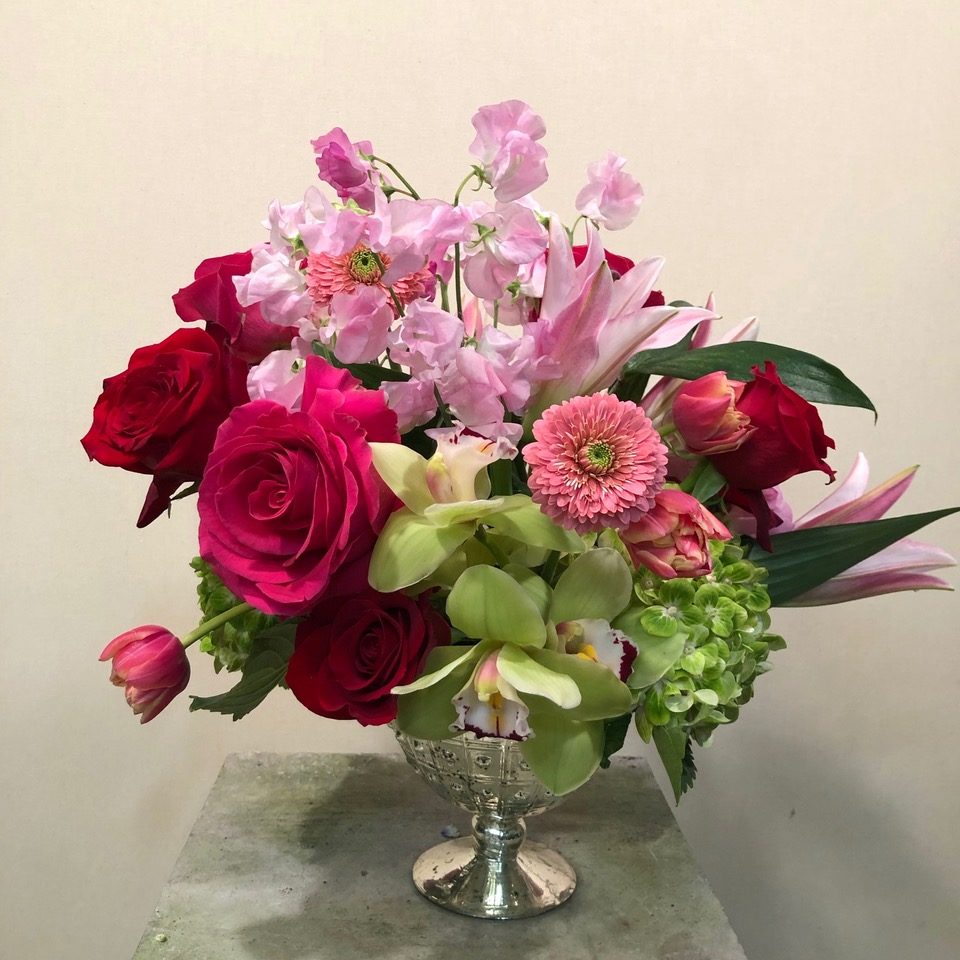 CCM: How can flowers help during the pandemic, if you are alone, flowers or plants make all the difference.  Do you think that flowers have the ability to lift our souls at this time?
Elting:  "People know that they need to have some beauty in their house. And then comes the healthy realization they have to take care of it.  For fresh flowers, you need to change the water and give the stems a fresh cut.  Orchids are something wonderful to look at and although they don't need as much water they do need some."
A fireplace mantel decorated for Valentine's Day
CCM: Do you have tips in arranging the colors of flowers if a person is doing their own flowers at home?
Elting: "Bringing in the color yellow does create a happy effect.  Have a variety of flowers–they will lift spirits.  Two of my customers have sent me photos of their hibiscus plants which are blooming like mad indoors.  Those colors are so vibrant and my customers are thrilled.  Hibiscus have become very popular here recently and caring for them and watching them blossom is a happy pass time."
CCM: What makes a memorable Valentine's Day centerpiece?
Elting:  If a florist is creating your centerpiece, ask them to use your own vase whether silver or crystal. Add some red heart to talk about and sprinkle chocolates in foil around on the table."
CCM:  I know that you see yourself as a storyteller who always asks clients about the fantasies in their lives and then create an event that captures them.  You must be longing for the time when you can bring these to life again.
Elting:  "I have a fabulous party planned for May at a private club downtown and I am about ninety percent sure it will happen.  That is where my imagination flows, and I am already planning surprises.  It's like I go on a trip with each customer. Right now, everyone just wants to go out."
Before ending our phone conversation with Elting we couldn't help reminiscing with her about parties past, and wanted to share photos with you.
For a birthday celebration, a tent on a country club lawn became Toulouse Lautrec's Moulin Rouge with hand painted Art Nouveau posters on the walls, faux stained glass on the custom fabric ceiling, and kicking can-can girls as just part of an evening filled with entertainment.
She once transformed a Lake Forest prairie into an African Safari camp, complete with tents with running water and electricity for guests to spend the weekend in style—and wild animal noises in the woods for good measure.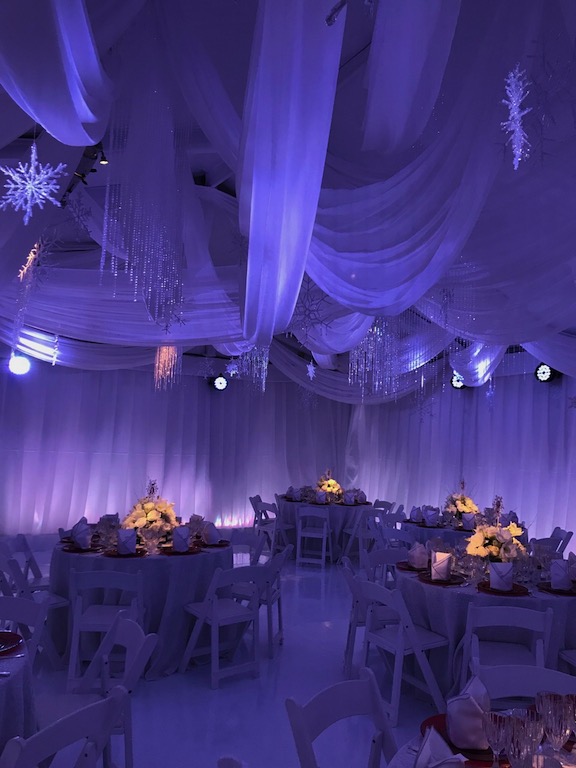 She has staged parties at every season from a dazzling winter occasion to a summertime rehearsal dinner outdoors in New Hampshire.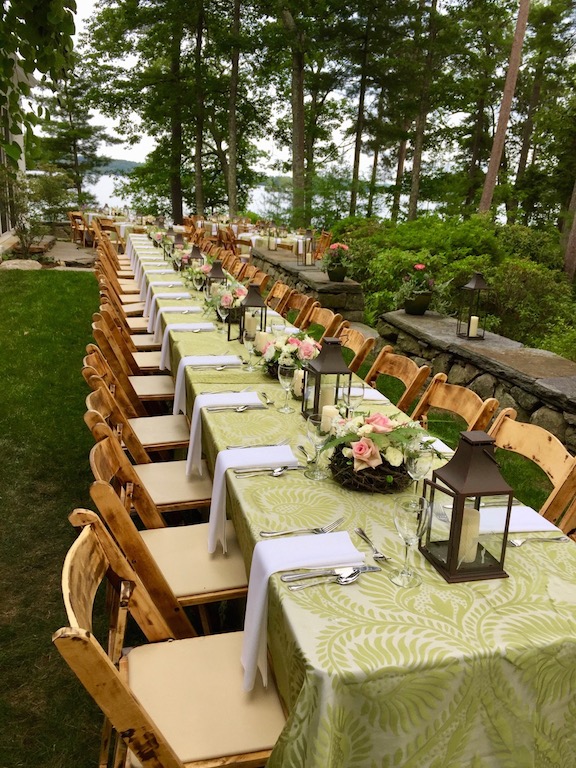 To learn more about Jody Elting's creations visit designsbyjodyinc.com or contact her at jody@designsbyjodyinc.com