By Judy Carmack Bross
At its October 17th annual luncheon, Openlands will present its Conservation Leadership award to Jerry Adelmann its CEO for 35 years who steps down after 40 years of providing critical direction to countless environmental initiatives resulting in profound environmental protection successes.
"Jerry is not just a name, or a proper noun, but it is also a verb.  To 'Jerry', as in Jerry Adelmann, equates to introducing big thinking, energetic proposals, rich collaborations, positive thinking, and projects that improve our planet."– Philip Enquist, FAIA, Hon. ASLA, Skidmore Owens & Merrill.
Jerry Adelmann at Hsinbyume Pagoda, Sagaing, Burma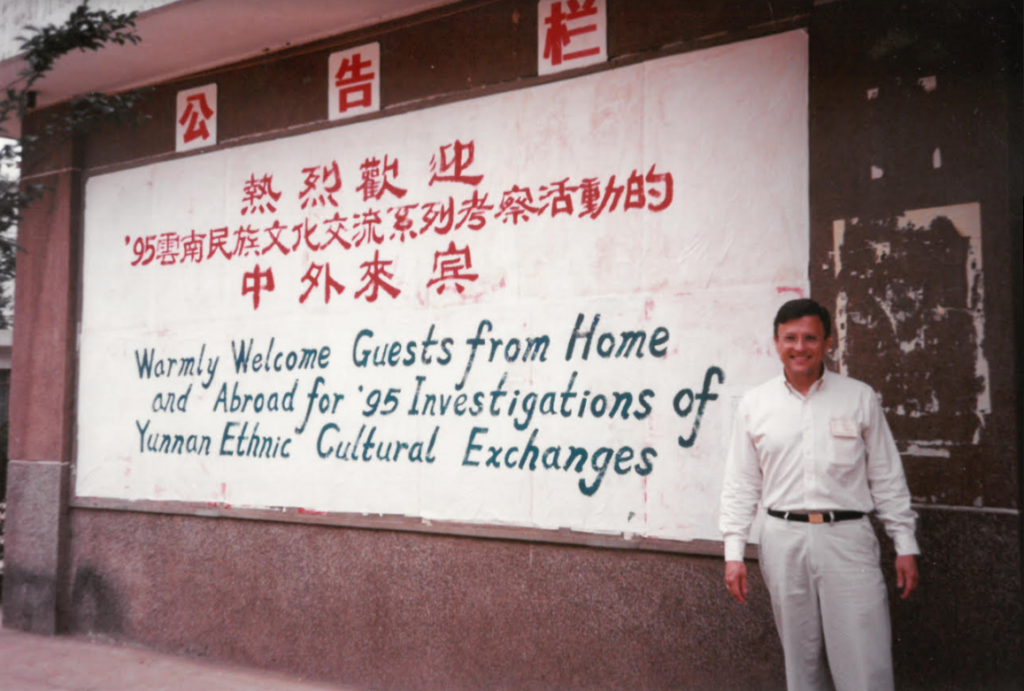 Conference in Kunming, capital of Yunnan. Jerry was one of the co-chairs
The luncheon will highlight primarily his uncanny leadership in Chicago and our region. We decided to explore his international accomplishments which parallel his regional triumphs.  Adelmann worked in China and Myanmar during his vacations, and often took along Chicagoans who were interested in learning and getting involved.  As all his projects in the Chicago region attest, there is no one better at bringing together people that can make a difference.  In this article, colleagues who worked in Asia with Adelmann tell of that privilege and our photographs show the fascinating and committed people he took along.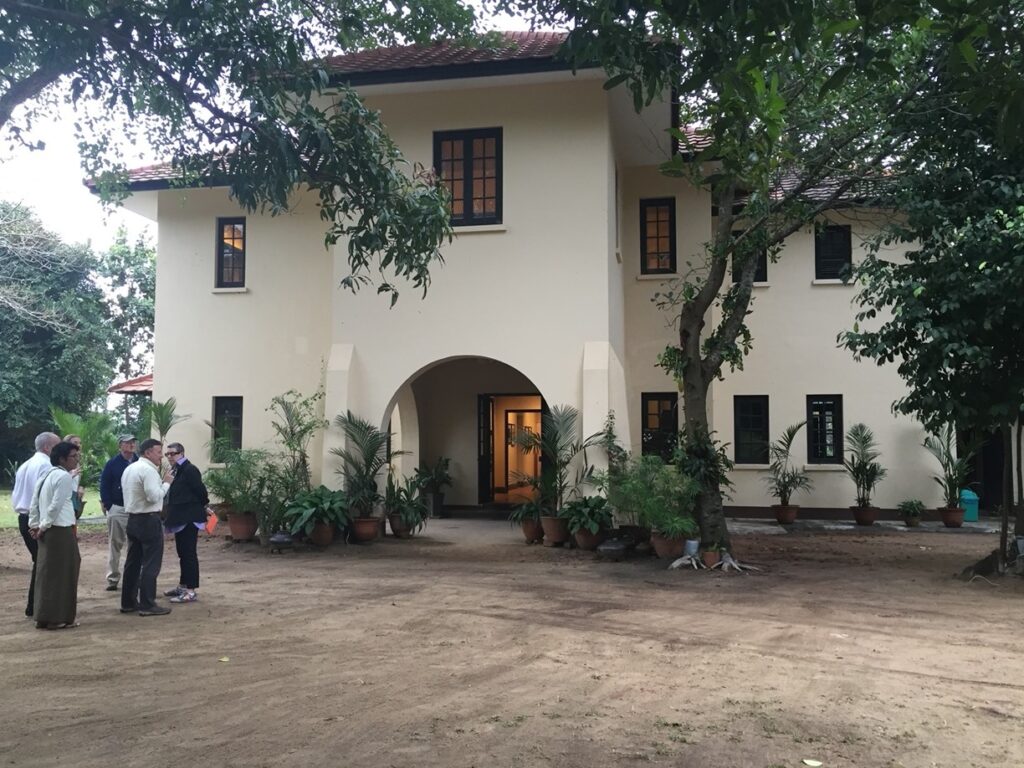 U Thant House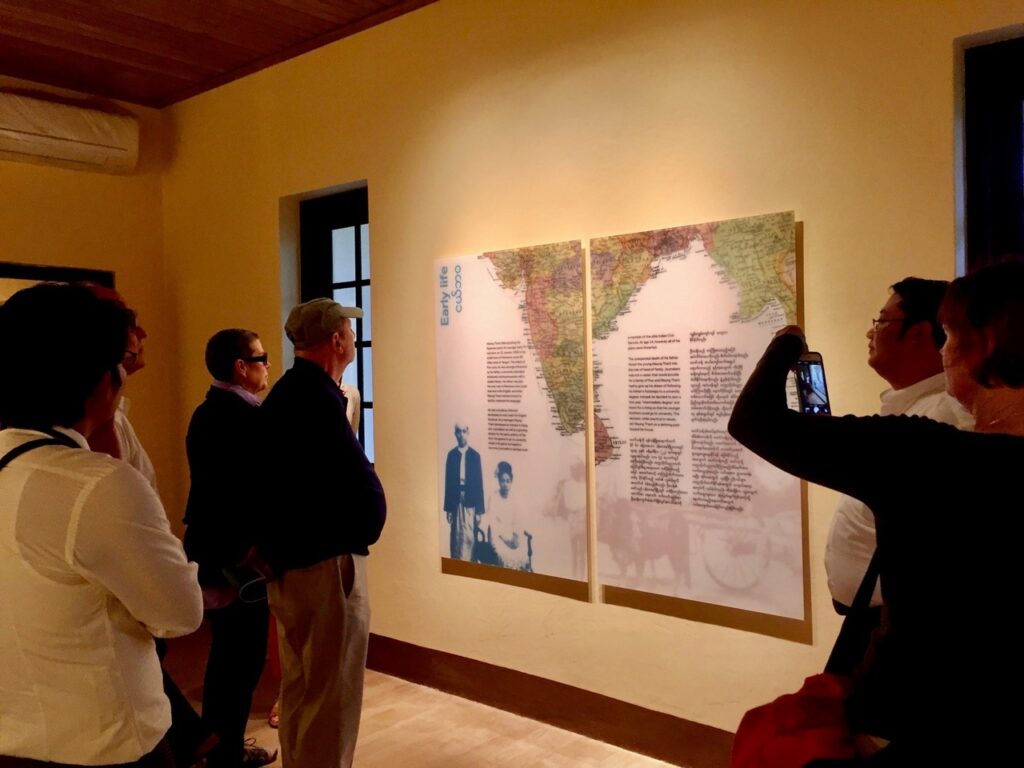 U Thant House
"It was just by happenstance that as my husband Tom and I planned Asia travel with Abby O'Neil and Carroll Joynes we discovered Jerry would be in Myanmar at the same time.  He was working on a restoration project of the garden and house of U- Thant, the UN's first Asian Secretary General.  We visited a building where independence had been declared and our guides were emotional because they had never been there before.  It was very moving and Jerry got us there," Barbi Donnelley said.
"As he proved over and over again when he showed us around in Myanmar, Jerry is a people connector.  He knows who to pull in, who to add to make things work as well as how to provide impetus and inspiration," Donnelley commented. "He is so egalitarian and is the most self-effacing person I know.  As he gave us a tour of Yangon, formerly Rangoon, he was obviously so proud of his staff and just stood back and listened to them.  He is always so delightful and his enthusiasm is infectious."
Sandy and Jean McNally at elephant camp, Kalaw          Photo: Jonathan Boyer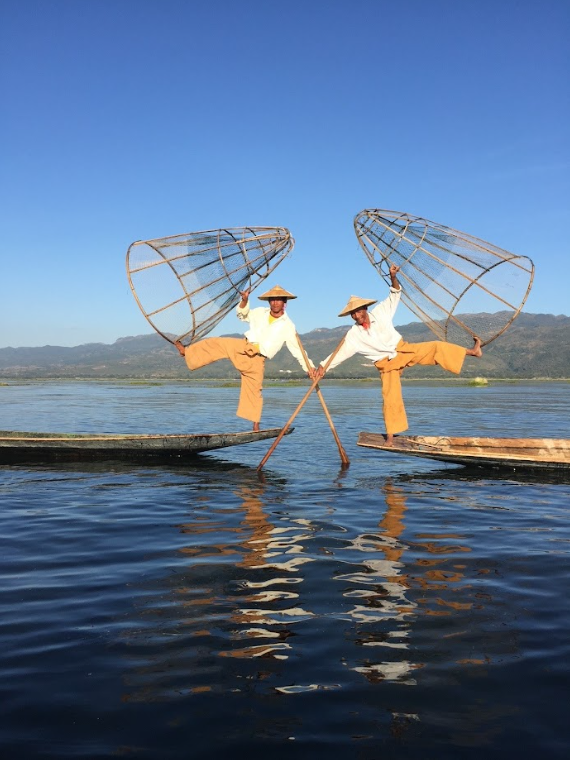 Fishermen, Inle Lake, Burma
So many other Chicagoans have stories of how Adelmann inspired them to get involved in conservation projects there. His own international travels began in France.
"As a young person I was always oriented to Europe and had spent two years studying in Paris. Even at that time I was interested in public and private parks at a landscape scale, both in France and Great Britain, that encompassed living, working regions of shared history and ecology.  These inspired a creative approach to the landscape along the route of the historic Illinois and Michigan Canal.  The result was the nation's first National Heritage Area, from Chicago to LaSalle-Peru.  Today there are 62 other federal designations based on this model.  Later in Asia I developed a similar approach.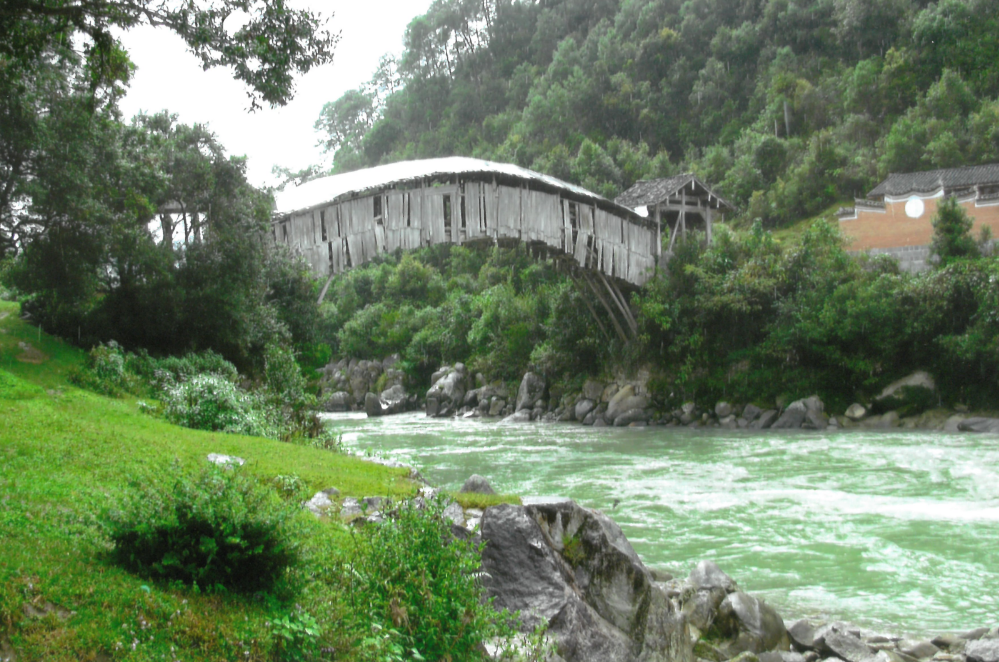 Bridge along southern Silk Road, Yunnan
"In the early 1990's because of my work with the I and M Canal focusing on economy, ecology and culture, Professor Chou Wen-chung of Columbia University in New York approached me regarding a delegation from Yunnan Province in China planning to visit Chicago.  Prof. Chou was a true polymath—the Fritz Reiner Professor of Musical Composition at Columbia and founder of the Center for US-China Arts Exchange. Someone told him when he arrived in Chicago that he should meet me, so he called out of the blue.  During our conversation, he told me of the Center's pioneering work.  I made my first trip to Yunnan in 1993 and later became a member of the Center's board.  During the ensuing years I must have made 30 trips!
"Yunnan is a province in southwest China, bordered by Tibet, Myanmar, Laos and Viet Naim along the Southern Silk Road, a route 500 years older than its more famous northern counterpart.  Yunnan has the greatest cultural and biological diversity in all of China. 
"Things really started happening in 1999 after a major conference on conservancy and development when 180 people from 20 countries came together with the Provincial leaders to craft the Yunnan Initiative, a visionary set of principles designed to shape growth while not destroying the great cultural and natural richness of the region"
Phil Enquist
Phil Enquist of Skidmore Owens & Merrill told us of working with Adelmann in China:
"Jerry, has inspired me for almost three decades.  Arriving in Chicago in 1995, I was introduced to Jerry by George and Vicki Ranney who were authors of the conservation community known as Prairie Crossing.
"Jerry, with his multiple interests in ecology, conservation, international culture, and regional planning, immediately connected with me and shared his interests in urban and regional  planning.
"We at Skidmore, Owings & Merrill, were just beginning to develop a relationship with city planning bureaus in Shanghai, Beijing, Jinan, Shenzhen and other Chinese cities as they were experiencing dramatic, rapid growth due to urban migration.  It was clear that city officials, and planning bureaus were under pressure to develop higher density urban models and innovative transit systems, yet few were discussing ecology, preservation of historic districts, or respecting natural landscapes and waterways.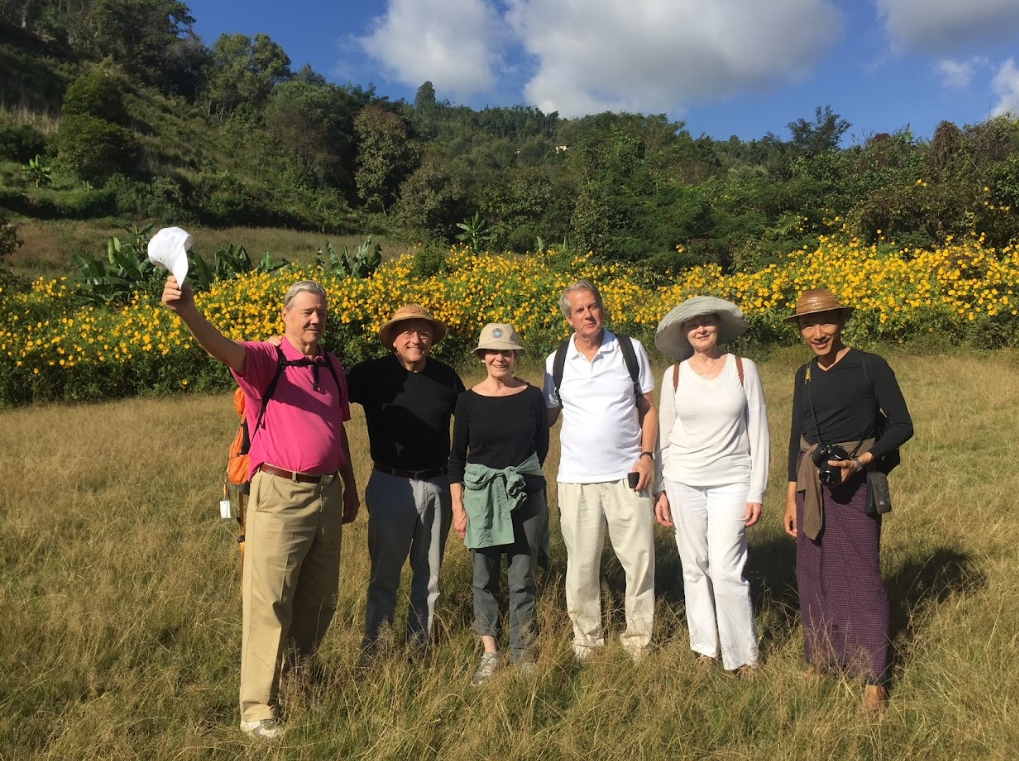 Countryside, Burma. L to R: Bill Hunt, Jerry, Jeanine McNally, Jonathan Boyer, Judith Stockdale, Naing Naing Htun
"As we collaborated within cities and outlying districts, Jerry became a constant advisor to our planning teams.  Whether it was a short conversation over coffee, or an evening meeting, or a full planning team effort, Jerry would add remarkable value to our strategic planning efforts.  Jerry was always very generous with his time.
"In the historic city of Weishan, Jerry was very effective in protecting the historic districts.  The local streets were replaced with traditional stone materials, historic courtyard houses were preserved despite the pressures of redevelopment, local businesses were protected and newer areas of the city became the areas identified for next generation growth. He participated in establishing a National Nature Reserve at Gaoligongshan all the while assembling a diverse consulting team and becoming a critical bridge between Chinese officials, US design consultants and US institutions. 
"Jerry's passion in Asia extended beyond ecology and environmental preservation.  In the world of the arts, Jerry was a bridge between the local art and gallery scene in Beijing, Chinese artists, and the City of Chicago.  Together with Jan Leaming, of One Moon Gallery and artist Qiao Xiaoguang, Jerry collaborated with Mayor Daley to add art to the windows of the United Terminal which are still there today." 
Shwedagon Pagoda, Yangon: Holiest site in Burma. L to R: Bill Hunt, Daggett Harvey, Jeanine McNally, Sandy McNally, Judith Stockdale, Jonathan Boyer          Photo: Jonathan Boyer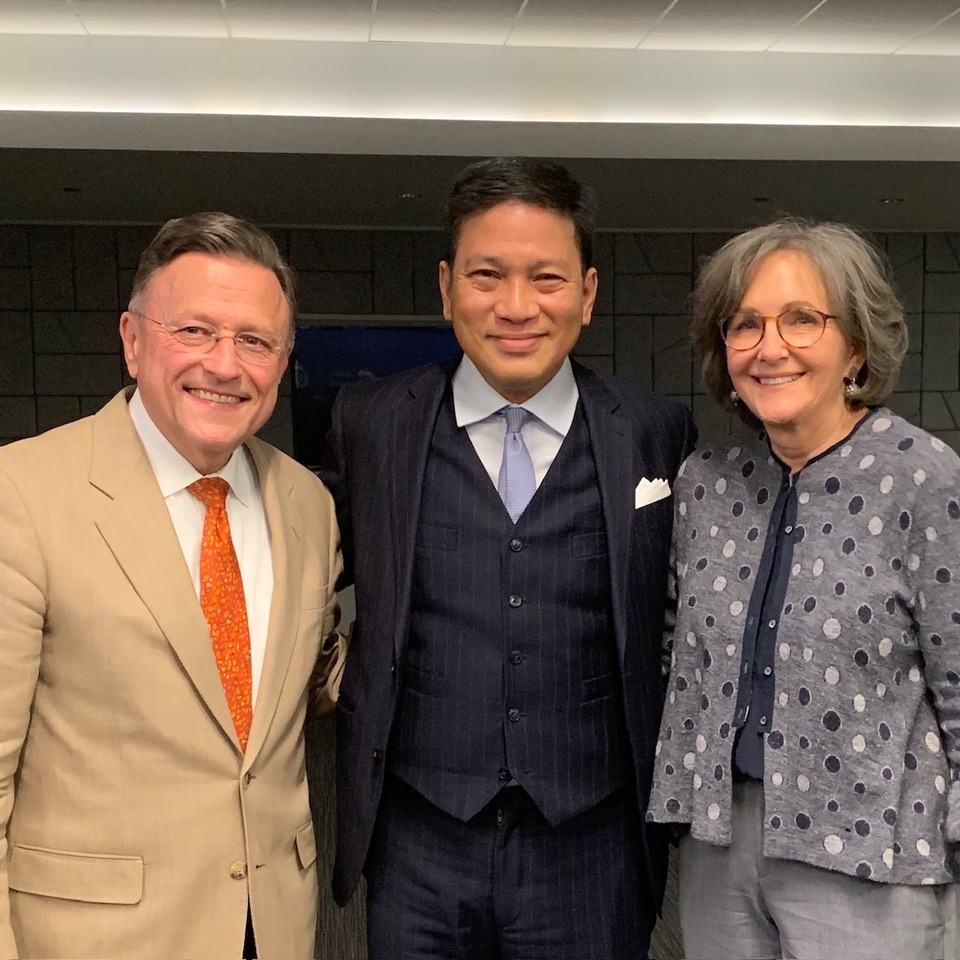 Jerry Adelmann (left) and Rebecca Riley (right) with Thant Myint-U, grandson of U Thant, Secretary General of the UN
As wife of the US Ambassador to ASEAN, Rebecca Riley, a colleague of Jerry's when she was VP for Chicago Affairs at the MacArthur Foundation, was able to join Adelmann and Enquist on behalf of the US Embassy to find ways local initiative and leadership could be supported by the ASEAN mission in Jakarta.
Rebecca Riley described their joint work in Myanmar.
"After work on environmental and cultural preservation initiatives in Yunnan, China, Jerry found his way west to Yangon, Myanmar.  A city planned during the colonial administration of the British, Yangon was remarkably intact given the harsh realities of Myanmar's underdevelopment.  Under the leadership of Dr. Thant Myint-U, grandson of UN Secretary General U-Thant, the Yangon Heritage Trust was established to provide the intellectual and strategic leadership needed to bring Yangon into the modern world.  The over arching goal of the new organization was to combine historic and environmental conservation with 21st Century development planning to create one of Asia's most livable cities. 
The Secretariat Yangon (before restoration) was the administrative seat of British Burma and birthplace of the modern nation whose founder Gen. Aung San was assassinated 
Secretariat after restoration
"In this context, Jerry's wide interests, broad expertise and overarching generosity of professional spirit, ensured that he became an important strategic partner for Thant and his Yangon Heritage Trust team.  His ability to bring the environmental, architectural and cultural themes together in the context of imagining the future of the historic city provided the local leaders with a powerful and inspiring vision.  He shared keen insights into the work of building an impactful organization and designing programs that could interact effectively with local political and public sector actors — partners who proved particularly complicated and challenging in Myanmar.  He was also able to reach into his wide network of professional connections on behalf of the YHT. 
 "Perhaps the best example of the value of such connections was his invitation to Phil Enquist to visit Yangon.  Then lead planner for Skidmore, Owens and Merrill with significant experience throughout Asia, Phil was able to both creatively inform the YHT urban planning work while providing significant credibility to the local initiatives.   
"In 2016, The Yangon Heritage Trust published The Yangon Heritage Strategy, a comprehensive plan for harnessing a key moment of opportunity in Myanmar, gathering the many unique advantages of the old urban center, and charting a path forward intended to guide Yangon toward becoming one of Asia's most livable, prosperous and culturally vibrant 21st century city.   Jerry continued to work diligently back in Chicago to bring Thant to the city to share the aspirations of the comprehensive plan and to raise support for the work in Myanmar. 
 "Tragically, the work of the Yangon Heritage Trust is on hold given the current political turmoil in Myanmar.  Nevertheless, Jerry remains in contact with Thant and the leadership of the Yangon Heritage Trust, all now in exile, remaining hopeful that the future will present an opportunity to continue implementing the extraordinary plan that was created eight years ago."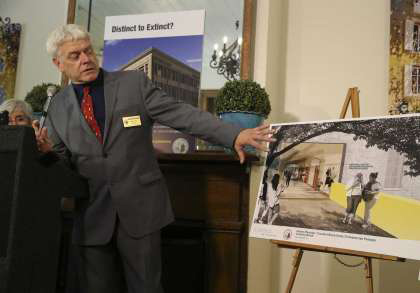 Vince Michael
Vince Michael, now the Executive Director of the Conservation Society of San Antonio, says that he "owes his whole career to Jerry."  Adelmann gave Michael his first job in historic preservation with the Upper Illinois Valley Association in 1983.
Virgin forest, Gaoligongshan National Nature Reserve
"In 2023, he brought me to China along with my students from the School of the Art Institute who worked on a variety of projects including photo books documenting the temples and other sites. I myself have visited China 13 times," Michael said.  "He is really a international leader who is passionate and intense about how things should be but can also relax and have a great time."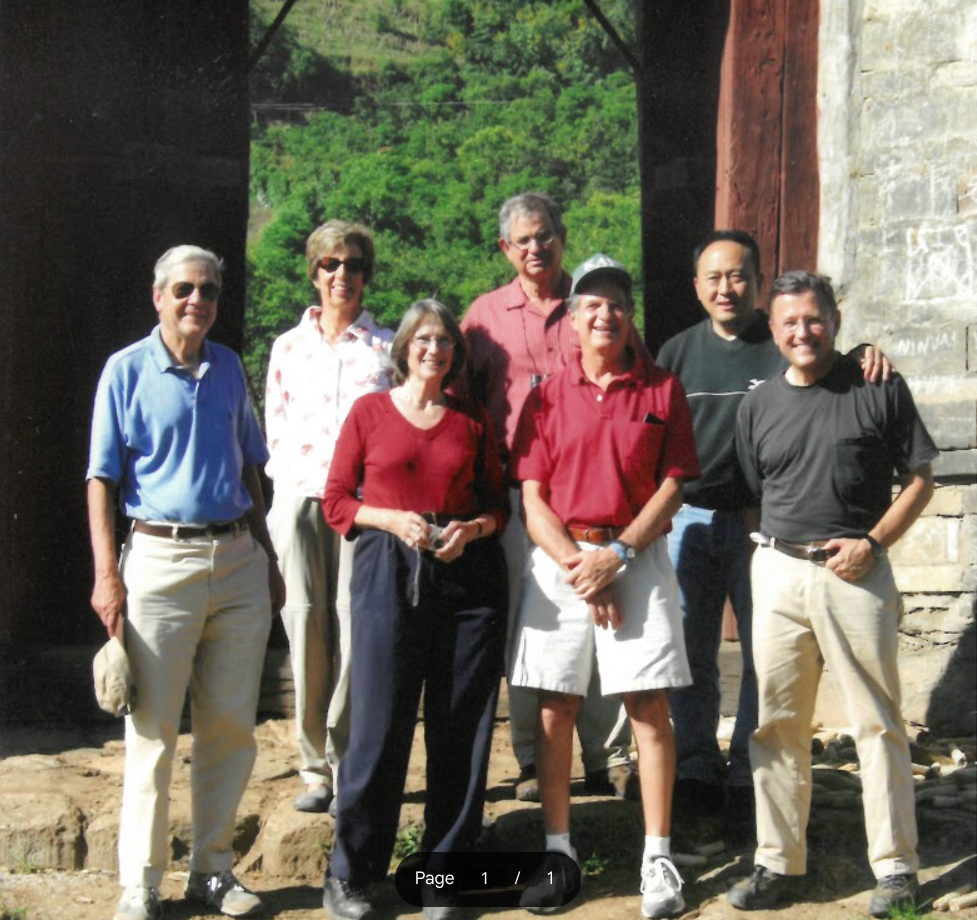 Along southern Silk Road, Yunnan. L to R: Philip Hummer, Shaun Block, Vicky Ranney, George Ranney, Andy Block, Ken Hao, Jerry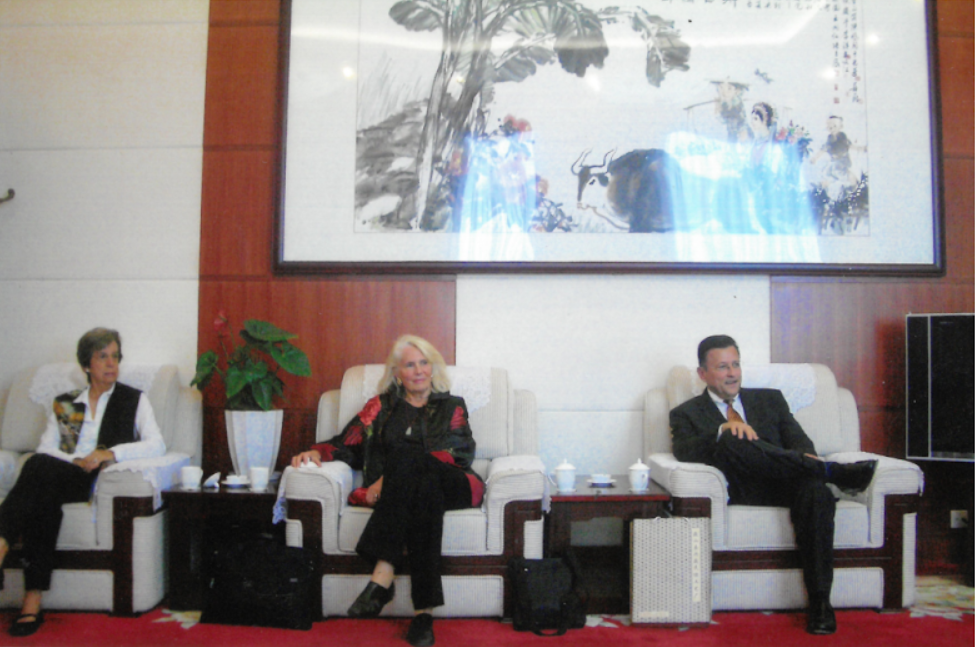 Meeting before banquet with governor in Dali, Yunnan. L to R: Shaun Block, Bunny Douglas, Jerry
"Jerry has a whole different approach, examining economic, cultural and community impact, all at the same time. His approach in China is not different from how he does planning in Chicago and its region.  It is about enabling people to understand the fields and the meadows, not just the streets, it is the whole built environment. It is about planning on the regional level and putting good policies in place," Michael said.
Dali – three pagodas, 9th and 10th centuries
Enquist feels that Adelmann's skills could carry the world forward.
"To "jerry" the world–using my new verb–would lead to: restoring the planet, protecting diverse habitats and cultures, and creating livable and healthy cities.  As we head toward nine billion people on the planet living in fragmented environments, it seems to me that there is urgency to think and act as Jerry has been showing us.
Gongchen Tower, north gate in Weishan county. Built 1390 during the Ming Dynasty
"Art, ecological restoration, biodiversity and international culture are some of Jerry's broad interests and he works hard to educate us all on how to repair and improve our regions through these lenses.
"He is an inspiration and he is a teacher and I am very thankful for our collaborations around the world."
Barbi Donnelley added:  "With Jerry's retirement I wonder what his next heartthrob country will be.  Wherever he will choose, we want to go."