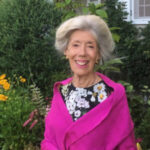 By Judy  Carmack Bross
The Ryan Licht Sang Bipolar Foundation hosted INSIGHTS VI:  An Art Exhibition of Creativity and The Bipolar Brain at the Zolla/Lieberman Gallery recently featuring artists who have Bipolar Disorder. The latest in a series of art exhibitions the Foundation has produced in Chicago and Palm Beach to raise awareness of Bipolar Disorder and reduce the stigma associated with this serious illness of the brain, it highlights the creativity that can often accompany this illness. The benefit was all the more compelling with the presence of several artists who told their stories as they stood beside their powerful pieces. 
| | |
| --- | --- |
| Leslie Lee, Sarah Potter | Amy Morro and Will Morro |
"One of the things that was so special about the Opening Night party was that so many of the artists attended – this year there were eight!  They came from California, Connecticut, Florida, Missouri and Upstate New York at their own expense.  For the artists, it was incredibly meaningful to have their work exhibited in a gallery as prestigious as Zolla/Lieberman, and INSIGHTS VI validated both their work as artists and their struggles with Bipolar Disorder.   Our guests that night loved interacting with the artists, learning about their creative processes and about who they are as individuals.  It made the evening incredibly moving!"  – Joyce Sang, Co-founder of The Ryan Licht Sang Bipolar Foundation with her husband Dusty, honoring their late son Ryan, himself a gifted artist.
Alexandra and Brian Singer chaired Opening Night festivities that highlighted the Foundation's mission to foster awareness, understanding and research for Early-Onset Bipolar Disorder. Over 100 guests enjoyed drinks and heavy bites as they viewed the art selected during the nationwide competition.
"Art has the power to transform perception and challenge the limitations of our understanding. INSIGHTS, showcasing the remarkable creations of artists with bipolar disorder, stands as a testament to the profound impact of art on our hearts and minds. This exhibition fosters empathy and connection and helps to break down the stigma around mental illness," Alex Singer said. "My husband Brian and I are deeply honored to support this noble mission, and we commend Joyce and Dusty Sang for their visionary initiative."
Honorary Chairs Abby McCormick O'Neil and Carroll Joynes told us:
"Each year the works presented at the INSIGHTS exhibitions get stronger and stronger. INSIGHTS highlights the versatility and creativity of artists who suffer from Bipolar Disorder, and this show at Zolla/Lieberman Gallery has generated such an enthusiastic response that galleries and institutions in other cities have expressed the desire to present pieces from the collection.  It truly has the power to reach people far beyond Chicago and Florida and to continue to build awareness and educate the general public. Our most sincere congratulations to Joyce and Dusty Sang for originating and shepherding this very important project."
| | |
| --- | --- |
| David Grass, Sarah Imberman, Terry Levy, Paul Levy, Chad Taylor and Donata Brazdzionyte | Liz and Kent Dauten with Elizabeth Betten |
| | |
| --- | --- |
| Suzanne Rose and Leigh-Anne Kazma | Kelly Mathews, Leslie Lee, Abby McCormick O'Neil, Sarah Potter and Jessica Tampas |
During the Foundation's national juried art competition from December 2022 to March 2023 hundreds of submissions from artists across the country were received. An independent jury of gallerists, art collectors and artists selected 20 paintings, photographs and sculptures to be featured in INSIGHTS VI and the artists selected received a grant from the Foundation.  Along with the juried art selections, INSIGHTS VI featured the work of Ryan Licht Sang, the Foundation's namesake and a talented outsider artist, who passed away at 24 from Bipolar Disorder.
The artists from INSIGHTS VI and those from the previous exhibitions have generously donated their works to the Foundation's Permanent Exhibition Collection.  Now comprising more than 100 pieces, including paintings, photographs, sculpture, jewelry, ceramics and textiles, the Permanent Collection will be the basis of traveling exhibitions to give voice to artists with Bipolar Disorder.
| | |
| --- | --- |
| Jayla Nick and Malik Giddens examine art by Ryan Licht Sang. | Florence Ann Romano studies a painting by Alex Johnson. |
Among its comprehensive efforts, the Ryan Licht Sang Bipolar Foundation funds research to find an empirical biomarker test for Bipolar Disorder so that early detection in children and adolescents becomes a reality. 
The annual Medical Briefing Luncheon, anticipated yearly for the wealth of information shared and the combined beauty of the flowers, menu and tablecloths that Joyce Sang chooses, has been announced by May 8. Choosing Perseverance and Resilience as its theme, the Foundation will present experts in neuroscience, psychiatry and behavioral science, and Bipolar Disorder, all with the latest information in their field.
More information is available at www.rlsbf.org.